RESTAURANT HUBERT
set the Sydney dining world alight when it opened in 2016, and it quickly became a bartender favourite. Sure, you can sit down to eat in the opulent dining room, but you'll most often find us at the bar (they did pick up the gong for Restaurant Bar of the Year at last year's
Bartender Magazine Australian Bar Awards
after all).
This month, however, we're taking a look at what goes on outside the bar, on the floor — on the Other Side, if you will. Why? Because we've been hearing a lot of chat from bartenders about a turn to service, how the big trend of whichever year we're in is putting service, and the guest, first. Less cocktology, more hospitality.
So who better to help with upping your service game than those on the floor, the hosts who usher you in and out and see to it you have everything you need? And we're kicking off this new section by hearing from one of the best, Olivia Rockwell, the restaurant manager at Hubert.
Here, she shares her service philosophy, shines some light on what it is that makes a good service hum, and points out that, if she's doing her job right, you won't even notice that she's there.
As told to Sam Bygrave
ADVERTISEMENT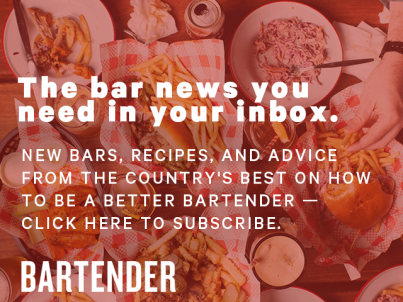 &nbsp
I was working with Mikey [Nicolian] at Continental Deil just prior to this, in the bistro, and before that I was working for Dom Easter at The Hazy Rose.
Hubert is one of the biggest, most insane places I've ever worked at. It's always super busy — we're doing some pretty amazing food, incredible wine, and it's for pretty much everyone too: you don't have to be super fancy if you don't want to, anyone can come down here any time.
You have full service on the restaurant side, and over in Bar Pincer you can do a bar menu over the bar — it's a little more relaxed. We do full table service in the bar, it's just a bit more relaxed. In the restaurant it's about having a great dining time; we course it out, it's the full experience.
It's hard, I was thinking about how to explain what we do on the floor; it can be difficult in a restaurant environment because it's intangible in a way, making it happen. There's a bit more pressure I think — on the floor, you need to be an expert in everything so that's service in wine, in food, and booze as well.
The product is of the highest quality, but our service style is a bit more approachable — it's not stuffy, it's not pretentious. I want the guys to be professional but to not be too uptight. You wouldn't survive here if you were a slacker.
The hours are long, everyone who comes in, especially in the busy season, it's really crazy during our busiest times. They're doing heaps of hours.
I'm really lucky, in terms of bar service we have two bar only positions in a service, the two dispense wells. The guys smash it. But I have quite a large bar team and they end up doing sections quite often; they'll do the bar section in Bar Normandy, which is where we seat all of our twos; they're all pretty seasoned professionals who have been bartending a long time, so they are really interested in getting to know the other side of things — it switches it up a bit.
Our sequence of service is a pretty big document. But basically our sequence of service outlines expectations of each person who is going to be working in a section; it makes it really clear the process that we want, so that guests receive the same experience, but we do really want our people to bring their own personality to it.
I was talking with Kelly, one of our service managers, and she was talking about how she sees herself as being somewhat of a director in service — it's kind of true: you set the mood, the vibe, the lights, and people don't really see you doing it, you're in the background unlike the floor staff and the bartenders. If it looks effortless, if you have a perfect dining experience, it has taken a lot of work — hopefully you shouldn't see me too much if I'm doing my job well.
My service philosophy — and everyone is different — is that I don't like to push too hard. I like things to be easy and relaxed, but behind that there's really a lot of structure — it's kind of hard to describe. I want to make sure that all of my staff know what's expected of them, so that it's really clear — they know the end game so we're all working towards the same thing. If you don't have that kind of structure it can get a bit messy. When you do 300 covers in a night it can get out of control really quickly so you need a little bit of structure. But you've got to have fun as well, that's big part of it. A lot of my job is making sure people are happy, that they have everything they need. That's really important to have a successful service.
Look, you'll find in a good restaurant, all the way up until you open, a manager or a good section waiter will be out there straightening things, so that when you sit down everything feels cared about and it doesn't feel slapped onto the table. It's the same kind of thing with any element of hospitality, it's like you're opening your home to someone and you want them to have the best impression possible.
If you take a photo of how I look or managers look during service, we're generally in a corner looking around to see if all the lights are working, that all the tables are in the right spot, the chairs, it should just look effortless and cared about.
The lighting, the music — if it's too bright or too quiet — it really makes a difference to the experience. Most of the time when you go into a restaurant, you're not consciously thinking about it, but we do that all the time when we go out. It can be difficult! I try to be as far away from service areas as possible. I mean, I like sitting at a bar in the restaurant because you do get to have that interaction, but I can't help but overhear things that are happening.