Last month saw Asia's number one bar, Singapore's Manhattan, popping up for a two night only guest shift at Sydney bar Grain at the Four Seasons. Manhattan was awarded the title of Best Bar in Asia at the World's 50 Best Bars last year, so we caught up with bar manager Philip Bischoff while he was in Sydney to get an idea of how he got to where he his today, and to find out what it is that makes Manhattan so special.
As told to Sam Bygrave
I started as a waiter… throughout this time I encountered that people who work on the bar have more fun than people who work on the floor.
In 2004, my first serious job was in a club and restaurant called The Phoenix Club. It was one of the most advanced fine clubs in Berlin. Berlin has a very advanced electronic music scene, this was high-end bottle service but also two 12 metre bar counters, a good cocktail program, over two floors, and it was people flying from Italy, Spain, and whatever, coming in over the weekend to enjoy a Saturday night at this place. That was for two years.
Friends started to ask if I could work on certain events for them. Working as a 23 year old in my home town in a club and earning a reasonable amount of tips and salaries in two days, comparing that with your study?
ADVERTISEMENT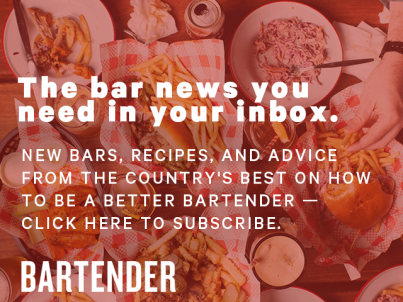 &nbsp
Without a doubt, it is [our] people who are responsible for Manhattan's local and international recognition. They are our strongest asset. They make all the difference with the passion and hard work they put in every day to ensure our guests have a memorable experience. It all boils down to our Four Seasons Golden Rule of having people who, by nature, believe in treating others as we would have them treat us. To be recognised as #7 in the world and Asia's best has been a humbling experience. The global cocktail industry is a very competitive one with many stellar bar teams and establishments around. When Manhattan opened in April 2014, it was the first hotel bar of its kind here in Singapore.
Signature rooms like the Rickhouse, where we age cocktails in some 105 customised white American Oak barrels, was considered new and unique. Now we have to take care of it and treat it respectfully as we likewise, take care of our guests. At the end of the day, all we really want to do is make great cocktails and be part of even greater memories for our guests, and that needs knowledge and teamwork.
We have a strong training program and we are proud of where we are working, and going the extra mile. Over the past three years, we really learnt a lot. But as a team, we never stopped striving to learn more and get better.
Manhattan's style of service is all about engagement. Both our floor staff and bartenders are equally adept and knowledgeable on each other's roles, thus being able to support one another seamlessly. The hotel management has also been very supportive as well as other departments in the hotel, such as PR, who are all contributing to Manhattan's growth.
Manhattan has been a super intense journey. I started off just observing, but then the team were like, Philip, if you want to step up, this is all yours — go ahead. Since then it's become a tight group, with having the same vision for what we can achieve — it means a lot of work.
By far, we don't have enough staff. We have an awesome team, everybody commits. Right now it's 15, but we're down five, and for a seven day operation, it's lucky that it's just from 5pm to 1am. It's intense for everyone involved.
Manhattan opened on the 100 [best bars list], as one to watch. Being there, somehow on it, you think, what's possible? One and a half years down the road, it's at number 35, the next year, it's number 11. There's something going on. Everyone who's coming to work, contributes to something bigger, and it offers career opportunities. It's not just an amazing looking bar, it's the people who make it something special. It's all about the people. Someone built this bar, someone gave us the opportunity to have that stage, and we have to take care of it and treat it responsibly.
It was the first time that they'd put so much effort, not only in the design, but really taking care of the entire concept, it's not just the place. The people will drive that ship, and create the atmosphere and the experience, therefore you need people that have character. Ideally, many layers of characters, some introverts, some extroverts, some talents that you kind of see could become a diamond but you really have to polish. You have one or two people who are pretty advanced, and who might be able to lead.
You need ups and downs in your own career, to identify the strengths and personalities [in others]. If you have a mindset, and your have a vision, the most important thing is sharing it, and making everyone understand that we can only achieve this together and don't expect everyone else to have the same emotion for it, or vision, or the willingness to contribute so much. Hospitality is a lifestyle, it's a 24-7 lifestyle. Our social lives happen at different hours. We have to make everyone understand and they have to want it.
When we have interviews now, I'd rather hire attitude, in a good way. If I feel that you want to hold the door open, you want to smile, and you want to serve, then we'll have a chat. If it's more, I've done this eight years, and when am I the next manager? Coming fresh from school and talking about management positions — have you ever carried a tray? You don't need to know the difference between gin and rum, we'll teach you. You don't how to carry a tray, we'll teach you. It's about the fabric of the team, and creating the responsibility of being part of something.
My mum, she's a teacher. My grandfather used to be director of a bank, my father is a lawyer, and explaining to them that I stopped studying business administration in health management [was hard]. The only thing my grandfather said was: "Do it right." And that kind of gave me enough motivation to try my best, with all the ups and downs.