Lifetime Ban
25 ml navy strength gin
25 ml blanc vermouth
25 ml fino sherry
mint ((a small handful))
Add all ingredients to a chilled Boston glass, add cracked ice and stir for approximately 25-30 seconds.
Strain into a chilled glass.
Garnish with a lemon twist.
Recipe by Dan Greenbaum, Attaboy NYC, 2016, found in the Bartender's Choice app.
ADVERTISEMENT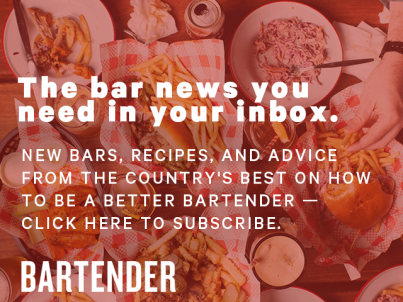 &nbsp
Sam Ross is co-owner of Attaboy, which occupies the space that Milk & Honey once did on New York's Lower East Side; he's recently opened an outpost of the bar in Nashville; and he co-owns Diamond Reef, a tiki bar in Brooklyn. And as if he's not busy enough, Ross has just recently revamped the app for the first time in 10 years, updating the recipes, including new ones, and it's better than ever.
The Lifetime Ban is described in the Bartender's Choice app as "a one way ticket out of Cooperstown," we can only guess at the nefarious activities that inspired the name. "[It's a] Martini that leans on fino and mint for fragrance," says Ross. "We use Four Pillars Navy Strength to accent the bruised mint that is stirred in and strained off."