This year The Business of Bars Conference is moving to the tailor-made conference room at Restaurant Hubert to accommodate more guests and increase the offering to include food and drinks… and of course, our best line-up to date!
For a limited time only get your EARLY BIRD TICKET for just $80 (usually $120). Ticket price includes 4 cutting-edge educational sessions, refreshments, lunch and drinks. Click here to get yours now! Numbers are strictly limited.
Our annual conference has gained a loyal following over the past 13 years. Bar professionals from around the country have come along to listen and learn from leading operators on running a successful bar businesses. Hosted by Bartender Magazine & Bar Week founder David Spanton and Editor Sam Bygrave, the last four years our event sold out well in advance and we expect 2018 to be even bigger and better.
The Business of Bars Conference forms part of Sydney Bar Week. For a full line-up of events, visit www.barweek.com.au
ADVERTISEMENT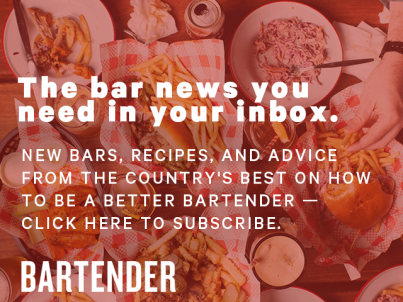 &nbsp
Here is this year's line-up:
SESSION 1: 11.40am – 12.40pm – How we built a business by ignoring sound business advice
By Sven Almenning, Chief Booze Geek & Greg Sanderson co-owner & Group Operations Manager, The Speakeasy Group (EDV, Mjolner, Boilermaker House).
Sven Almenning hosts a session on how he and his business partner Greg Sanderson have built their small bar group, the Speakeasy Group, into one of Australia's most well-known and award-winning bar operations; in part by ignoring sound business advice. If you're looking at opening your own bar, or perhaps grow your business into a small bar group, you do not want to miss this.
SESSION 2: 12.45pm – 1.40pm – What does our bar industry look like in 2025?
The bar world is changing quicker than ever before, and with that comes risk and opportunity. So how do you navigate the changes? Here we look at the issues that are shaping our industry today and tomorrow: issues like raising of the drinking age, Uber Eats, Tinder, smoking bans, changing generational drinking habits, diversity, and health and wellbeing of you and your staff. Hear from our expert panel and find out what we can do to make a difference as individuals and change the industry for the better.
Panel – Hosted by Sam Bygrave & Amy Spanton
Jacob Briars (Bacardi Global Advocacy Director)
Paige Aubort (Founder, Coleman's Academy)
Ben Meredith (Manager, External Affairs Philip Morris)
Deirdre Ryan (Group Operations Manager, Merivale)
Michael Madrusan (Owner, Everleigh & Heartbreaker Melbourne)
Olivia Rockwell (Restaurant Manager, Continental Deli)
SESSION 3: 2.10pm – 3.10pm – How to promote your bar on little or no marketing budget?
How to promote your bar day to day plus get noticed by local and international media but don't have an all-star bar team line up like Black Pearl, or the bank account of the big groups. Well you can and our expert panel will provide practical tips.
Panel – Hosted by Sam Bygrave, Editor Bartender magazine & Amy Spanton
Erin Orlan Raleigh (Co-owner Jangling Jack's Sydney)
Elle Kearns (Owner Pearl & Co Darwin)
Amy Cooper (Journalist Fairfax Media)
Andrew Baturo (Owner The Gresham, Walter's & Heya Bar)
Chau Tran (Co-Owner Burrow Bar & Lost Luau)
Dim Rtshiladze (GM, Mechanics Institute, Perth)
SESSION 4: 3.15pm – 4.10pm – Seven habits of the world's best bars
Hosted by International Guest Speaker Jacob Briars (Global Advocacy Director, Bacardi Ltd)
Jacob Briars likes to describe himself as New Zealand's 7th most famous bartender, but usually that just gets people asking where New Zealand is and who the other 6 bartenders are. For the past few years he has travelled the world as a much-loved spirits educator for some of the world's most respected and exciting spirit brands. Jacob is the head of training and education for Bacardi, the world's largest family-owned spirits company, where he is lucky enough to work with some incredible drinks and some even more incredible people.
Jacob is an engaging speaker, with a passion for connecting spirits and cocktails to their broader culture and context. He is a mine of (mostly useless) information about cocktails and is almost as funny as he thinks he is. In 2014 he was Wine Enthusiast's Mixologist of the Year, and in 2010 he was awarded the 'Golden Spirit' award at Tales of the Cocktail® for his presentation. For many years he was an award-winning brand ambassador known as the 'Vodka Professor' and in the distant depths of the past even ran award winning bars and restaurants.