Story by Ryan Lane
It should be no surprise to any of you that I love American whiskey. I've had the pleasure of visiting Kentucky twice now, firstly for my wedding trip and secondly for a bit of R&R after a rather hectic virgin-visit to Tales of the Cocktail last year.
I already had a deep love for the liquid, but that was further enhanced when I got to experience first-hand the passion and pride the fine people of Kentucky have for their national spirit. From distilleries to bars, gift shops to tours, it was then I also fell in love with the people.
As bartenders we create experiences for our customers, that's what they remember. Drinks also have the ability to create memories that are everlasting.
ADVERTISEMENT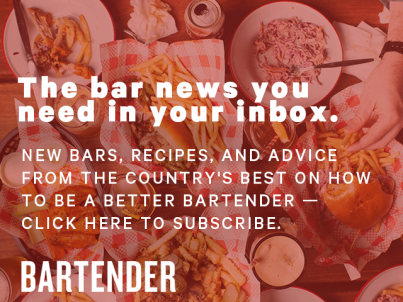 &nbsp
And it is my firm belief that if you are going to love a specific spirit category, that you love it in all of it's forms — particularly those of such convenience as the RTD.
"The Original"
Jim Beam White Label Bourbon & Cola
• Standard Drinks per serve: 1.4 / 4.8%
• Volume: 375ml (11% Kentucky Straight Bourbon Whiskey)
Tasting Notes: Sporting the ever-classic mash bill of 77% nostalgia, 13% "fuck yeah!" and 10% High School relationship regret, this is where it all began. She's the original and you can never turn down a classic.
The Occasion: A 1997 road trip from Townsville to Cairns. Six lads in a banged up VB Commodore en route to see AC/DC live at the Cairns Showgrounds amongst 40,000 sweaty bikers.  To this day I'm not an overly affectionate person… But thanks "Snake", if that really was your name.
Final Thoughts: Sometimes you just need some familiarity in your life, right? Go no further, this is her.
"For the Bartender"
Jack Daniel's American Serve
• Standard Drinks per serve: 2.0 / 10% — Help me Jesus!
• Volume: 250ml 
Tasting Notes: Picture this, you've got an early knock off on a Friday night and you've got the late start Saturday. What else does one do but head out and ruin all those tips you've worked so hard for? It's the world's most popular bar call for a reason, it's fucking delicious! And more importantly, it's pretty hard to fuck up a Jack & Coke.
The Occasion: You've rolled into your mates bar after said shift, it's 1am on a warm summer night and you're after something refreshing, and if like me, your sugar levels are hitting that all-time low, you'll need a little pep-up as well. Well, this is for you! Tastes like the Jack & Black your bar-buddy is gonna punch out for you, heavy on the liquor and light on the fizz (so you can slam it down fast.)
Final Thoughts: This RTD for me is like a handshake between two bartenders. We both understand each other's tastes, and pour as such. She's a real gem! And even better, who doesn't love a cheeky little throw down?
"#FML"
Bearded Lady & Cola
• Standard Drinks per serve: 3.0 / 10% — Help me Jesus!
• Volume: 375ml (25% Blended Bourbon Whiskey, 51% Bourbon Whiskey, 49% American Whiskey)
Tasting Notes: As much as I tried to come up with some witty comments about ball-tampering or gender equality, I just cannot summarise what this fine specimen means to an RTD drinker. 
The Occasion: Got an awkward family BBQ to go to? Be "the bartender of the family that gets inappropriately hammered at family get-togethers" and put back a four'fer of these bad boys, it'll be a laugh!
Final Thoughts: Ever been to those "questionable" bars in Thailand? You know the ones that you kinda enjoy, but don't really want to be seen at? Well, this is for you. Pretty on the outside, questionable interior, packs a punch and doesn't ask questions or judge.
"The (Value) Dark Horse"
Nelson Country & Cola
• Standard Drinks per serve:  1.8 / 6%
• Volume- 375ml (16% Blended Bourbon)
Tasting Notes: I mean, if "Blended Bourbon" doesn't make you start second-guessing I don't know what will.  But hey, sometimes you just need that hit.  Hailing from "The Home of Bourbon", Nelson County encompasses the amazing town of Bardstown in Kentucky, and I'm sure they'd be pretty surprised in this little release. It is of course the home of the Bourbon Festival each September.
The Occasion: Ever been on a monthly pay cycle? I have, it sucks. But hey, Nelson County to the rescue! Grab your favourite blanky, chuck on MAFS on the Sunday night before pay day and drown those tears. Bang for buck's great.
Final Thoughts: This is a definitely shotgun-tinnie. Get it in, get it done. Don't fuck about discussing brix levels and shit. Just. Rip. In!
"SophistiCANsion"
Wild Turkey Rare Breed & Cola
• Standard Drinks per serve: 2.0 / 8% — Help me Jesus!
• Volume: 320ml  
Tasting Notes: Who said you can't look sophisticated and drink a bourbon and coke can? Just look at this thing, its dark moody black features, with elegant gold trimming, it's the fucking Rolls Royce of bourbon tinnies.
The Occasion: I'm gonna land this bad-boy somewhere between 1995-2002 "style bars". You know, the umpteenth Ministry of Sound House Classic album on repeat being fakely played by some wanker DJ sporting sunnies at 11pm at night in a dimly lit club. There's "honeys" in their skimpy cocktail dresses knocking back Cosmos (of course) as the "fashionable" drink of the time. Well, this one's for you guys. I can't even begin to fathom the plethora of phone numbers you're nabbing rocking one of these in your mits. Go geddem, tiger!
Final Thoughts: Need to impress? Doing a corporate drinks event and need to match the décor with some "power colours", you know,
that just scream a go-getters' attitude and the success that comes with it?
Well look no further.