There's been a big shift in the global bartending scene, and hospitality more broadly, one that's been underway for around five years now. Whereas once the bartending world was focused on the twin poles of the cocktail world in New York and London, these days you're increasingly likely to be pulled towards cocktailing cities further afield: Berlin, Paris, Hong Kong, Shanghai — and Singapore.
It was to Singapore that veteran Sydney bartender Julian Serna was pulled. Serna has worked at some of Australia's best venues, having helmed Hemmesphere many moons ago and in his most recent Australian posting, being the big boss at Eau de Vie Sydney.
A few years back he went to Singapore to become the group bar manager for one of the Lion City's most accomplished hospitality groups, Lo and Behold, and resolved to start his own venue in Singapore.
His dream has now come to life, with the opening of Panamericana on Sentosa Island. The bar and grill draws on Serna's own Colombian heritage and is named for the Pan-American Highway that begins in Alaska, and traverses North, Central, and South Americas, a distance of more than 30,000km.
Here, we ask Serna some questions about why he would open in Singapore and not Australia, and find out what he's doing differently at Panamericana.
ADVERTISEMENT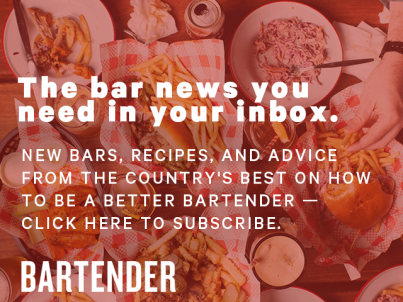 &nbsp
What was the inspiration behind Panamericana?
To create a casual, bright, elegant bar and grill inspired by the Americas that encapsulates the rich culture, history, design, music, food, drinks and people of this vast region. I recognised the gap in the market as being the mid-range affordable, casual dining with an elevated drinks offering and have been working on this concept for about two years.
I wanted to get away from the generic shop-house approach to bars in Singapore (four walls, no windows, five metres wide by 20 metres long) and really bring this concept to life in an open format and in a picturesque and unique location with fun being the main ingredient in our drinks, food, atmosphere and service.
What's the go with the Explosion serves? Could you describe them for us?
Service and wait times are always an issue in Singapore and in general when you do scale in bars. The Explosion, or share serves, serve six to eight people and are not only an elegant serve but keep our customers hydrated steadily and take the strain off operations. We present these in our porron's (Spainish decanters) to encourage self-serving laybacks — no RSA issues in Singapore — and in our glass water fountain-like jars.
We have kept our cocktails simple with a point of difference and we offer five recognisable options to our guests at an affordable price point of $68SGD.
For those of us who haven't been to Singapore, can you describe Sentosa a bit?
Sentosa is a picturesque man-made island situated 15 minutes from the Singapore CBD. The island is home to tourist attractions like Universal Studios, Hard Rock Cafe, Resorts World, Adventure Cove Waterpark. Five star hotels [such as] Capella, W, Sofitel with stunning tropical surrounds and sea views. The island is also home to residents who enjoy the comforts of living on an island within the island and generally a great place to escape and enjoy the tropics.
What were some of the challenges in opening a venue in Singapore — is it easier or harder than in Australia?
To be honest it is a much of muchness compared with Sydney; dealing with councils, producers, suppliers, builders and designers is all relative. I would say the biggest difference is the support from government in terms of infrastructure, with a pro-active and progressive approach to supporting small to medium sized business with grants and business tax.
Why did you choose to open in Singapore?
After Eau de Vie I was keen to go back into venue ownership but realised that Sydney was going through a transitional phase with lockouts, I had the opportunity to head back to Singapore and work as an advisor for a Hospitality group called Lo and Behold. I came back with a plan to establish myself here and raise the capital needed to open my own venue and after a few years of understanding the market and need of consumers I embarked on Panamericana.
Is the weekend brunch thing a big thing at Panamericana?
Brunches are a big deal in Singapore with Champagne Free Flow and High Tea being offered in most hotels and popular bars and restaurants. We wanted to redefine how people eat in drink in Singapore and go back to simple, honest, great food and drinks. 70 percent of our trade is made up of brunch on the weekends which rolls into an afternoon drinking crowd.
Who did you create the venue to appeal to?
I believe we are going through a transitional phase in the way we eat and drink in Singapore, consumers are more discerning and price conscious so your brand and product has to be tight and consistent. The market is extremely saturated at the moment with plenty of bars and restaurant's opening and closing in relative time due to poor and inexperienced operators, the population has stagnated over the last few years so gone are the days of targeting one segment or demographic, it is more about mass appeal and offering an elevated and consistent offering with a point of difference.