Back for its second year, the Indie Spirits Tasting Perth is coming to The Flour Factory on Wednesday, 18th July, 5.30pm – 8.30pm. To make sure you secure your spot, click here for tickets.
We've had loads of gins, mescals and rums on offer at Indie over the years but this year in Perth there is a bumper line-up of interesting and tasty liqueurs. It's not often we see the Bartender mag Editor, Mr Sam Bygrave, sipping on a liqueur but he couldn't get enough of the Marionette Cassis at the Brisbane Indie, so rest assured this is some top-notch hooch.
Italicus Rosolio di Bergamotto 20% ABV
Championing the humble bergamot fruit, Italicus is produced at a family-owned distillery established in 1906 in Moncalieri, Torino. Bergamot from the UNESCO-protected area in the Calabrian region and cedro from Sicilia are infused in cold water to release their essential oils, in a time-honoured process called Sfumatura, before being blended with Italian neutral grain spirit. A delicate combination of Roman chamomile from Lazio, lavender, gentian, yellow roses and melissa balm from Northern Italy are then macerated together for several days before being married with the bergamot and cedro essential oils to create the final liquid. Available to taste at the Think Spirits table.
Ancho Reyes Chile Liqueur 40% ABV
Ancho Reyes is a liqueur made from the beloved and unique Chile Ancho.  Inspired from a 1920's era recipe, and found in the town of Puebla de Zaragoza, influenced by the old world liqueurs that made their way to Mexico.  Ancho Reyes is of earth, evokes a sense of timelessness and is reminiscent of the nostalgic flavours of Mexico.  Ancho Reyes is an original liquid as unique and individual as the Ancho Chile from which it is made. Available to sample at the De Vino Mezcal table.
ADVERTISEMENT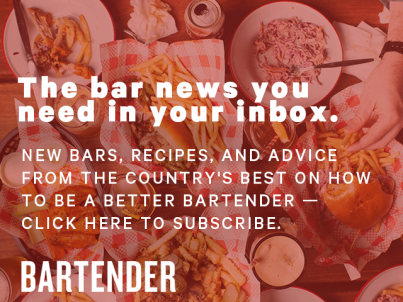 &nbsp
Ancho Reyes Verde 40% ABV
Inspired from the success Ancho Reyes has enjoyed, Ancho Reyes Verde is based on Green Poblano Chillies that are char roasted over an open fire grill, then following a very similar process, the char grilled chillies are left to soak in vats until ready some months later. Just like Ancho Reyes, Ancho Reyes Verde is an original liquid as unique as the Ancho Chile from which it is made. Ancho Reyes Verde has a bright and herbal taste with notes of golden pineapple and a savory acidity finishing with the crisp, fresh heat of the poblano chile. Available to sample at the De Vino Mezcal table.
Applewood Espressocello 20% ABV
Made from a brandy-base spirit distilled from local winemakers experiments that have gone awry. This project is a way of nullifying all forms of risk winemakers undertake with winemaking experimentationby using their by-products so it's a win-win. The coffee beans used are imported exclusively from Mexico and cold-brewed. It an intense coffee-hit with a vanilla, chocolate and citrus dominant characters – and a dense palate-weight that'll stretch in your espresso martini. Available to sample at the Applewood table.
Kalki Moon Chocolate Liqueur 20% ABV
Based on a Belgium dark chocolate with a hint of hazelnut and vanilla, Kalki Moon Classic Liqueur is taking the Australian liqueur market by storm. Recently awarded a silver outstanding at the International Wine & Spirits Competition in London and a bronze at the Australian Distilled Spirits Awards 2018 has put this product into the must try category. Available to sample at the Kalki Moon table.
Le Birlou Apple & Chestnut Liqueur 20% ABV
Vedrenne has been making liqueurs in Nuits-Saint-Georges since 1923. Using only Burgundian growers that apply sustainable and organic principles, the fruit for each liqueur has gone through a rigorous selection to guarantee richness, concentration and purity. Birlou is a traditional aperitif from the centre of France made from apples and chestnuts, where in its native Cantal its mixed with beer. Available to sample at the Cerbaco table.
Marionette Cassis 18.6% ABV
This Dry Cassis boasts a sweet, smooth taste but the team credit the amazing flavour profile to the man named Richard who grows grows spectacular white bud blackcurrants down in Tassie. Described by many as Ribena for grown-ups, the nose is packed with fresh blackcurrants and hints of cranberry. Available to sample at the Marionette table.
Marionette Curaçao 28.9% ABV
Marionette's Curaçao features Navel, Seville and blood oranges sourced directly from Glenn a third generation citrus farmer from Mildura. The oranges in their many forms are macerated, distilled and barrel aged with cask strength brandy from South Australia to create a  truly local option to showcase in classic and "Fancy" cocktails. Pouring a slightly hazy, grassy gold, this liqueur has complex scents of gingerbread, fresh orange oil & sweet raisin. Available to sample at the Marionette table.
Pierre Ferrand Curaçao 40% abv
Crafted in consultation with cocktail historian David Wondrich and based on a 19th century recipe, it is a traditional French "triple sec" – thee separate distillations of spices and the "sec" or bitter, peels of Curacao oranges blended with brandy and Ferrand Cognac. The bouquet is a joy offering perfumed scents of fresh orange cake and orange peel over a juicy, sweet centre. A concentrated burst of orange on the palate with hints of mandarin on the finish. Available to sample at the Neat Spirits table.
So make sure you get your tickets to Indie Spirits Tasting Perth so you can sample these liqueurs as well as a whole load of local and international spirits. To get your ticket to the Indie Spirits Tasting click here.