The new addition to the PS40 team is set to bring some structure to their avant-garde ways
PS40 does things a little bit differently to your regular, run of the mill cocktail bar. For one, there's a bloody soda factory on site, one which runs during the daylight hours before the bar kicks off proper. But the two bartending owners of PS40, Thor Bergquist and former Bartender of the Year, Michael Chiem, are well known for their boundary-pushing drinks. 
The problem with all this creativity, though, is that it has flourished without much of a system, says Bergquist, and that's why they've brought on Peter Seabrook as their general manager — that is, to generally manage them.
Here, Bergquist and Seabrook chat to Sam Bygrave about what's happening at the home of the reigning Cocktail List of the Year.
So, tell us why you've brought Pete on?
ADVERTISEMENT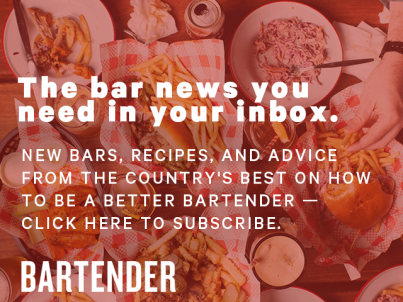 &nbsp
TB: It all started when Pete offered to help for a couple of months when he was between countries and jobs. In that time we identitifed a few things that me and MC need to pinpoint in the business — me being on sodas and him being on the bar, we're essentially running two businesses, and it's kind of hard to both communicate and keep things running coherently.
Pete said he was not moving back to Indonesia and that he could stay here if we want, and I was like, fuck yeah — you can be our bar manager, use your skills leading on the stockmarket and with spreadsheets to help us run the business properly.
We've been able to take the last two months and really excel the business forward in terms of what we can achieve, and in terms of trainings, creative purposes, do the menus, organising popups and events — everything is kind of coming together now, whereas before MC and I were chasing our tails. Now we can actually plan things out two weeks ahead!
'I guess I'd describe Pete as, well, I'm peanut butter, MC's the jam, and Pete's the bread that holds it all together,' says Bergquist.
What's your background Pete?
PS: I had a little consulting gig working alongside Celia [Schoonraad] who used to work here, with their consultancy firm form Singapore. Before that, I started off as anyone, as a barback and glassy. I actually started working because I wanted to learn how to talk to girls. I'm still pretty introverted, but we're getting there.
Then I eventually moved to London for a couple of years, and moved back and joined MC at Black at the casino. That's where I kicked off my serious bartending career.
I eventually took over as bar manager at Black, opened a couple places, moved to Indonesia and came back, and here we are.
So what's it like stepping into a place that's been run by the owner-operators for a while, and organising their shit?
PS:  I'm really fortunate to step into a place where there's no ego, there's no this is how do things and this is the only way we do things. They're really open to ideas. I gave up my computer science degree to pursue bartending, but it's really helped with things like introducing apps in the bar — communication apps like Slack, which links into to-do lists like Wonder List, and then tying everything together with an application called Airtable. It's an amazing tool which controls all the stock and all the above. That's what I brought to the team here.
And it's just bringing a bit of structure as well, because I know these guys have been working super hard and they haven't been able to focus a whole lot on the team and team development.
A lot of it must be up in their heads and not written down?
PS: Yeah, writing that down and putting procedures in place. Just so everything is clear and moving forward, when we do open extended hours and seven days, basically it's something that you can hand over to someone and anyone can come and work here.
What's happening with the extended hours?
TB: The Crown building behind us will be finished in July, and that's 200 awesome apartments and five restaurants, cafes and bars on Skittle Lane. We thought we'd found a little tucked away part of the city, but then everyone moves in behind us. With that, we want to make the most of that, with this regular clientele that has to come through our laneway every day. So we're going to open until two o'clock in the morning, and on Sundays too. So if we're going to increase our team, increase our trading hours, we need these systems that honesty, we're shit at. I'm more creative, I'm not very good at communicating, whereas Pete is exceptional at communicating and can help us deliver our message to all the staff and our guests at all times.
Tell us about the new menu?
PS: This time round we didn't change the whole menu, we kept on a lot of what you'd call the best sellers, the drinks that people love. Drinks like our Breakfast Negroni, which we put on our last menu, has been going off the chain and it's super tasty as well. We've also expanded our non-alcoholics, because we find that people will come in here and have a good three or four rounds of non-alcoholic drinks and feel the pressure to drink booze. Which has been quite interesting, because coming from Indonesia we had a full non-alcoholic menu which mirrored our cocktail menu. It's good to see that we can capture that side of the market.
TB: I don't normally eat meat, and when I order a dish that has a vegetarian option at a restaurant, they don't replace things in they normally just take shit out, right? So with our non-alcoholics we didn't want to make them drinks that we already had, we wanted to create sole representations of what good non-alcoholic drinks  should be.
Do you think we're gong to see more of this non-alcoholic stuff in bars?
PS: 100 percent. It's only going to get bigger, people are always trying to get healthier. It's definitely a growing market.