From Sunday through to Tuesday this past week, the Speed Rack Australia regional qualifiers were held in Brisbane, Sydney, Melbourne and Perth — and what a turnout there was.
In front of packed out crowds across the country, those female bartenders game enough to take on the Speed Rack challenge competed against one another to nab a spot at the Speed Rack Australian national finals being held at Sydney's Marble on Sunday July 29th.
And here's the top 16 who got through to the final:
Alexia Vrignon, The Duke of Clarence, Sydney
Alice Newport, Fat Angel's Sports Bar, Brisbane
Alissa Gabriel, Mjolner, Sydney
Anna Nguyen, Button Bar, Sydney
Chelsea Lampard, Beneath Driver Lane, Melbourne
Christine Lam, The Barber Shop, Sydney
Emma Crisp, The Dominion League, Perth
Jemima McDonald, Earl's Juke Joint, Sydney
Jenna Hemsworth, Restaurant Hubert, Sydney
Priscilla Leong, The Baxter Inn, Sydney
Maeva Bodenan, Beneath Driver Lane, Melbourne
Millie Tang, The Gresham, Brisbane
Pip Raward, Howlin' Wolf, Wollongong
Shay Chamberlain, Black Pearl, Melbourne
Shenai Jones, The 18th Amendment Bar, Geelong
Shirley Young, Clarences, Perth
Speed Rack is a competition founded by American bartenders Ivy Mix and Lynnette Marrero to put a spotlight on the great female bartenders working there, with all proceeds from the events go to supporting breast cancer education, prevention and research. It's a hell of a good time for a great cause.
Since its founding Mix and Marrero have taken the competition around the USA, over the pond to England, and up to Canada, and now it's Australia's turn.
ADVERTISEMENT
&nbsp
You can #BackTheRack when the Top 16 go head to head at Marble Bar in Sydney on Sunday the 29th of July.
Mix and Marrero will also be hosting pop-ups of their bars Leyenda and Llama Inn in Sydney on Tuesday the 24th of July, and Melbourne on Wednesday the 1st of August, with venues to be confirmed.
They've also confirmed they'll be appearing at special Coleman's Academy event in both Sydney (on July 25th) and Melbourne (on August 1st).
In the meantime, follow Speed Rack on Instagram here for updates.
ADVERTISEMENT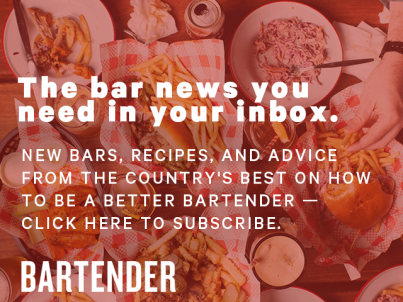 &nbsp