Bistecca
3 Dalley Street, Sydney
bistecca.com.au
Bistecca is the latest addition to the Sydney hospitality group — which these days goes by the monkey of Liquid & Larder — whose venues include The Wild Rover, Grandma's Bar, and Wilhelmina's. And they've just flung open the doors.
The bar and restaurant is an ode to the Florentine steakhouses that owners Warren Burns and James Bradey loved on their trips through Italy. 
At Bistecca, in the restaurant, they're focusing on one cut of meat — the t-bone, which is served the Florentine way (bistecca all Florentine) — and they've turned the basement of a building on the somewhat soulless Bridge street in the Sydney CBD into a warm, inviting place to eat.
ADVERTISEMENT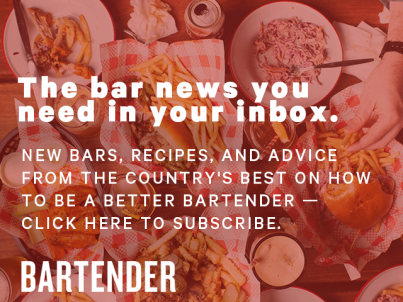 &nbsp
But this being Australian Bartender, we're interested in what they're doing out the front in the bar. And what they're doing is all about the aperitivo.
The Negroni is a big focus: they're pouring a great take on it from a tap to get the good stuff out to the peoples quick, without sacrificing taste; and they're also making a clarified milk Negroni.
"It's called a Milk Negroni — it doesn't have any flavour of milk," says the drink's maker, Lachlan Gunner. "That's not the point. The reason behind it is having a textural thing, a silkiness [and] for clarification."
The reason behind the Negroni on tap — and the Spritz they're serving — is to get the drinks out quickly when they're under the pump so they can focus on the hospitality.
"We want to play host — it's not something that's been lost, but it's something we like to do, and want to do here," says bar manager Toby Robinson.
Given the Italian emphasis and the focus aperitivo, you can also whet your palate on a number of different styles of amaro — and for you Fernet-Branca fanatics out there, you can drink it in Spider form.
They're not taking reservations for the restaurant, so you'll need to get down there and put your name on the list — but hey, that's what the bar is for, right?
Bistecca is open from 4pm all the way through until 2am, so we expect we'll see a number of you hospo types there after your shift.
Take a look inside the venue below.