It's that time of year again folks, when we celebrate the best of the Australian bar industry.
That's right, it's time for the Bartender Magazine Australian Bar Awards finalists. Never before has the industry been in such good form.
The Bar Awards takes place on Tuesday the 18th of September this year, and is just one of the many great events in store for Sydney Bar Week this year, taking place from the 15th to the 19th of September — click here to visit the barweek.com.au and check out the full timetable; there's over 25 events happening over the five days, with RSVPs for some events open now. RSVP ASAP to make sure you don't miss out.
And if you're one of the finalists, you can book your tickets now — just click here.
ADVERTISEMENT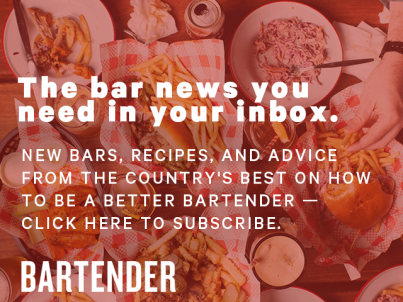 &nbsp
Take a look at the finalists below.
BAR OF THE YEAR
Boilermaker House, Melbourne
Brooklyn Standard, Brisbane
Burrow Bar, Sydney
Door Knock, Sydney
Earl's Juke Joint, Sydney
Kittyhawk, Sydney
Mechanics Institute, Perth
Savile Row, Brisbane
The Baxter Inn, Sydney
The Gresham, Brisbane
ROOKIE OF THE YEAR
Proudly sponsored by The Perfect Blend
Anna Nguyen, Button Bar, Sydney
Kayla Reid, Savile Row, Brisbane
Dylan Balm, Late Night Valentine, Perth
Emma Crisp, Tiny's, Perth
Ben Reidy, Maybe Mae, Adelaide
Cennon Hanson, Above Board, Melbourne
Jacob Cohen, Savile Row, Brisbane
Sarah Chiverton, Restaurant Hubert, Sydney
Lachlan Gunner, Grandma's Bar, Sydney
Morgan Karlsson, The Duke of Clarence, Sydney
COCKTAIL BAR OF THE YEAR
Proudly sponsored by Campari
Above Board, Melbourne
Black Pearl, Melbourne
Bulletin Place, Sydney
Eau de Vie, Melbourne
Maker, Brisbane
Maybe Mae, Adelaide
PS40, Sydney
Romeo Lane, Melbourne
The 18th Amendment Bar, Geelong
The Everleigh, Melbourne
NEW BAR OF THE YEAR
Proudly sponsored by The House of Angostura
Door Knock, Sydney
Hadiqa, Perth
Jacoby's Tiki Bar, Sydney
Mjolner, Melbourne
Savile Row, Brisbane
Smoke, Sydney
The 18th Amendment Bar, Geelong
The Doss House, Sydney
The Duke of Clarence, Sydney
Tiny's, Perth
BEST SUSTAINABLE BAR PROGRAM
Charlie Parker's, Sydney
Maybe Mae, Adelaide
Swillhouse Group, Sydney
NIGHTCLUB OF THE YEAR
Proudly sponsored by Pernod Ricard
Bond, Melbourne
Cloudland, Brisbane
Club 77, Sydney
Frankie's Pizza
Ivy, Sydney
Laruche, Brisbane
Late Night Valentine, Perth
Marquee, Sydney
The Cliff Dive, Sydney
The Emerson, Melbourne
PUB OF THE YEAR
Garden State Hotel, Melbourne
Coogee Pavilion, Sydney
Queens Hotel, Sydney
The Clock Hotel, Sydney
The Dolphin, Sydney
The Henson, Sydney
The Lincoln, Melbourne
The Napier Hotel, Melbourne
The Unicorn, Sydney
The Winston, Hobart
HOST OF THE YEAR
Caitlin Webb, Tiny's, Perth
Carmen Iannie, Palmer & Co, Sydney
Celeste Eddy, The Everleigh, Melbourne
Elizabeth Iglesias, Mjolner, Sydney
Elly Gelle, The Brisbane Hotel, Perth
Kristy-Lee Williams, Cloudland, Brisbane
Lilly Polanco, Chin Chin, Sydney
Olivia Rockwell, Restaurant Hubert, Sydney
Sarah Mycock, The Lobo Plantation, Sydney
Stefano Catino, Maybe Frank, Sydney
SMALL BAR OF THE YEAR
Above Board, Melbourne
Bad Frankie, Melbourne
Bulletin Place, Sydney
Burrow Bar, Sydney
Jangling Jack's, Sydney
Maker, Brisbane
Mechanics Institute, Perth
Papa Gede's Bar, Sydney
The Elysian Whisky Bar, Melbourne
This Must Be The Place, Sydney
BAR MANAGER OF THE YEAR
Proudly sponsored by Re'al Cocktail Ingredients
Alen Nikolovski, Shady Pines Saloon, Sydney
Alex Gilmour, Tio's Cerveceria, Sydney
Dave Marshall, Lefty's Old Time Music Hall, Brisbane
David Nguyen-Luu, The Barber Shop, Sydney
Jemima McDonald, Earl's Juke Joint, Sydney
Mary White, The Lobo Plantation, Sydney
Paul Hammond, Bulletin Place, Sydney
Ryan Lane, The Gresham, Brisbane
Stuart Morrow, The Baxter Inn, Sydney
Trish Brew, Gin Palace, Melbourne
REGIONAL BAR OF THE YEAR
Coal & Cedar, Newcastle
Dulcie's Cottage, Merimbula
Flaggerdoot, Mornington Peninsula
Hooch & Fellow, Townsville
Howlin' Wolf, Wollongong
Miss Moneypenny's, Noosa
Pocket Bar, Terrigal
The 18th Amendment Bar, Geelong
The Bolt Hole, Byron Bay
Three Wolves, Cairns
BAR OPERATOR OF THE YEAR
Barrelhouse Group, NSW
Bread & Circuses, WA
DAP & Co, QLD
Jared Merlino, NSW
Made in the Shade, VIC
Martin Lange, QLD
Pasan Wijesena, NSW
Sneakers & Jeans, WA
Speakeasy Group, NSW/VIC
Swillhouse, NSW
PUB OPERATOR OF THE YEAR
Geoff Hayward
Iain Ling
Katarzyna Group
Merivale
Milestone Group
Sand Hill Road
Solotel
Sydney Collective
BEST SPECIALTY BEER VENUE
Proudly sponsored by Mismatch Brewing
Bitter Phew, Sydney
Boilermaker House, Melbourne
Dutch Trading Company, Perth
Frankie's Pizza, Sydney
Mr West, Melbourne
Noble Hops, Sydney
Petition Beer Corner, Perth
The Winston, Hobart
BAR TEAM OF THE YEAR
Proudly sponsored by The Exchange
Black Pearl, Melbourne
Boilermaker House, Melbourne
Kittyhawk, Sydney
Maybe Frank, Sydney
Maybe Mae, Adelaide
Mechanics Institute, Perth
Ramblin' Rascal Tavern, Sydney
Savile Row, Brisbane
Shady Pines Saloon, Sydney
The Gresham, Brisbane
COCKTAIL LIST OF THE YEAR
Proudly sponsored by William Grant & Sons
Black Pearl, Melbourne
Bulletin Place, Sydney
Charlie Parker's, Sydney
Door Knock, Sydney
Eau de Vie Sydney/Melbourne
Flaggerdoot, Mornington Peninsula
Maybe Frank, Sydney
Maybe Mae, Adelaide
PS40, Sydney
Savile Row, Brisbane
WINE BAR OF THE YEAR
Proudly sponsored by Unico Zelo
Annata, Sydney
Bar Liberty, Melbourne
Bar Rochford, Canberra
Dear Sainte Éloise, Sydney
Embla, Melbourne
Geralds Bar, Melbourne
Harry & Frankie, Melbourne
La Lune Wine Co, Brisbane
Monopole, Sydney
Wyno, Sydney
NEW PUB OF THE YEAR
Barangaroo House, Sydney
Bondi Beach Public Bar, Sydney
Little Big House, Brisbane
Mr West, Melbourne
The Imperial, Sydney
The Lansdowne, Sydney
The Osbourne, Brisbane
The Park House, Sydney
Waterside Hotel, Melbourne
BEST BAR FOOD
Bar Liberty, Melbourne
Big Poppa's, Sydney
Clarences, Perth
Continental Deli Bar Bistro, Sydney
Electric Avenue, Brisbane
Heartbreaker, Melbourne
Seymour's Cocktails & Oysters, Brisbane
The Duke of Clarence, Sydney
The Standard, Perth
Tokyo Bird, Sydney
BEST BARTENDERS' BAR
Proudly sponsored by Jagermeister
Big Poppa's, Sydney
Brooklyn Standard, Brisbane
Heartbreaker, Melbourne
Jacoby's Tiki Bar, Sydney
Late Night Valentine, Perth
Loch & Key, Melbourne
Mechanics Institute, Perth
Ramblin' Rascal Tavern, Sydney
Savile Row, Brisbane
Shady Pines Saloon, Sydney
LIVE MUSIC BAR OF THE YEAR
Proudly sponsored by Southern Comfort
Alabama Song, Perth
Black Bear Lodge, Brisbane
Brooklyn Standard, Brisbane
Cherry Bar, Melbourne
Frankie's Pizza, Sydney
Lefty's Old Time Music Hall, Brisbane
The Lansdowne, Sydney
The Toff in Town, Melbourne
RESTAURANT BAR OF THE YEAR
Bar Liberty, Melbourne
Bert's, Sydney
Big Poppa's, Sydney
Chula, Sydney
Dead Ringer, Sydney
Lume, Melbourne
Maybe Frank, Sydney
Mjolner, Sydney
Restaurant Hubert, Sydney
Walter's Bar & Restaurant, Brisbane
GIN BAR OF THE YEAR
Proudly sponsored by Bombay Sapphire
Dutch Courage Officers Mess, Brisbane
Frisk, Perth
Gin Lane, Sydney
Gin Palace, Melbourne
Hains & Co, Adelaide
Moya's Juniper Lounge, Sydney
Society Salamanca, Hobart
Stillery, Sydney
The Barber Shop, Sydney
The Flour Factory, Perth
RUM BAR OF THE YEAR
Proudly sponsored by BACARDI
Grandma's Bar, Sydney
Hains & Co, Adelaide
Hula Bula, Perth
Jacoby's Tiki Bar, Sydney
Kittyhawk, Sydney
Rude Boy, Hobart
Sneaky Tony's, Perth
The Lobo Plantation, Sydney
The Rum Bar, Airlie Beach
The Rum Diary Bar, Melbourne
WHISKY BAR OF THE YEAR
Proudly sponsored by Southern Comfort
Beneath Driver Lane, Melbourne
Varnish on King, Perth
Cobbler, Brisbane
The Baxter Inn, Sydney
The Wild Rover, Sydney
Boilermaker House, Melbourne
Savile Row, Brisbane
The Gresham, Brisbane
Whisky & Alement, Melbourne
The Elysian Whisky Bar, Melbourne
THE PHIL BAYLY AWARD FOR TEQUILA BAR OF THE YEAR
Proudly sponsored by Jose Cuervo
Barrio Cellar, Sydney
Bodega Underground, Melbourne
Caballitos, Perth
Chula, Sydney
El Grotto, Perth
Hot Tamale, Darwin
Mamasita, Melbourne
Pancho Villa, Hobart
Tio's Cerveceria, Sydney
Touche Hombre, Melbourne
BAR OF THE YEAR – STATE AWARDS
ACT: Akiba, Elk & Pea, Bar Rochford, Honky Tonks, Kokomo's
NSW: Burrow Bar, Door Knock, Earl's Juke Joint, Kittyhawk, The
Baxter Inn
QLD: Brooklyn Standard, Electric Avenue, Lefty's Old Time Music Hall, Savile Row, The Gresham
SA: BRKLYN, Clever Little Tailor, NOLA
TAS: IXL Long Bar, Rude Boy, Society Salamanca
WA: El Grotto, Mechanics Institute, The Halford, Varnish on King, Tiny's
VIC: Bad Frankie, Boilermaker House, Heartbreaker, The Rum Diary Bar, Union Electric
NT: Chow, The Deck Bar, The Trader Bar
COCKTAIL BAR OF THE YEAR – STATE AWARDS
ACT: Hippo Co, Highball Express, Molly
NSW: Bulletin Place, Charlie Parker's, PS40, The Barber Shop,
The Lobo Plantation
QLD: Canvas Club, Hooch & Fellow, Maker, Seymour's Cocktails & Oysters, The Bowery
SA: Collins Bar, Hains & Co, Maybe Mae,
TAS: Ettie's Bar, The Glass House, Void Bar
WA: Bar Lafayette, Bobeche, The Dominion League
VIC: Above Board, Black Pearl, Eau de Vie, Romeo Lane, The 18th
Amendment Bar, The Everleigh
NT: Lazy Susan's, Pearl & Co, Sandbar Skycity
HOTEL BAR OF YEAR
Alibi Woolloomooloo, Sydney
Eau de Vie, Sydney
Flaggerdoot, Mornington Peninsula
Grain, Sydney
IXL Long Bar, Hobart
Marble Bar, Sydney
Mayfair, Melbourne
Shadow Wine Bar, Perth
The Story Bar, Hobart
Zeta Bar, Sydney
BRAND AMBASSADOR OF THE YEAR
Proudly sponsored by Australian Bartender
Dan Woolley, The Exchange
Karel 'Papi' Reyes, Monin
Kate Moran, Pernod-Ricard
Krystal Hart, Diageo World Class
Loy Catada, Bacardi-Martini
Mitch Wilson, Maison Ferrand
Nick Miles, Sailor Jerry
Ross Blainey, The Balvenie
Simon McGoram, Diageo
Thalita Alves, Brown-Forman
TRAINING PROGRAM OF THE YEAR
Proudly sponsored by Australian Bartender
Diageo Bar Academy – Diageo
Fine Drinks Movement – Southtrade
The Blend/The Exchange – Beam-Suntory/CCA