Described by her mentor, Julie Reiner, as "a powerhouse" Ivy Mix has a star-spangled resume: in 2015 she was named as American Bartender of the Year at the Tales of the Cocktail Spirited Awards in New Orleans, she co-owns Brooklyn bar Leyenda with Reiner, and is the co-founder of Speed Rack, a competition she founded with Lynnette Marrero to put a spotlight on female bartenders, with all proceeds from the events go to supporting breast cancer education, prevention and research. 
Well, Speed Rack is coming to Australia this month — you can grab tickets to the national final in Sydney here (and it's all for a good cause) — so ahead of her visit we caught up with Mix during the global finals of Bacardi Legacy in Mexico City in April, to talk about her journey, and what to expect when Speed Rack makes its long-awaited appearance on our shores.
As told to Sam Bygrave
I'm the co-owner of Leyenda in Brooklyn New York, and I also co-founded Speed Rack, an all female bartending competition and breast cancer charity that's coming to Australia, and I'm very excited about that.
I've been bartending for the last 14 years, 
ADVERTISEMENT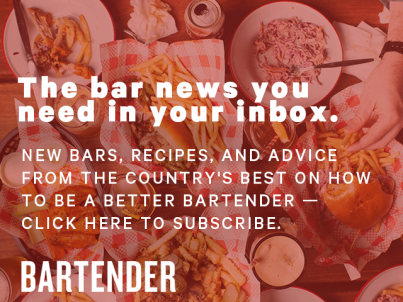 &nbsp
I started bartending when I lived in Guatemala. I moved there when I was 19 to get out of Vermont. I'm born and raised in Vermont, which is like the whitest, smallest place in the world, and I went to college [there] as well. We had a winter term, where you had to leave the campus and do something. I wanted to get the hell out of there and go to Guatemala.
I fell in love with Guatemala, and most importantly I fell in love with a bar in Guatemala. I was only 19 and I couldn't drink in my country.
I went to the bar every day, and this was pre-travelling with cell phones — if you wanted to hang out, it wasn't like, "Hey, whatcha doing?" It was more, "well I bet someone will be at the bar." It was a bar that specialised in tequila and mezcal; Illegal, which was this brand that I helped start in this bar called Cafe No Se, it falls under the Bacardi portfolio now which is pretty cool. 
I moved to New York in 2008,
and I'd been bartending for a couple of years in Guatemala and really fell in love with Latin spirits, particularly tequila and mezcal, as a byproduct of falling in love with the country they were in.
The economy collapses, I couldn't find a job — my degree was in fine art and philosophy, which is already a pretty worthless degree — and I started bartending and working to pay off my bills, and I discovered cocktails. That blew my mind, that you could make these amazing things out of these spirits that I already really liked. I'm kind of a geek about learning stuff, so the cool thing with cocktails and booze is that there's a never ending pit of information you can fall into and geek out on.
It was a weird time in 2008 and 2009 to start bartending [in New York]; it was the era of the speakeasy, so if you were a bartender you were a dude with a moustache and suspenders and that's what a mixologist looks like. There's a uniform, and a woman wasn't part of that picture, which is why I started Speed Rack.
I finally ended up working with Julie Reiner, who is now my business partner at Leyenda. I worked for her at a tropical bar called Lani Kai which specialised in rum, and that's where I kind of made it. I'd worked other places beforehand, but that was the big thing. 
I started Speed Rack, and that really launched my career. People say, "Oh you've done such great things for women everywhere," but Speed Rack kind of made my career too — it wasn't the idea, but that's what happened.
In 2015 Julie contacted me and said that the venue across the street from the Clover Club — where I was working — it was available. I'd been trying to open my own bar forever, and was having all these problems. She was like, "Do you want to do a taqueria, a mezcal place?" We didn't want it to be anything like Clover Club. I didn't want to open a taqueria, like, tequila, sombrero, chiquito — it's not celebratory of actual Latin culture and I'd lived all over Latin America and my interests, while it focused in on tequila and mezcal, that's not my only interest. I am interested in celebrating other spirits from other places, especially ones that aren't recognised as much — why pisco isn't more popular is beyond me. It's like a floral vodka. Why aren't all the simple ladies— basic bitches for lack of a better term — chugging Pisco like it's nobody's business?
I'd worked for Julie [Reiner] for years and she's my kind of quasi-mentor, she's also a really dear friend of mine and I respect her very much— she's not afraid to share her experience. 
For me, I love sitting in front of people who are dexterous, I think it's fascinating watching people who are really athletic behind the bar. But to me, if you don't have a level of hospitality, I'm not going to go back to you. I go to bars for the people, rather than the ooh la la and the precious cocktail. I could name a bunch of bars that are on the World's 50 Best Bars list that I have had horrible service at. The cocktails are cool to look at, and it's super interesting, but to me a good bartender is someone who is dedicated to their craft, who really knows what they're doing, can answer your questions, and who is dedicated to their place of work — who can understand their menu through and through, who can understand their ethos through and through, and the ethos of the clientele. A good bartender is going to look at you, sum you up, and chat to you — a good bartender should make sure you are never on your iPhone.
It's been seven years in the making, [bringing Speed Rack to Australia]. I'm so excited. We're working with Quynh Nguyen, and he's been lovely. We are working with him and doing some regionals throughout Australia to get women from throughout Australia, and the competition [final] is going to be in Sydney on the 29th of July.
Speed Rack, we've been doing it for seven years in the States; we've gone to Singapore, we've gone to the UK a bunch of times, we're doing Canada shortly as well. In the States, Speed Rack has kind of changed its ethos a little bit, being less about creating a platform for women to be seen in the industry, and more about having a sisterhood and a real community for women.  
I've received many messages from Australian female bartenders asking us to come here — and I really wanted to, but it's been difficult, the laws are different and booze is super expensive in Australia. But we're finally doing it, and I think in Australia it will be more about this platform. My hope is that women will compete and there will be some women in there that no-one's ever heard of that then gets maybe a really great brand job — but my hope is they don't come off the bartending train, go bartend somewhere else! I feel like all these women compete in Speed Rack and then they're working for brands and I'm like, "No! That wasn't the point!"  
Speed Rack comes to Australia this month! Take a look at the dates below.
Speed Rack Australian Final, Sunday 29 July, Marble Bar Sydney

Leyenda & Llama Inn Popup, Tuesday 24 July, Sydney (venue TBC)

Leyenda & Llama Inn Popup, Wednesday 1 August, Melbourne (venue TBC)