WE first met Alan Mulvihill a few years back — and interviewed him in these pages — when was manning the bar at Melbourne's Thomas Olive. The quick talking Mulvihill is one of those bartenders for whom the industry is about hospitality, first and foremost, and he's a bartender who is going to serve you up a good time.
We visited him recently on a trip to Guadalajara to support Australia's Bacardi Legacy champion, James Irvine, and hung out at Mulvihill's new digs, El Gallo Altanero. The bar is co-owned by Nick Reid (you may know him as one of the Tequila Tromba guys), and it's one of our favourite joints in all the world.
Below, Sam Bygrave chats to Mulvihill about some of the challenges they've had to overcome in setting up a bar in a completely foreign city.
Did you speak any Spanish before you came here?
No, zero. I still speak point five at the moment — bar chat I can do, but if an insurance company called me I'd be fucked. But behind the bar I can hold my own, the general banter you pick up quite fast — it's mainly swearing.
Tell us a bit about the idea of the bar?
The idea was Nick's brainchild, he's lived off and on in Guadalajara for years, and Nick is co-founder of Tequila Tromba. Basically he would come here and there was nowhere to drink independent tequila brands, because the brands — with all due respect to Mexico — the system is completely fucked. The brands here can afford to pay a lot more money to staff than bars can afford to pay staff, so bartenders never stay in bars; they work for brands. We pay better money than any other bar in the city, because we understand the value of staff. 
ADVERTISEMENT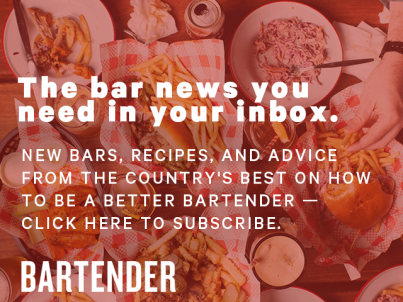 &nbsp
It's a thing I really didn't expect and the brands here are fucking the bar trade. They either hire all the great guys, and there's no-one to teach the people who are coming up, or they go to Mexico City to work for the brands there.
So our plan is to embed the hospitality culture we've got from travelling all over the world, Melbourne mostly, because to me the family culture in Australia [hospitality] is fucking amazing. You know you bounce up to doors of bars in Melbourne and everyone knows your name. It can be a bad thing though…
Can you tell us about the menu you're doing — it's changing every day?
It depends on how hungover we are. So, white guys come in here and are like we're going to show you how to drink, this is how you should do it, and I never wanted to be seen like that, I wanted to organically become part of the culture. So we started doing different menus every night, what hit and what missed; we tried the Batanga and it flopped big time, there was nearly a riot inside. And that's fine. I'm not going to come over here and get everything right the first time. So we just kept changing the menu the whole time.
So it was kind of out of necessity to see what worked?
Yeah, because a lot of the bars that are open at the moment have skipped 30 years of bar culture and they're doing bone marrow rinses and all sorts of shit, and the customers have never had a good Pina Colada before. So how are they supposed to enjoy it? What the fuck is this?
So basically our chat is twists on classics, and agave-forward where we can because we're in the heart of Guadalajara, it should be done. Mezcal is so popular now, because it's the cool drink of the moment, and every bar you go to has a mezcal selection, but what tequila do you have? Siete Leguas [is it]. It's great, but it's everywhere here. That's the main reason Nick was like, there's a hole in the market — let's exploit it.