Get a dose of inspiration for World Tequila Day
World Tequila Day really ought to be known as The Happiest Day On Earth, if you ask us.
Like you guys, we're big fans of the world's most famous agave spirit, and whether it's sipping it neat, mixing it in a cocktail, or even served simply with tonic water, we know we'll be partaking in some World Tequila Day fun on the 24th of July.
And as we've got a healthy dash of Mexican-inspired stories this month, we thought we would turn to one of this country's most passionate advocates for agave for some recipe inspiration for the
ADVERTISEMENT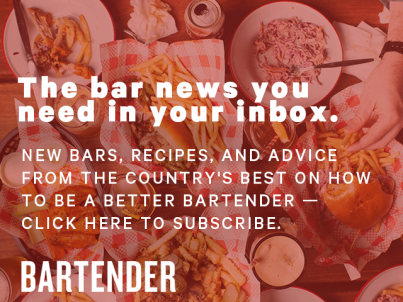 &nbsp
Below, you'll find not just a few great tequilas to consider for your bar, but three ace recipes from Reece Griffiths, the aforementioned agave advocate and the guy responsible for the list at Sydney Mexican restaurant and bar (and finalist for this year's Tequila Bar of the Year award), Chula.
You'll note, too, that in the Chula Margarita here, Griffiths uses champagne agave syrup, instead of straight up agave syrup. That's because Griffiths finds the syrup a little cloying in drinks like the Tommy's Margarita; his dash of champagne to the syrup cuts that down and lengthens the palate a little. Salud!
[ultimate-recipe id="45335″ template="default"]
[ultimate-recipe id="45342″ template="default"]
[ultimate-recipe id="45348″ template="default"]
World Tequila Day at Tio's Cerveceria & Mamasita
World Tequila Day is tailor-made for agave action — here's what's coming from the guys at Tio's Cerveceria and Mamasita.
The world is continuing to opening its eyes to tequila. On World Tequila Day, Tio's Cerveceria, Mamasita and Australia's best agave importers will be celebrating independent and artisanal tequila.
Come on down to Tio's for a chance to taste the spirits of independent distilleries and distributors for free between 3 and 5 and stick around for tacos, margaritas and mariachi.
Save the dates!
Melbourne – 22nd July, 2018 (free tasting 12-3pm)
Sydney – 29th July, 2018 (free tasting 3-5pm; fiesta from 5pm)
In the month leading up to World Tequila Day, both venues will be running special menus consisting of a few cocktails and a tailored sippers list. As the collaboration between Mamasita/Hotel Jesus and Tio's continues we ask everyone to come and enjoy what is a truly amazing celebration.
Winning Agave for World Tequila Day
Alipus San Andres
Okay, yes, this is a mezcal, but we reckon World Tequila Day can share some love for its smoky, artisanal cousin. This one is fermented in cypress vats and made from the espadin agave, and is big and flavoursome.
Neat Spirits
ArteNOM Seleccion 1414 Tequila Reposado
Made from blue weber agave grown in the highlands of Tequila, in Arandas, this a banging, well-balanced tequila.
Cerbaco
Cazadores
The Cazadores distillery is located in the highlands of Tequila, in Arandas, and it's highland agave they source for their famous reposado.
Bacardi-Martini
Jose Cuervo Tradicional
A classic silver tequila from the world's most famous tequila brand. It's a go to clean and peppery blanco ideal for cocktails.
Proximo Spirits
Olmeca Altos Plata
Made from 100% blue agave grown in the highlands of Tequila, it features herbal and cooked agave aromas, with citrus and a white pepper bite on the palate.
Pernod Ricard
Milagro Select Barrel Reserve Silver Tequila
This is a crisp blanco tequila that is made from agaves roasted in clay ovens and triple distilled, with some ageing happening in French oak barrels.
William Grant & Sons
Patrón Silver Tequila
Patrón uses a blend of traditional and modern techniques to make this pioneering luxury tequila, one that's perfect in your cocktails.
Southtrade