Mexico City is a place of contrasts. Within just a few blocks of this sprawling megalopolis you'll find the wealthiest people eating at the finest restaurants on the World's 50 Best Restaurants List, and a block or two over you'll find people living on whatever they can muster that day selling whatever they can to make a peso or two.
Mexico City is the seat of the federal government in Mexico, and it's the country's largest city — one of the largest in the world. It's chaotic, traffic clogs the roads and the road rules, if there are any, don't seem to apply to anyone. It's beautiful, ancient, gritty and bold.
And it offers up some great drinking and eating.
We were in Mexico City as part of the support crew for James Irvine's attempt at taking out the BACARDI Legacy Global Cocktail Competition, and got to get around the town for some amazing meals and sensational drinks.
ADVERTISEMENT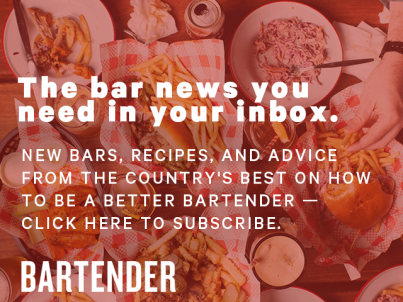 &nbsp
Here are our favourites.
Maison Artemisia
This was one of our favourite bars from the trip. Think of it as something akin to a Mexican Black Pearl, and you'll be on the right track.
Here, you're going to get some banging cocktails, and as the name suggests, there's a big focus on absinthe at the bar (artemisia being the wormwood that should be in any bottle of real absinthe).
The best bit is you get all the good drinking without any of the pretense and blather of some other bars, which means this place is an ideal way to either start your night off right, or close it out in style (as we like to think we did).
Fifty Mils
Located in the luxurious surrounds of the Four Seasons hotel in Mexico City, Fifty Mils is probably the best hotel bar in town.
Here, they're pushing the envelope when it comes to cocktails — think of elaborate serves and unique flavour combinations, and you're getting the right idea. 
The bartenders here know what they're doing, so whilst some of the cocktails might be a little more out there, you're going to have a good drink in hand nonetheless.
Licoreria Limantour
Licoreria Limantour is credited by many Mexico City bartenders as one of the seminal cocktail joints in town, and, as Bacardi global advocacy director Jacob Briars told us, they've got a pretty fine farm system for bringing up top bartenders. 
The bar operates in two locations these days, with the original a short walk from Maison Artemisia in the Roma district; their most recent outpost is the highlight of the swanky Polanco district.
Whichever outpost you drop into, order a cocktail (they have some of the best in town) and strap yourself in for a good time.
Xaman
Located in Cuauhtemoc, this is a basement bar with some serious mood lighting going on. 
The cocktails here employ ingredients native to Mexico, and push the boundaries far past the classics. 
Expect them to be fermenting their own ingredients (all the cool kids are doing that these days, didn't you know) and bartenders who know what they're doing behind the stick. 
Pujol
Okay, it's time to get to eating. Pujol has been named as the best restaurant in Mexico City (you can take a gander at it in David Chang's Netflix series, Ugly Delicious, when he goes on the hunt for tacos), and it landed at number 20 on the World's 50 Best Restaurants List in 2017.  
It's fairly fancy, so you'll need to make a reservation, but there's no shame in visiting there for lunch, if only to get a good look at the layout and design of the place (and the kitchen garden out the back) in a good light.
The drinks here are worthy of a top bar, too — we smashed more than a few of their Mezcal Negroni's — and the wine list offers up bottles native to Mexico and Latin America that you're not likely to ever see on our shores.
Quintonil
Some of our group preferred Pujol over Quintonil, but the difference is really a matter of style — whereas there's a formality to Pujol, at Quintonil, in the Polanco district, things are a touch more relaxed when it comes to the service — it's warm and familiar and inviting. The food is brilliant — they landed only a couple of spots behind Pujol on the World's 50 Best Restaurants list — and you're going to want to order the banquet menu to make sure you're getting a good overview of what they're all about. The chef here is a disciple of Enrique Olivera from Pujol, so there's some similarity between the two restaurants, but Quintonil is a touch cheaper price-wise. 
What you will want to do, however, is get a good long look at the wine list — there's bottles on here that, thanks to the strength of the Aussie dollar over the peso, you'll want to splurge on (they'd cost you  twice the price at a restaurant at home).