Interview by Sam Bygrave
Photographs by Ryan Noreiks
Maybe Mae is undergoing a revamp. The Adelaide bar has made quite a name for itself since opening four years ago, firmly establishing itself as a must-visit bar on any Adelaide visit.
Now, co-owner Ollie Margan and his team have doubled down on what makes Maybe Mae great — the drinks and the service.
The revamped venue will be all table service, and the cocktails are divided up into three main sections inspired by what makes South Australia such a good drinking and eating experience — the coastal, hills, and valley regions.
They've also got four dedicated non-alcoholic drinks, of which $2 from each sale goes to organisations like the Coleman's Academy and Beyond Blue.
ADVERTISEMENT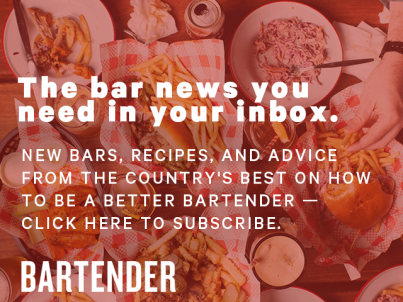 &nbsp
Here Margan speaks with Sam Bygrave about the idea behind the relaunch, and goes in-depth on a few of the drinks that speak to the new cocktail list, which launches next week.
SB: What's the idea behind the relaunch?
OM: For us it's about being able to provide the same service, open to close, seven days a week. Given our stage of life [four years in], it's triggered me to think about what it is that we're doing and what stands us apart — where our strengths lie, where our weaknesses lie, and how we distill that down. When you get to that sort of four or five year mark, you're in an awkward phase. Because you're not the new kids on the block anymore, you're not being hyped in every publication, you're not having people trying to check you out all the time, but you're not at the stage where you're classified as an institution so you can't keep doing what you're doing because that's what people know you for and expect.
And at that stage, the physical aspects of the venue start to lose a bit of their shine: the carpet's not as nice, the timber's a bit aged, it's a tricky time.
We decided that we wanted to have a crack at being as good as we could be, which we weren't. We had some limiting factors, and that was so we could service a large amount of people in an over the bar type scenario. So, the aesthetic of the menu can't be that nice because stuff gets wet, stuff gets thrown around. The aesthetics were limited by our turnover.
It also meant we were limited in our dialogue. As far as what we listed, the drinks had to be exactly as they read, and we couldn't get away with doing something that needed some preamble or dialogue attached to it.
So on the back of spending some time in the USA last year, I saw that the big difference between the bars that are classified as the best bars in the world and the strong bars in Australia, was probably just the service style. Our drinks on the whole are better, we have access to better produce, but I think there's a level of service in the States. For me, one of the strengths of Maybe Mae is our team here, and their ability to interact with people. So by changing the format of how we do things, it allows us to accentuate that, which our see as our strength.
So you're looking to do more table service?
We are doing [table service] five days a week, but Friday and Saturday we're just a little too busy. We're licensed for 85, but we've only got seating for about 50. So you've got 35 people you're definitely not going to be able to serve at a spot.
So we decided to throw a little money back at the place, and work out how can we serve as many people at a seat as we can. We enlisted Studiogram, who have done a lot of design for our group, and they came up with a model that will allow us to seat 75. Maybe a couple people each night might have to wait a little longer, but the people inside are getting 100 percent of what we offer.
I think that's a nice gesture to give back to the people who have kept us going this long. We're not going to focus on turnover, we're just going to focus on being as good as we can be for you guys.
Up the front of the new menu, you've got the four non-alcoholic drinks — tell us why you listed those, and can you talk about the donation aspect to it?
With gaining interest in cocktail culture in Australia, and the creativity attached to that, [some] people really want to access our creativity and approach without actually drinking booze. I think non-alcoholic sections are becoming more important because it's people more wanting to access creativity as opposed to consumption of alcohol. For us it was a nice bookend to our list. The sections are broken up to cover the full range of what we'd normally do.
What I find interesting is the non-alcoholic drinks are all $11, and the problem I find with some non-alcoholic drinks is you're still paying a lot of money for something without the most expensive ingredient in there. What I like is that it's really $9 a drink, and you're going to put that extra $2 toward a good cause.
Yeah —that's the idea. At the end of the day, the amount of prep and labour that goes into these drinks is the same as what goes into the alcoholic ones. Yes, it's missing the booze aspect, and that's why it's half the price. Drinks need to cost enough to justify someone taking up a seat in the venue, that's just a business thing.
It's like rent for the seat?
Exactly, there's a lot of factors that go into that — there's a critical price point that everything needs to sit at. And for us that's about nine bucks a throw, whether it's a Gin & Tonic or a beer, or something like this. People that are drinking the non-alcoholic options, it generally comes from some sort of health-related perspective and I just thought it's a nice reciprocation to go okay, you still want to enjoy what we do… so we thought we'd maybe give back to some bodies that support similar aspects of the hospitality industry as a whole in terms of health.
It's nice that those who cop stick for not drinking can say, well, actually I'm doing a good thing drinking this.
Yeah it actually turns the tables, you know the guy over there drinking is almost the selfish person and the person drinking the non-alcoholic one is doing a good thing, you know?
We do these Negroni Weeks and this that and the other, you donate $126.50, and that's great. But some of these organisations could really benefit from some ongoing assistance, because if we are constantly feeding them, then they're going to be constantly supporting us. I think it's something more people should really jump on board with.
In the House Favourites section, these are the ones that have been on the list since time immemorial?
It's stuff that people when they come in here, they won't even look at the menu and they'll order [these drinks]. I think that's important for us to retain them.
Tell us a bit about one of the drinks in the Coastal section?
The drink here that sums up what we're trying to achieve is the Coconut Royale. The three sections, the Coastal, the Hills, the Valley, there's no lemon or lime juice at all across these sections; but by the same token, none of them are weird. You know what I mean? We're not using vinegars or kombuchas or anything like that. What we've come up with is a bit of a formula around the natural pH of different ingredients that have slightly softer acid profiles. Lemon and limes are very seasonal, the biggest source of waste in any venue, and more often than not they're coming from a different state. They're obviously an essential ingredient, we still have them on hand to make [some] drinks, but in terms of this new thing we're trying to achieve, we set ourselves a challenge to do it without them. So we've investigated a lot of ways to get acid into drinks without adding synthetic acid. When you're using a softer acid, you don't need as much sugar; and when you don't have as much of that sweet and sour, you can put so much more flavour into a drink. You don't have to go big on everything. You can actually pare everything back, and you get so much more aromatic complexity. 
So this drink is a riff on the Pina Colada I guess. Coconut-washing the rum, and a dash of Yellow Chartreuse in there; we're using pineapple in a few other drinks, so we've made a salted pineapple skin syrup as the sweetener, and a little bit of tea for bitterness and lengthening, then as as our acid component we've used a green tomato water which, because we're not suing coconut cream or anything like that, the drink was lacking a little bit in the mid palate and obviously tomato is chock full of umami, and it's also really quite tart — using that in there it tweaks the drink, makes it tart, fills it out. It doesn't taste like tomatoes, but it plays a very important role in it all.
Then we batch it up, carbonate it, and pour it out over crushed ice. That's a Nick Corletto drink, and it's very, very sharp.
In the Hills section, which drink really exemplifies what you're doing here?
This is probably my favourite section, because it's the most aromatic and really produce-driven. The Basket Case, for me, is a bit of a take on a Sherry Cobbler. But rather than just going down that bright citrus spectrum, thinking, if you were standing in a forest, what flavour spectrum would you be finding there? So [it has] walnut-washed Seppeltsfield fortified, we strengthen that with white rum just to give it a boost, and a dash of poire William eau de vie. We clarify out some pear juice, so you're playing walnut and pear combination — and sherry goes well with that.
When you clarify everything, it all looks pretty, but quite often you lose texture so you've got to build texture back in. To do that we've taken some whey from a cheese factory from up in the Adelaide Hills, and sweetened that with a little bit of vanilla bean and sugar, reduced it down and are calling it milk toffee — it's that lactose, vanilla kind of character, and again it's clear. The drink pours out completely clear. The texture comes from the milk toffee, the pear juice is tautened up with a little ascorbic and magic acid, and you end up with something that's quite familiar in terms of that Sherry Cobbler style, but you have something with a completely different flavour spectrum to what you're used to.
And tell us about a drink from the Valley section?
The Valley section is all about dry, savoury, a bit more complex drinks. The Barley Wine is the most interesting, and it's a drink we've thrown out over a few collabs over time and tweaked it to a point where we think it's really quite strong. Basically it's making something that appears like a glass of wine without really using any wine — there's a small amount of amontillado in it, but apart from there's no grape ingredients. Given the fact we're in a very much a wine drinking state and a wine drinking community, and now we don't really have a wine list, we're a cocktail bar so we thought let's make a cocktail that is familiar as a glass of wine.
It's a mixture of oak, tannin, fruit, with a whisky backbone. We blend that all together and balance it up. We use over-brewed tea for tannin, some oak chips and vanilla, and then mainly blackberries, with a little bit of raspberry and strawberry and don't add any sugar to it, keeping that tart, fruit character there. We centrifuge it all out so that it pours crystalline, then we pour it out of a magnum by the glass.
Do you serve it at the table?
Exactly — we serve it like a nouveau style, so it's not cold, but it sits on ice, chilled. It's pretty cool.
How long has the menu been in development?
Close to 18 months. All of it was around thinking, if we're going to do this [revamp], the venue is going to have a little bit of a different feel, and we're also going to draw a bit more attention to ourselves because we're making a bit more of a statement. The list had to be very good — we came up with those themes a while ago and it's taken a while to work out which drinks and ingredients need to go into those themes.
The not using lemon and lime thing was probably the biggest challenge, because the drinks needed to be better than they would be had we used lemon or lime — and I think they are now. The other thing [that took time] was that, I probably wasn't confident that the drinks we were coming up with were unique enough. I could see too much influence form other venues in them. We were making shitty Bulletin Place B-sides, which is fine, everyone has got to learn. I think now, these drinks stand on their own, and people would look at them and go, "they're Maybe Mae drinks." I think this list represents that.
It's been a fairly collaborative process with the crew, just going back and workshopping things — a lot of research into produce, and the technical compositions of produce, we've had a big focus on pH and sugar levels to make sure that what we were doing was going to be able to be consistent and less haphazard. Because when you're not just using that beautiful lemon-sugar ratio, you can't keep balancing stuff in the tin — because we're using green tea that's at 2.4pH or whatever, adding more of that actually adds a lot more flavour to the drink and throws everything out of whack. So everything needs to be quite precise.
The design process, getting this menu the way we wanted to look, we wanted to have a really strong illustrative component to it all, and working with the designer that's been 12 months in itself.
Now it's at the point where I'm almost kind of sick of it!