Millie Tang is the quickest gun in the north, if the Brisbane regional final of Speed Rack is anything to go by (she placed a close second at the national final in Sydney last month, too). You may have seen Tang, sitting atop the shoulders of a coworker and filling 10 coupe glasses, stacked upon one another, with Daiquiri goodness — a Staiquiri, if you will.
Here, she tells us the story behind that, how opening and running the now departed Deathproof changed her life, and why she's loving being behind the stick at The Gresham.
As told to Sam Bygrave
I've only worked in three or four venues over my entire bartending career. I actually started in cafes and then made the move into bartending at X&Y six or seven years ago because I was looking to free up the days, so I could do photography during the day and work during the night. 
And then I just realised that bartending was really interesting and fun, and entertaining and it was fulfilling, so I stuck around. I went from X&Y to Press Club — the team had Scott Griffin, Sean Chow, Will Cowley and Ant Cashman, some big dogs at the time. 
ADVERTISEMENT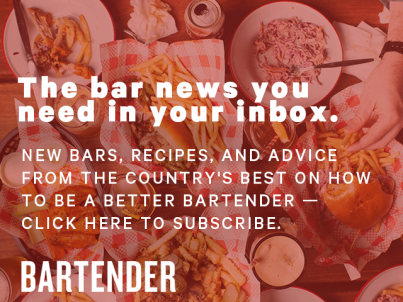 &nbsp
It was pretty intimidating, especially as I had no idea how to make a cocktail — Cashman lied to get me my job there. The first night I had to ask Will how to make two Mojitos, and he just gave me this look of 'What the fuck?' From there I went over to Cloudland and managed the VIP level, and that was a lot of fun — there I met Steen Jones and jumped on board to open Deathproof. 
Deathproof was, man, crazy — it was something that I never thought someone like me could do; I just got caught up in this super inspiring idea of what it could be, the fact that I could have something all my own, the fact that I could be involved with it even before the build had been finished. Basically from the beginning I was helping out [owners] Anthony and Steen with some advice, because they had no hospitality experience. He had a lot of contacts in the industry from his art, but the bar side of things nothing. So that basically meant I got to control everything. I'd never been in a higher management position before, I'd never opened anything before, nothing — so I just winged it. Because I had the support of those two the entire way, that's what made it work the way it did. I got extremely lucky, it was crazy — I don't know if I could do it again, thinking about it gives me like a heart attack.
We're still able to reap the rewards of it to this day, by doing popups and all that kind of stuff — we've got a popup coming up next month in Finland, in Helsinki which will be awesome.
Alright. I'm going to take the opportunity to tell you that I'm not the first person to do the Staiquiri, I stole that from Lily Black's in Melbourne — it's really infamous for partying after hours. 
Last year, the guy Mancino vermouth was in town, Mitch Wilson was there, and they were like, 'Let's doing something a bit different.' I was like, okay, so I stacked six glasses on top of each other [and poured Daiquirs into them from above] and Jamie Fleming knocked it over. I like it because it's a little bit of fun.
I love The Gresham, it's great. Kal [Moore] started headhunting me quite early when he heard that Deathproof Brisbane was closing — I was actually quite overwhelmed by the number of job offers that people were proposing, it was pretty crazy the offers. I didn't know what to do at the time. As soon as Kal offered me a job here, though, I knew I was going to take it. It was the best next logical step. They're all great here — I like it here.
My time [at Speed Rack] with penalties was one minute 10 — I was doing 56 seconds in practice, but practice is practice. Practice doesn't count, it's what you do when you're up there that counts. 
Speed Rack is awesome, I really like it. It's kind of the same thing as the Staiquiri thing, it's something that's a little different, it's not too serious, it's entertaining and fun. And it also has really good cause that everyone can get behind and support.
Don't follow the status quo. Don't follow what everyone else is doing, or the roadmap, or look at what the people's blueprints are because what it does is it stifles creativity and it stifles innovation, and it stifles opportunity. Look at doing something differently, there's no right or wrong.