With Sydney Bar Week kicking off on September 15th, and tickets to the events filling up fast, it's probably about the time you start locking your Bar Week schedule away. And one of the very special events taking place will be with this man right here, Rogerio Igarashi of Tokyo's Bar Trench.
Bar Trench is one of the best bars not just in Japan, but in Asia more broadly, and this year landed at number 16 on the Asia's 50 Best Bars list. They're all about herbal liqueurs, bitters and classic cocktails at this place, and it's become an entrenched must-visit for any bartender doing a trip through Tokyo.
Igarashi will be hosting a special, one of a kind masterclass on the Tuesday 18th of Sydney Bar Week at The Baxter Inn with Nikka's Naoki Tomoyoshi. Igarashi will speak about Japanese bar culture and his experiences at Bar Trench, and you'll get to sample some incredible whisky along with the newly released Coffey Gin and Vodka.
This is just one of the 29 great events lined up over five days of Sydney Bar Week, taking place between Saturday the 15th and Wednesday the 19th of September. It's set to be the biggest Bar Week yet — get over to the Bar Week site here and get your RSVPs and tickets sorted before they run out.
Take a look at how you can attend below, and read on for our chat with Igarashi to get to know him better before his visit.
ADVERTISEMENT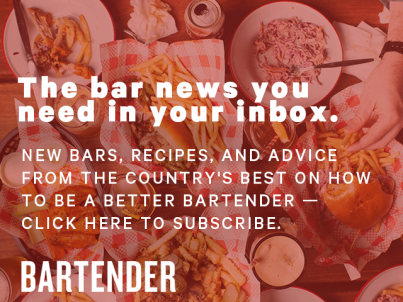 &nbsp
What: Nikka Masterclass Featuring Rogerio Igarashi from Bar Trench, Tokyo
Date: Tuesday, 18th September
Time: 1pm – 3pm
Where: The Baxter Inn, 152-156 Clarence Street, Sydney
The Details: Cult Japanese Whisky brand, Nikka are hosting an exclusive Masterclass presented by Nikka Global Business Development Manager Naoki Tomoyoshi and Rogerio Igarashi from Bar Trench in Tokyo. Guests will take part in a Whisky tasting as well as the newly released Coffey Gin and Vodka, while getting an insight in to Japanese cocktail culture. This event is exclusive to bar professionals and venue owners only. To register your interest to attend please email nikka@kdpo.com.au ASAP with your name, venue and contact details. Please note limited tickets available.
Tell us a bit about how you came to be at Bar Trench?
Before we opened Bar Trench, I was at Bar Tram, part of the same group. At Bar Tram was where I learned the most about bartending.
At the beginning Bar Trench was quite similar to Bar Tram, having the same selection of spirits, a similar menu and a similar way of service but little by little it became the Trench we are now.
I believe every bar is an organic thing which changes and grow every year.
Bar Trench has been named as one of the best bars in Asia, why do you think that is?
I would like to say thank you for been named as a good bar. I don't know if we do something special but a good welcome and a good drink before going home can be a good way to finish your night.
What should someone expect when they walk into Bar Trench?
More or less, Bar Tram & Trench has been in the Ebisu neighbourhood for over 15 years. What we wish most for the guests is [that they] not enjoy only the drinks but be part of the neighbourhood for that moment.
What should we expect from your masterclass at Sydney Bar Week?
We are looking forward to sharing some cocktails we serve right now here at Trench plus together with the Nikka team we will have an insight [into] the new Coffey Gin, Vodka and Whisky.
How do you approach hospitality – what's your bartending philosophy?
Always pay attention to the door. If the person made an effort to open the door to come in, that is for a reason. We need to understand that reason and supply it. Always welcome is the basic [element] of hospitality.
What is it that you think makes a good bartender become a great bartender?
A good bartender becomes a great bartender when he understand the guest's needs. Sometimes the guest don't want the best cocktail in the world but a mere Gin & Tonic which will make a huge difference.
What do you look for in a good cocktail?
Usually I look for a good balance but the situation, in fact can be stronger than balance sometimes. One day a certain cocktail can be good for you, another day the same cocktail can be not as good as before. At the end a good balanced cocktail has more chances to be a good cocktail.