Sydney Bar Week kicks off in just under three weeks, and a number of events are either booked out or close to capacity — head to barweek.com.au now to check out the full timetable and book your tickets ASAP.
One of the big names coming to town for Bar Week is legendary Japanese bartender, Hidetsugu Ueno (or Ueno-San as he is often known), and he'll be presenting a one of a kind, must-see masterclass on Monday 17 September (update: this event is now sold out).
Ahead of his masterclass, we fired through a few questions to the man himself to get his take on his bar, High Five, and what makes a good bartender great.
AB: How do you think that Japanese bartending differs from other styles of bartending?
HU: Nothing special. Just different.
You've recently moved High Five into a new location — can you tell us a bit about this?
Before I started with my old location, I wasn't going to finish my career there. I was looking for the ideal place.
I wasn't looking for a larger place but this is on an independent floor, some the other rooms for various purposes and there is a big walk-in wine cellar as well.
ADVERTISEMENT
&nbsp
It's a special location.
What should someone expect when they walk into High Five Bar?
This is not a good place to tick off and leave type of bar. Stay as long as you can and enjoy the whole experience.
What should we expect from your masterclass at Sydney Bar Week?
Well, a bit difficult to talk about myself but I want you to enjoy watching a bartender from the other side.
I try not to be boring and sleepy talking about cocktail making and ice carving techniques and the way of Japanese bartending style.
When was the last time you were in Sydney, and what did you think of our bar scene?
Last time I was in Sydney was 2008, so I shouldn't talk about bar scene in Sydney now. It must be different.
What is it that you think makes a good bartender become a great bartender?
I think when you realize [that the] bartenders' job is not only making good cocktails, you could become a great bartender.
You laugh, cry and [become] angry with customers and observe how they want us to treat them.
Bartenders sometimes become psychologists, therapists and very good friend with customers. Drinks are only a beside.
What do you look for in a good cocktail?
Balance.
UENO-SAN's masterclass is just one of the 29 great events lined up over five days of Sydney Bar Week, taking place between Saturday the 15th and Wednesday the 19th of September. It's set to be the biggest Bar Week yet — get over to the Bar Week site here and get your RSVPs and tickets sorted before they run out.
What: Bartending as an Art Masterclass by Hidetsugu Ueno sponsored by MONIN
Date: Monday, 17th September
Time: 5pm – 7pm
Where: Ivy Sunroom, 330 George Street, Sydney
RSVP: This event is now sold out.
Legendary Master Bartender Hidetsugu Ueno will share the history, myths and secrets of Japanese cocktail culture. Take the opportunity to learn about his famous diamond ice carving, Japanese style shaking and sample some of his world-famous Bar High Five recipes. Numbers are strictly limited.
ADVERTISEMENT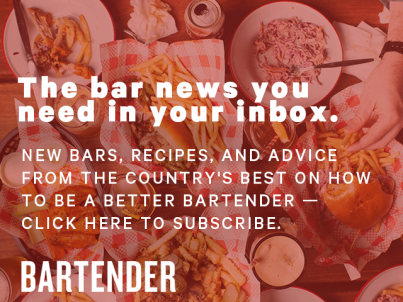 &nbsp