It's five o'clock in the morning. We're walking home down deserted streets, surrounded by sandstone terraces and streetlights; the sun is coming up but it can't break the fog and a light mist falls — enough to know it's raining but not hard enough to bother. We've travelled 1700 kilometres from Sydney to Edinburgh, slept a smattering of hours, drunk cocktails, drunk Sailor Jerry, and played pool; the five of us are tired and sore, and not one of us could give a damn. We've feasted on Edinburgh's hospitality.
Story by Sam Bygrave
When you think of Sailor Jerry — the spiced rum which pays homage to legendary tattoo artist, Norman 'Sailor Jerry' Collins — your mind might not go straight to Scotland.
But it's Scotland that we're in, and it's thanks to Sailor Jerry that we're here. Sailor Jerry national ambassador Nick Miles has brought the winners of last year's Pins & Pin-Ups Bowling Competition — Martin Lange (owner of Brisbane bars Savile Row and Cobbler), his brother (and bar manager at Miss Moneypenny's in Noosa) Alex Lange, Jonte Highton (from Seymour's Cocktails & Oysters in Brisbane) and Ed Quatermass (of Brisbane bar Maker)  on a journey to where everything all began for William Grant & Sons at the Glenfiddich Distillery back in 1887.
ADVERTISEMENT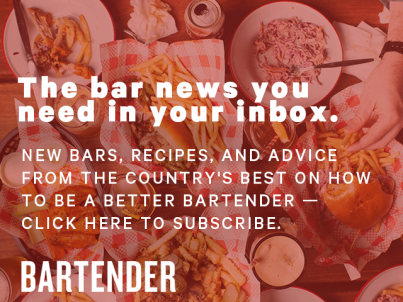 &nbsp
Situated among the green glens just outside of Dufftown in Speyside, William Grant built the distillery himself, and five generations on it's still a family company. It's William Grant & Sons who make Sailor Jerry, which itself was a product of collaboration between Lesley Gracie (you may know her as the master distiller for Hendrick's Gin) and David Stewart, The Balvenie malt master.
That's why we're here. Visiting Glenfiddich — and The Balvenie, which sits next door — was an opportunity of a lifetime. We spent a day at Glenfiddich, and they rolled out the red carpet: an in-depth, knowledgeable tour of the distillery and its warehouses was capped off by the chance to fill our own bottles from an ex-sherry cask holding whisky distilled in 1998 — a big sherry bomb we all loved and something we'll never find again. And then we returned to the distillery later that evening,   for a special dinner created just for us; aside from the distillery workers, we were the only ones on site.
"The hospitality at the birthplace of the company was outstanding," says Miles, "and we certainly made it known we were in the building."
The next day we toured The Balvenie, and stopped by the on-site cooperage (they're one of the few distilleries left who put the time into this). The tour finished with a magnificent tasting of some very fine Balvenie we can't talk about – it's yet to be released but suffice it to say the whisky will be leagues out of our price range, anyway. It was truly special.
But before the distilleries, we had hit up Edinburgh, holding nothing back — and in true Sailor Jerry fashion. 
"Edinburgh is simply amazing. The Scots are so welcoming and don't mind having a chat and drink with an Aussie," says Miles. "The city itself is beautiful and has so much history that it really makes you think there is still so much more to come from our beautiful rock we call Australia."
If you want to do Edinburgh, Sailor Jerry style, take a look at the bars below.
The Bon Vivant
55 Thistle St, Edinburgh 
The Bon Vivant is one of those bars, found rarely, that has a reputation for excellence that has travelled the globe. It's the brainchild of Edinburgh bartending veteran Stu McCloskey (and a damn fine gent he is), and it's where you can go to get proper, classic cocktails done right.
It was our first stop of the evening, and we were hanging for Sailor Jerry Daiquiris, but put yourself in the hands of the bartenders here and you're not going to go wrong.
El Cartel
64 Thistle St, Edinburgh
Look, you gotta eat, right? There you are, you've got your list of bars to hit, you've scoured the menus online and you've got your drinking regimen sorted for the evening. That's great! 
Now go eat some food.
Here's why we recommend El Cartel: one, this Mexican taco kind of joint was recommended to us and it did not disappoint (but maybe go easy on the ordering, because we sure overdid it), and two, because it's nine steps and a jump from The Bon Vivant — a place at which you can wait whilst they get your table ready (they'll even come fetch you from the bar and hand deliver you to your seat).
Lucky Liquor Co
39A Queen St, Edinburgh
It's only a minute or two walk to get from The Bon Vivant to Lucky Liquor, but it wouldn't matter a jot if we had to walk a mile or more. Here, the trick is to head down the stairs and take charge of the pool table. The bar is upstairs, sure, but you're not stricken with the curse of carrying drinks up and down a staircase all night — one of their knowledgeable, friendly bartenders is going to do the trek for you.
(It's really not that much of a staircase to ascend, but we're busy playing pool here).
The cocktails are what you want, and it's a list that has some restrictions imposed upon it: they only ever list 13 cocktails, and only ever stock 13 brands of booze behind the bar (but this changes from time to time).
Perhaps 13 is the lucky number for these guys, because we didn't have a drink we didn't take a fancy to.
And, you know, a pool table — what else do you want?
Panda & Sons
79 Queen St, Edinburgh
When we roll into Panda & Sons, they're jammed — there's people everywhere having a damn good time, four or five bartenders behind the stick working away and getting some great drinks out to a grateful public. 
But we walk in and it's like we've come home. We're greeted each step of the way —
if there's a finer mark of a bar that puts hospitality front and centre, I don't know it — and when we get to the bar we see Ryan Snedden (whom you may know from his time behind the stick at The Lobo Plantation and PS40 in Sydney). We're quickly met with drinks in hand and get the proper hospo treatment (yes, we'll indulge in one of those small glasses of spiritous liquor, thank you very much); but you get the feeling it's not the kind of bar where that welcome is reserved for industry types: everyone here is made to feel welcome.
You must do this bar to do Edinburgh right.
The Last Word Saloon
44 St Stephen St, Edinburgh
Not all of us made it to this place — a rather late evening the night before dwindled the attendees a touch — and those of us who didn't make it, regret it. Here we found Simon Smith (whom you may have seen most recently at Archie Rose in Sydney) and got well acquainted with some of that green stuff those Carthusian monks make in France.
Go the cocktails here: the bar comes from the same owners as the world-famous Bramble (you can get their bottled Affinity cocktail here, too) and Lucky Liquor.
Nightcap
3 York Pl, Edinburgh
You know those bars that are tiny — like, so tiny that you think, "How on earth are you guys making any money here?" Well, Nightcap is like that. We visit on a night when it's quieter (which is okay with us — we've got sore heads and wounds to lick), but even then the space is tight; to find the bathroom, you're descending down stairs along the kind of narrow corridor that was built umpteen hundreds of years ago when the people were small and nimble (we assume).
We made a special effort to get to this place because we were after their Sailor Jerry cocktail, The Pirate's Life,  made with Sailor Jerry, pineapple syrup, a touch of balsamic, and salted lemon; it's all served in a vessel smoked with coconut smoke, inside of which is a bone — if the bone is gold, you're wining yourself a tattoo.
That's pretty damn ace, if you ask us.
Bramble
16A Queen St, Edinburgh
Few bars have the reputation of Bramble for the stellar roster of staff to have graced their bar. It's a few years on in the piece now, but when we visited the joint was positively jumping — three bartenders behind the stick, and the bloke on dispense just didn't stop — he's one of the quickest we've seen.
The Auld Reekie Tiki Bar
43B Frederick St, Edinburgh
You know how wherever you live, there's that one bar where everyone goes after they knock off their bar shift for the night? The place where you and your hospo family go and celebrate and commiserate and, on the rare occasion, make some poor life choices which you're so glad you made?
Well, we don't think we made poor life choices, but we do know we had the time of our lives at this newish tiki bar in Edinburgh (the place opened in 2017). The bars in this town, for the most part, shut around 12 or 1am — The Auld Reekie Tiki goes until three in the morning, so from 12:30am onwards expect the horde of hospitality staff to only grow in legion. There's foosball, cornhole, and a good time to be had (oh, and some 100 rums to drink).
What could possibly go wrong?
How did we get here?
There's not many bartender competitions that see you jet off to far away locales for a once in a lifetime experience, but then again there's not many brands that will ask you to enter a bowling comp to do so. Then again, Sailor Jerry doesn't do things that other brands do. The trip to the home of William Grant & Sons was the big prize for winning the national final of the Sailor Jerry Pins & Pin-Ups competition. The winning teams have been to Hawaii, Las Vegas and Scotland — next year, well, it's a surprise. But wherever you go, you'll be doing it the Sailor Jerry way.
For more information, contact Sailor Jerry ambassador, Nick Miles, at
nick.miles@sailorjerry.com.