There's something going on in Hobart. Not only is the cost of living there — and the goddamn rent — rising, as people move there to escape Sydney and Melbourne, the bar scene there is on the rise. It's something we've seen in the last couple of years through the prism of the Bartender Magazine Australian Bar Awards nominations, with more and more Hobart venues getting a run in the list of finalists.
And one bar in particular has making some waves: Ettie's. Complete with piano bar and the kind of sandstone walls you get from an old building, the reigning Bartender of the Year, Daniel Gregory, is there behind the stick and pushing ahead with his brand of bartending, incorporating local produce — of which Tasmania has plenty of good stuff — and avant garde techniques to make the drinking truly something special.
We asked Gregory about his new surrounds, and why he thinks that Ettie's is getting the buzz it is.
ADVERTISEMENT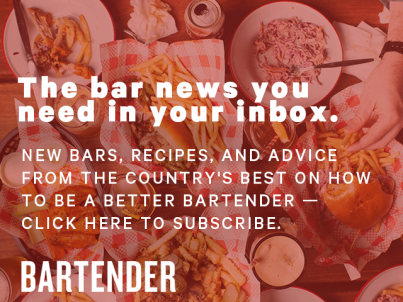 &nbsp
Tell us a bit about where Ettie's is and what the idea is behind the place?
Ettie's is based in what a lot of people in Hobart are starting to call Mid Town, this area and stretch of road is host to some of Hobart's best bars and eateries and it goes all the way to the top of the hill.
The venue is broken up into a few sections, street level where you walk in is very much wine focus. You are greeted with a wall to wall selection of amazing local Tasmanian wines mixed with mainland and international vino as well. And again the list is a mix of traditional drops to funky more off the beaten track styles as well, all put together by Alice Chugg and her amazing palate. Walk through the wine bar and into the dining area, this is a very fresh and fun room to dine in. Sit next to the fire place and enjoy old world favourites and classic style dishes to warm the heart. The best hidden gem of all is down the spiral staircase just as you walk into the dining room, blink and you will miss it. Climb down and you have reached Piano Bar @ Ettie's, very laid-back vibes when you are greeted at the bar by yours truly which feels like someone's house. The bar is very open where you can see everything that is going on, five seats at the bar as well which makes it hot property. There's standing room around the bar also but it can get very cosy, if you need more space there is a second room to spread out in which plays host to a baby grand piano. You will always find someone playing turns to the early hours of the night over the weekend. Overall a very well laid out venue, with happy knowledgeable staff, amazing atmosphere and great booze. A very hard place to leave once you are in.
What can people expect from the drinks at Ettie's? You're well known for some involved, creative cocktails, are you doing much of that there?
Amazing wine upstairs and downstairs very much cocktails. With the cocktail menu it's all about Tasmanian ingredients and what is fresh around town, in saying that if it is fresh in summer time we will still have these flavours on in winter. We do this by fermenting and preserving, going back to a more fundamental way of changing flavours and making interesting ingredients rather then using expensive equipment and going over the top with techniques. Utilising the ingredients we have at hand to showcase it in the best way is what we are about at Ettie's, while still having a  unique experience. There are no boundaries of what we are doing here, the hard work will always pay off in the end. I love surprising myself with new flavours even after all this time bartending, and more so if I can pass this on to my guests that come into the bar.
How does Ettie's fit into the bar scene in Hobart? As someone who's not from there, how do you think Hobart stacks up as a bar scene?
Hobart is a very exciting place to be right now, not just for restaurants but for bars as well. The produce down here is amazing and as for making your own booze this place is next level. Wine, beer, cider, spirits, if you can ferment it someone here is doing it and doing it well. As for the bars and Ettie's in particular it's more about quality over quantity, not as many bars as the mainland cities but would give any town a run for their money. Weather it is wine bars, cocktails or even the classic pub. Hobart is making a lot of noise and there is no sign of slowing down, I think we do well down here because we have no restrictions or boundaries of what we can do. But most of all no egos. 
Ettie's is open Monday to Friday, 10:30am until late, and from 2pm until late on Saturday at 100 Elizabeth St, Hobart.