Before we opened Door Knock, Natalie Ng (owner and boss lady) and I had every intention of changing the list every month, week, day as we have a Quick Copy printer service right upstairs from our subterranean den of cocktails and love. Yet that was not the case. It took us six months to do so. Here's why, and a look into intricacies of a new venue and how staying consistent with an offering can sometimes mean a solid list is more important than being 'on trend' or 'seasonal'.   
For our first offering we came up with a strong list that wasn't too hard for guests to 'get' while throwing Sherries and fortified's at them while using chef like techniques and batching to get the drinks to them swiftly. Prep-heavy and consistency were high on the agenda while offering a touch of theatre, which we know make people happy and stay intrigued.
We asked for feedback from hospo friends and took notes while receiving a solid thumbs up. Happy days. A month passed swiftly, we didn't even realised it had gone by. Sales were beyond what we had imagined, roughly 80 percent cocktails. Not bad for a (hidden) small bar with a great wine list, five beers on tap and a considered back bar. We were fucking busy. 
Opening right as summer hit and when punters come out to play was very helpful. Two months flew by, then another. "Damn, we've made a bunch of these drinks now, surely it's time for an update?" We had our new drinks ready to go. 
ADVERTISEMENT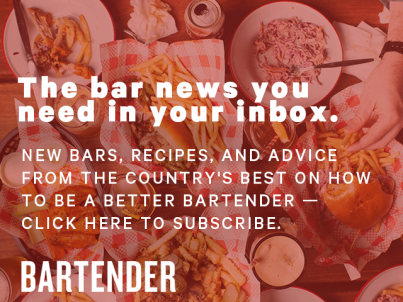 &nbsp
But then Qantas called for a feature, and Amex knocked on our door. Both of these giant companies wanted to showcase our drinks on a six month campaign. Maybe hold up on a new list until then, hey?
We could have swapped out the drinks that weren't featured but those happened to be the ones our repeat guests came back for; just the mention of new cocktails was met with sadness. We even trialled new drinks as features to no avail; the people spoke with their drink orders. It was a good chance to teach techniques and consistency to the young guns in the team. 
This wasn't helped by the longest summer in my memory, meaning our fun summer drinks still made sense. When Queensland mangoes started to become less juicy, Mexican ones became available. Honestly, if you want to debate global warming I'll tell you how people still wanted summer drinks in May. 
The happy ending to this story (not like that) is that we have a new list that just landed as "winter" has hit and as we are underground with a (fake) fireplace, we are ready.  
The next list won't take nearly as long to get out, I feel like actual winter is coming just like GOT is, and we have some bangers lined up. Till then just remember that the best laid plans by mice and wo(men) often go awry, but if it's working for your business then it's okay to update your list when it makes sense to.