The Mixicologist is a book by E. H. Lawlor and was first published in 1895, by Lawlor himself.
One of the great things about taking a look through a book like The Mixicologist is that it's more than just a collection of recipes or a guide to bartending; it's a neatly contained time capsule of what life was like behind the bar in 1895, and more specifically, what it was like to tend bar in Cincinnati, Ohio.
The midwest state isn't one that comes to mind when we think of classic cocktails and the golden age of bartending — we tend to think of New York, New Orleans, and at a stretch, San Francisco (where the one and only Jerry Thomas — who wrote the first bartender's guide back in 1862, is reported to have spent time, entertaining and watering the masses in the gold rush era).
Like other bar guides before it — Harry Johnson's Bartenders Manual springs to mind — Lawlor offers advice to would-be barkeeps, too, so that it's not just a collection of cocktail specs but a training manual of sorts, too. He proffers some wisdom that stands the test of time ("It is rarely that a saloon-keeper succeeds who is indifferent to the quality of the whiskey sold to customers,"), and even outlines the character of a model bartender: "He should be a man of good character, straight personal habits, good temper, cheerful, obliging, wide-awake, quick, graceful, attentive, sympathetic, yet too smart to be 'worked,' neither grum nor too talkative, of neat appearance and well dressed," he writes.
(Clearly, in 1895, this wasn't a profession for women in Lawlor's eyes, but across the Atlantic in London, it would only be eight years until Ada Coleman took the reigns as the head bartender at The Savoy).
ADVERTISEMENT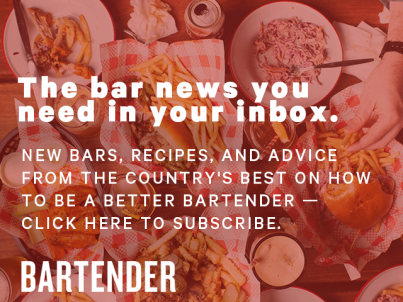 &nbsp
There's also advice in there about wine, and if you've ever tried a German riesling from the Mosel, you'll appreciate that over 120 years ago Lawlor knew what you know today: "For drinking with oysters and fish there are none finer," he writes.
We've used a range of different gin brands in this feature, adapting Lawlor's recipe for a 2018 palate where we can. But it's important to note that most of the gin drinks in The Mixicologist by default seem to call for Old Tom gin, and where he's not using Old Tom, he calls for Holland gin — that is, genever.
[ultimate-recipe id="46559″ template="default"] The name of this drink translates to 'juniper berries cocktail', if you trust old mate Google Translate and its ability to sprechen the German. This appears after the Improve Tom Gin Cocktail in The Mixicologist, and specifies Holland gin in place of the Old Tom gin, and syrup instead of the curaçao. In the spirit of adapting and bastardising recipes, however, for this recipe we've used the shiraz barrel-aged gin from Prohibition in South Australia, which gives the drink more character, and kept the curaçao for the same reasons. [ultimate-recipe id="46561″ template="default"] Lawlor keeps his Martinez recipe fairly classic: it's a straight up 50/50 of sweet vermouth (he calls for it simply as "Vermouth") and Old Tom gin. We've opted for a drier style of gin and omitted the dash of sugar syrup Lawlor calls for. [ultimate-recipe id="46564″ template="default"] We've taken some liberties here with this drink, but it was hard for us to pass it by — it's got pineapple in it, goddamn it, which must have made it something of a luxury in Ohio back in the day. (Cincinnati sits on the Ohio river, as Ted Haigh points out in his introduction to the reprint we own, which means there would have been plenty of trading passing through its ports).
We've used a simple sparkling wine for this recipe (though for Lawlor, only sparkling Mosellle wine would do), and served it up as a single serve; Lawlor intended this to be a welcoming bowl of drink, served punch style, with the pineapple cut up and sitting in the drink.
[ultimate-recipe id="46569″ template="default"] This is a simple Smash recipe — it's sugar, mint, and gin, not dissimilar to a Julep — and it's a simple way of showcasing some top quality gin. [ultimate-recipe id="46572″ template="default"] The Bijou cocktail tends to take on different ingredients depending on the recipe book it appears in; it appears in Harry Johnson's Bartenders Manual as Plymouth gin, sweet vermouth, and Green Chartreuse; Frank Newman's French language book, American Bar, specifies four dashes each of Green Chartreuse, orange bitters, and curaçao, two drops of grenadine, and a liqueur glass each of sweet vermouth and sloe gin.
In The Mixicologist it's a simpler affair, with Lawlor specifying equal parts of Plymouth gin, vermouth (we assume he means sweet, of course) and Grand Marnier, to make what he writes is "a delicious drink."
[ultimate-recipe id="46575″ template="default"] The Remsen Cooler is pretty much a straight up Gin Rickey; the difference on this drink, however is in the preparation.
You want to take the peel of one lemon off in one big swathe, and then line the highball glass with it, much like you would with a Crusta.
Five fine gins to get behind
Prohibition Shiraz Barrel Gin
This barrel-aged gin uses Prohibition gin at 60% ABV, and pops it into ex-American bourbon barrels which have stored shiraz, with a spicy aged character complementing the botanicals. prohibitionliquor.co
Brookie's Dry Gin
This is the flagship gin from the Cape Byron Distillery, and it's a ripper. A nod to traditional gins, it brings the flavours of the Northern Rivers district in NSW to meet the juniper, employing some 15 botanicals native to the area. capebyrondistillery.com
Abel Gin Essence
Abel Gin is a proudly Tasmanian product and the creation of Kim Seagram and head distiller Natalie Fryar. They're making a gin you can't really make anywhere else, because the Tasmanian botanicals are harvested fresh and at their optimum and batch distilled. abelgin.com.au
Von Hallers Gin
This gin takes handpicked botanicals from Germany sending it all the way to merry Ireland — it's an aromatic and distinctive drop. alpenliquorwholesalers.com.au
Silvio Carta Boigin Gin
This Sardinian gin is made with juniper that is hand gathered from wild plants on the coastline, and used fresh in the distillation. It's joined by lemon peel, tangerine and orange peels, and elicriso, a Mediterranean shrub similar to sage.
enoteca.com.au