With warm weather due to hit any day now (come on, surely it's time, right?), we reckon that that means it's time to tiki.
Today we're taking a look at some of our favourite tiki cocktails we've picked up over the last few years, starting with the wondrous bowl of tiki goodness that is the Scorpion (adapted from the way they do it at the 2018 Rum Bar of the Year, Jacoby's Tiki Bar). Next, we move on to the fabled Painkiller (because deep inside us there's always an aching for tropical drinks) and we take a look at one of the more obscure tiki drinks out there, Cesar's Rum Punch.
After the recipes, take a look at the rums we've employed for these drinks, too.
Time to tiki!
Flash blend all ingredients with crushed ice and serve in an elaborately garnished bowl — maybe even set the damn thing on fire.
Adapted from a recipe at Jacoby's Tiki Bar, Sydney.
Shake with ice and strain into a tall tiki mug.

Prepare to have fun.
Shake all ingredients with ice and strain into a tall glass filled with crushed ice.

Garnish to your heart's content with pineapple, mint, cherry.
Adapted from a recipe by Joeseph Cesar circa 1930's in Jeff Berry's Intoxica.
ADVERTISEMENT
&nbsp

Tiki time rums:
UNTOLD Spiced Rum
Untold Spiced Rum is a blend of Caribbean rums aged from two to three years, and infused with natural spices. There are sweet aromas on the nose, leading to a drier palate than most spiced rums offer; a savoury character opens to a long, spicy, dry finish. Asahi Premium Beverages
Arcane Gold Rum 'Delicatissime'
This rum from Mauritius is a light, dry gold rum that has been aged for 18 months, so it retains the fresh cane aromas of the raw spirit, with a hint of oak and vanilla on the palate, and a touch of spice to the finish. Cerbaco
Pusser's Rum
Pusser's is a blend of five molasses based rums from pot stills, sourced from Trinidad, Guyana and the British West Indies. It's a full bodied rum that despite its strength has a mellow medley of flavours: molasses, treacle, vanilla, cinnamon, nutmeg, espresso and toffee all given structure by oak. SouthTrade
ADVERTISEMENT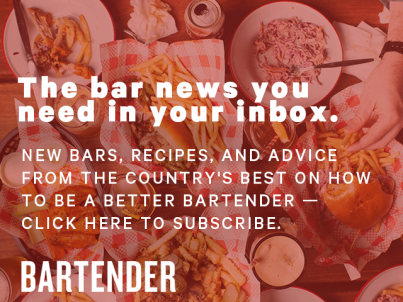 &nbsp