You know tiki drinks as those delightful concoctions of tropical escape — lots of rum, syrups, drinks containing a balance of many ingredients.
Most importantly, they're the perfect delivery mechanism for refreshment.
Don the Beachcomber arguably got the whole tropical tiki drink pastiche thing started, Trader Vic pushed it in another direction, and hotel bars across the US and the Caribbean got on board.
But tiki drinks were popular not just in the USA and Hawaii and the Caribbean.
ADVERTISEMENT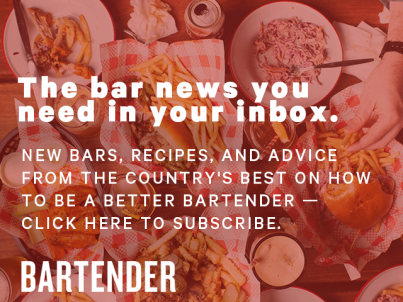 &nbsp
We've got two tiki drinks here today that come from another of the world's great tropical destinations: South East Asia. Specifically, from Kuala Lumpur and Singapore.
Take the Singapore Sling: it might not appear to be a tiki drink at first — dude, where's the rum? — but it bears the hallmarks of one: containing a bunch of ingredients, it hails from the island nation of Singapore, and it's suited to that country's tropical climate.
Heck, it was tiki enough that Don the Beachcomber listed it on his menu back in 1937.
As to who invented it? Well, that's a source of much dispute (you can take a look at the muddy history of the Singapore Sling here).
What we do know, however, is that the Singapore Raffles' Long Bar is set to re-open soon (with two of Australia's best bartenders, Priscilla Leong and Paul Hammond, working on the project) and you can expect them to have a killer take on the Singapore Sling.
Then there's the Jungle Bird, which was created not in the Caribbean, not down south in Louisiana — not even in a tiki shack on the west coast of the USA. Nope, this drink isn't from a cocktail mecca. Instead, it's from a place closer to home for us: Kuala Lumpur.
It was created at the Aviary Bar, at the Hilton Hotel in Kuala Lumpur in 1978, and is one of the few tiki style drinks to feature a bitter like Campari. We're glad it does.
[ultimate-recipe id="46803″ template="default"]
[ultimate-recipe id="46768″ template="default"]

Von Hallers Gin
This gin takes handpicked botanicals from Germany sending it all the way to merry Ireland — it's an aromatic and distinctive drop.
Alpen Liquor Wholesalers
Campari
Arguably the most recognisable bitter in the world, the carmine-hued Campari is a staple of the aperitivo hour, and used in more classic cocktails than we have space to mention (the Negroni and the S'bagliato spring to mind, though). Campari Australia