There's a couple of updates that have come out for Tales of the Cocktail 2019 over the weekend, the chief one among them being for those who have a great idea for an educational seminar.
Each year around this time, Tales of the Cocktail puts out a call for seminar submissions. Whilst Tales of the Cocktail, held in July each year in New Orleans, is one hell of a party — here's a few reasons why it's one event that bartenders should try to get to at least once — there's also a jampacked roster of educational seminars on offer every year.
And they gotta feed the beast. So, if you have an idea for what might make a great educational seminar, now's the time to get planning as submissions open on the 10th of October — click here to get more information.
The thing they're looking for here is that they want new ideas for seminars, so it pays to take a look at some of the seminars that took place last year — click here to check those out and have a scan through the actual presentations.
It's a great way to contribute to the debate and continued evolution of the bar industry. They're accepting submissions from now until December 1st. Tales of the Cocktail 2019 will be held next year from July 16th to the 21st, so you might want to cross those dates out on the roster soon.
ADVERTISEMENT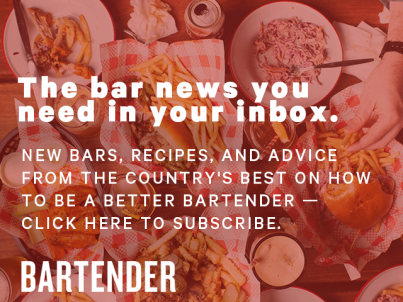 &nbsp
They also announced over the weekend that Tales on Tour in 2019 will be visiting Puerto Rico, which is still struggling to recover from the devastating effects of Hurricane Maria, which hit the island state back in September 2017.
If you know Tales of the Cocktail well, you'll remember that it has played a huge role in supporting the hospitality industry of New Orleans in the years since Hurricane Katrina caused widespread damage to that town.
"As New Orleanians, we live in a city rebuilt on hospitality in the wake of a natural disaster," said Gary Solomon, Jr., the co-chair of the Tales of the Cocktail Foundation board of directors. "New Orleans' culinary scene was instrumental in New Orleans' long road to rebuilding and financial recovery. That shared sentiment really drew us to help a sister city through a genuine lens of hospitality."
Tales on Tour will take place over four days in March next year, from the 10th to the 13th. Keep an eye out for updates at talesofthecocktail.org.