Whilst we love the old classic recipes, we love their construction, their provenance, and the great histories behind them, sometimes what is required from a drink is an injection of fun. And you don't get much more fun than this Banana Daiquiri recipe.
Adapted from a recipe by James Connolly, Perth, this drink is fun because it has banana in it, and who doesn't like rum and banana and fun? Fascists and naysayers, that's who, and lord knows you don't want to throw in your lot with that sorry bunch.
This is a simple drink to make, and it works whether or not the tropical paradise you're in has access to electricity and a blender or not. No blender? Shake it up with crushed ice then.
So, take a look at the Banana Daiquiri recipe below, and a couple of the ingredients which will go a long way to making this drink as tasty as can be. Can we get another, please? Actually, make that two more… okay, make it three.
ADVERTISEMENT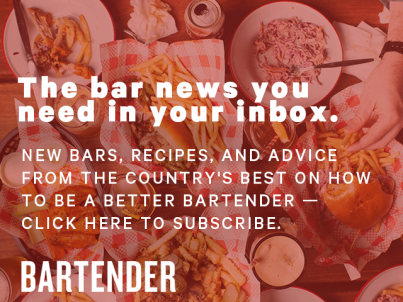 &nbsp
Banana Daiquiri recipe
10 ml banana liqueur
50 ml Cargo Cult Banana Spiced Rum
20 ml lemon juice
30 ml MONIN Banana Puree
10 ml maple syrup
Shake all ingredients, or blend with ice, depending on your mood.
Adapted from a recipe by James Connolly, Perth.
What's in the drink?

Cargo Cult Banana Spiced Rum
This new spiced rum is sourced from Fiji and Papua New Guinea, and features real banana flavour layered over the top of the generous spice character of the regular Cargo Cult Spiced Rum. Banana Daiquiris, anyone?
Available through Think Spirits
MONIN Banana Puree
Get that rich, natural banana flavour into your tiki drinks and you're pretty much at the beach, right? Well, the MONIN Banana Puree can take you there.
Available through Stuart Alexander