Sydney bar and restaurant, Mjølner, is a little over a year and a half old, and things have been going well for the viking-inspired venue. The early success of Mjølner encouraged them to open a second outpost of the venue in Melbourne, which opened earlier this year, and bar manager of the Sydney operation Alissa Gabriel has just released their first major update to the cocktail list.
Gabriel, who has been on board with the venue since its June 2017 opening, has switched the focus on Scandinavian ingredients from the previous menu to ingredients that the seafaring vikings of yore would have encountered on their travels, she says, which has opened up new frontiers for the list to explore.
"It let me explore some strange flavour combinations and discover some amazing ingredients, like Schisnadra Berry (used in the Voyger) – also known as the five spice berry."
Gabriel's drinks have also drawn inspiration from Scandinavian design. "I find [Scandinavian design] to be quite textural, and wanted to explore these aspects in each of our new 10 cocktails," she says.
Take the Across the Fjørd, for instance. The faux almond yoghurt — which is made by thickening almond milk with sugar and acids — lends the drink a velvety tingle on the palate, the kind of unexpected sensations Gabriel was looking for with many of the cocktails.
ADVERTISEMENT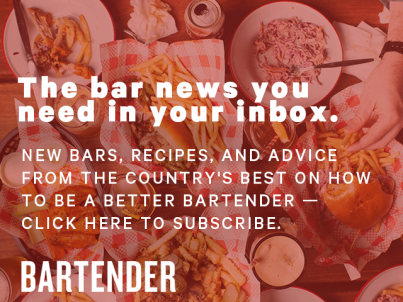 &nbsp
The latest Mjølner Sydney cocktail list is in the bar now — you can find them at 267 Cleveland Street, Redfern.
Take a look at the drinks — and the cocktail list — below.