Not all cocktails need to be eye-watering mixes of overproof spirits; sometimes a couple of quality liqueurs and a judicious splash of citrus is all you need to create a complex, intriguing cocktail, like this one here: Buckley's Chance.
This one comes from Melbourne's own Above Board: it's a smashable mix of Amaro Montenegro, Cherry Heering, and lemon, which we reckon is just what you need when you're not sure what you want.
As with all drinks, you'll want to check the balance on this one — this is, after all, a liqueur-driven cocktail and one which if you don't get the balance between the sweetness of the liqueurs and the lemon juice just so, well, it could become cloying quite quickly.
Thankfully, if you try this drink from the hand of its maker, Above Board owner-bartender, Hayden Lambert, you'll have a perfect rendition in front of you.
ADVERTISEMENT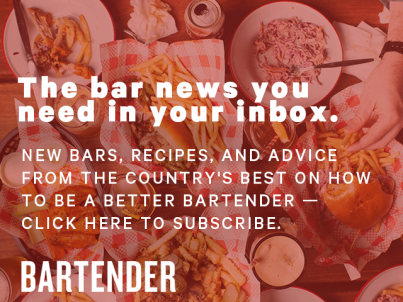 &nbsp
Take a look at the recipe below.
Buckley's Chance
25 ml Amaro Montenegro
25 ml Cherry Heering
25 ml fresh lemon juice
7.5 ml sugar syrup (2:1)
1 dash Angostura aromatic bitters
1 dash Angostura orange bitters
Shake and double strain into a coupe.
No garnish.
Recipe by Hayden Lambert, Above Board, Melbourne.