ALEX KRATENA gained global attention as the guy — along with his partner behind the stick, Simone Caporale — behind the boundary pushing cocktail menus put out by the Artesian bar in London. During his time there, Kratena saw Artesian take out the top spot on the World's 50 Best Bars List not once, not twice, but an unequalled four years in a row before the duo left the bar in 2015.
Kratena also featured on our Creators List in 2016, nominated as one of 40 of the world's most influential and creative bar personalities, and has previously picked up the title of International Bartender of the Year at Tales of the Cocktail in 2012.
Suffice it to say, he's no stranger to accolades. These days, as he tells us, he spends his time working on some behind the scenes consulting projects (with a bar that's on the way) and as one of the organisers of P(our), a not-for-profit organisation designed to champion big ideas and new ways of thinking about the beverage industry.
Australian Bartender editor Sam Bygrave caught up with him on the sidelines of the Bacardi Legacy Global Cocktail Competition finals in Mexico City earlier this year, where Kratena was a judge at the grand final (pro tip: if you ever find yourself making a drink for Kratena in a cocktail competition, he tells us he's looking for "a banging, delicious cocktail").
ADVERTISEMENT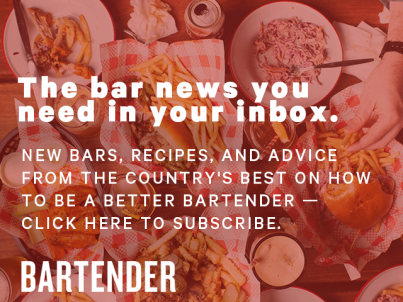 &nbsp
Given a brief audience with the man, we took the opportunity to check in with him on what's coming down the pipeline for him and Caporale, talked to him about the trend towards ferments, which trends he wants to see embraced, and what it is that he thinks makes a good bartender become a great bartender.
As told to Sam Bygrave
For me it's always a huge learning curve coming to events like Legacy, for me it's a bit like a family holiday. A lot of the people I've known for over 10 years, some even longer. It's a really fantastic opportunity to catch up, we all have busy lives, and it's also about meeting the new generation of bartenders from around the world. I always like to keep an eye on what's going on.
I'm heading up P(our), and we have a small consulting company with Simone [Caporale] and Monica [Berg] called Taxonomy, and to be honest for the last two and a half years we've been spending most of our time working behind the scenes and on projects which will slowly come up very soon. It's exciting and a little frustrating. I promise it's going to be good.
I've been here to Mexico City a few times. It's one of my best-loved cities — I'm always really excited to come here. I've a few friends here who operate bars, and it's really amazing, seeing Mexico City coming up, really being out there as a gastronomic scene. Me personally there's so many ingredients which are indigenous to Mexico, there's so much exciting stuff going on.
The Mexico bar scene is very eclectic, there's so many places where you can have so much fun, you have really exciting mixed drinks, but I also just like going to mezcalarias and tasting liquids that fall out of the denomination that you'll never be able to taste anywhere else in the world.
What makes a good bartender a great bartender? I think being a great bartender is essentially about doing nice things to other people. So, putting all the financial stuff aside and just being nice to other people, the one thing I should pinpoint is the ability to read guests: I think the one size fits all thing is a very wrong approach to bartending. I think you probably want to be looked after a different way to myself, so I should never serve you the way I want to be served. And if you can read that — and obviously this comes with experience — if you know how to look after every single guest, that's what distinguishes a great bartender.
It's also the only thing you can't really learn fast. Whether it's shaking or stirring, working with this equipment or these ingredients, you can know everything about rum or the spirits on the back bar. But every night you're still going to have a different social interaction, you can only learn how to work with different people if you meet them on and on every night.
What makes a modern classic cocktail is the test of time. Sometimes you look at concepts and you think it was so avant-garde when it happened, but when it was actually happening no-one realised it was avant-garde. Time is one of the very essential ingredients to drinks, to cooking, to the world of spirits, no? How many spirits are aged, how important is it to distillation? Generally I think time is very much under appreciated in the bar. Think of time as an ingredient, as an active element.
I think there's a lot of people interested in ferments. But bartenders often lack patience, so yes fermentation is a trend but at the moment there are way too many bad ferments. People don't follow the process correctly, but I'm not the one to criticise people, I'm excited that this is happening.
For me it's really exciting to see that people have developed their styles, their approach, their philosophy that they don't really care about anybody else, "I just do this." I think this is the future of the bar, the high end cocktail bars, unique concepts, the things that you can only get there. That's what excites me. When I travel to different countries and go to different bars, I want to see unique, exciting things that I can't get anywhere else.
Me personally, I want to be transported to a place [when judging a comp]. I don't want to feel sat at a convention or in a big hall — I want you to pull me into a story, and deliver a really exciting drink. I think that the sort of drinks I'm looking for, I don't want to be able to take a sip and analyse every single element; the finished cocktail should be so much more interesting and rich than the sum of its parts.