Mixologists, it's time to talk…
As I'm handed my cocktail, an innovative foraged-woodruff-distillate-highball, I remember being told; "We are in the Golden Era for cocktails." I put down the drink, before being able to take a sip as it overflows on to my hand. As innovative as it is, the drink physically has too much liquid in the glass. My memory goes back to reading; "We are in a time when bartending has never been as respected and revered". I take an awkward slurp of a sip. I'm reminded, "this is a time when more money is spent on bar design, training, experimentation. Mixologists around the world have more and more access to whatever it is they desire to push their creative boundaries." I concede that for sure, as I resolutely swallow the mouthful I've just taken. This cocktail sucks.
Financially, bartenders at their peak can earn big money. There are well-trodden paths showing twentysomethings that if you graft for a few years in decent bars, build a name and rapport in the industry, you too can represent a brand as an ambassador. Or even manage a group of bars! Why not travel the world as a consultant? Or even open your own place and win a shiny plate-trophy at whichever bar awards is happening that week. For today's bartender, the world is your oyster and your own desire is the sharpest shucker to open said mollusc.
Can't be bothered waiting decades, though? No sweat. All this can be fast-tracked! My reckoning is by your mid-20's you can have your own 16-point stock business card with your name on it above the word 'Consultant'. Shape it like a pineapple, too. That'd be sweet, lol.
ADVERTISEMENT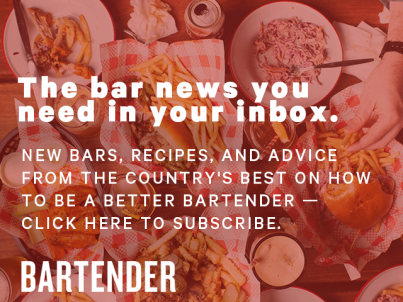 &nbsp
In a world where there's never been so many mixologists, rotary evaporators and consultants I have to ask the question: Why do most modern cocktails look bad and taste shit?
Let's rewind a little here. 30 years ago most cocktails sucked. Why? They were poorly made, used inferior and unnecessary ingredients, and were made by people with little regard for our profession, or that deliciously-boozy drug they distributed nightly.
Then came along the Atlantic-movement, named partly because of the actual Atlantic Bar in London, but more so as it was also happening on the other side of the Atlantic (ocean, that is) in New York City.
All of a sudden, drinks were not being served in Hurricane glasses with three liqueurs and garnished with paper parasols. A return to the basics was adhered to. Drinks were measured, ice and temperature were important and the pursuit of executing these 'simple' drinks was celebrated.
There's a reason why the Daiquiri and Martini are revered. They both incorporate three main ingredients, but that's not important. Well, it is, but not to my main point. These drinks are great for their texture and temperature.
This is what I'm getting at: If you don't know what makes these drinks great then put down your fig leaf tincture and read on.
On paper, the Daiquiri and Martini are simple creatures. When you have only three ingredients to work with, it's vital that they are in great shape — that goes without saying. Good booze, great ice, really cold glassware are paramount in the execution of such simplicity.
Let's now talk about the method. One is shaken, one is stirred (unless you're a British spy, which you're not, so stir it). The methodology and attention to technique is another chapter of 'Mixology 101' that seems to have been ripped out of the book.
Too often drinks are under-diluted (both shaken and stirred), drinks are poured — poorly — into room temperature glassware (the drinks equivalent of ladling hot consomme into a cold bowl), and washlines are blown time and time again. Here's a tip: if your Pinenut Army & Navy with Malic Acid Solution has a meniscus atop the glass, you've fluffed it. That's the bar-equivalent of pouring an overflowing bowl of soup to a guest.
The absolute basics of making cocktails lie in the perfect execution and understanding of classic cocktails. Not just the balance of flavour, and ilk of ingredients, but the consistency and sharpness of the producer's technique. If you don't know why a Daiquiri or Martini is great, you have little right making adaptations of it. The beauty of a Daiquiri, is not just the harmonious balance of sweet, sour and strong but the rigorous nature in which it is produced. A violent shake, a tightly coiled hawthorn strain, never double straining to retain the miniscule snow-like shards of ice that lay atop, along with the most important element, the oxygen bubbles that cause an effervescent and lively sensation on those first precious sips. Drink it whilst it's laughing at you and you'll understand why technique takes those three simple ingredients from boring to barnstorming.
I have absolutely no umbrage at bartenders extracting essence of balsa-wood for their riff on a Vieux Carre. I'm all for exploring modern ways to manufacture and distort ingredients to mix them in to a cocktail. Drinks do not need to just contain what we had available pre-Prohibition. My disdain is for those that do not hold the essence of what makes a fantastic drink, why it is that way. Balanced, technically executed and delicious.
I keep getting told we are in a golden age of bartending. I do believe that. This is a time when we have more and more access to whatever we want to do whatever we want. Whether that's buying Tristan Stephenson's books, watching those hypnotic Aviary videos on Youtube or making Dave Arnold rich, one Spinzall at a time.
I just wish we all took one step back, before we take another leap forward. Study the classics, drink the classics, pay attention to dilution and texture, and apply that to your new drinks. Too often the paying customer is used as a guinea pig for our art. Too often guests are put off by being challenged, not just with their taste buds but with their wallet. Our art needs to taste great; and if that art is not palatable, it will be rejected and that leap forward we took to get here, will all take us one step back again.