Former Cobbler bartender, Brittany Rowe, talks to Sam Bygrave about making the move from Brisbane to Sydney and taking up residence at Sydney rooftop bar du jour, Old Mate's Place.
As told to Sam Bygrave
I've been bartending full time since May last year; before that I was restaurants. I started in restaurants, and then went to Blackbird Bar & Grill, and went over to The Bowery for about six months. Then [owner] Martin Lange offered me a job at Cobbler.
It was amazing. [Lange] has high expectations, but it's not hard to meet them — just do your job and do it well. I've got a lot of respect for him, he works hard —
I've never met anyone who works harder than Marty does. Every day he's on, he switched on. And as long as you scratch his back he'll scratch yours, he always looks after his staff — it's very much like he's your dad.
Cobbler was different to what I'd done before. I've tried to make every bar I work in different — I started at a pretty commercial bar, where you learn to be fast, and Blackbird has a massive back bar; go to The Bowery, learn some traditional cocktail bartending and shake a lot of tins; and then Cobbler, it was predominantly whisky-based, I worked with a lot of stuff I'd never had the chance to work with before.
Their back bar is massive. So many bottles, so many things I'd never seen before
or heard of. I got to taste a lot of things, and to sell things as well — that verbalisation of spirits and products just confirms you know what you're talking about. It was
a good experience.
ADVERTISEMENT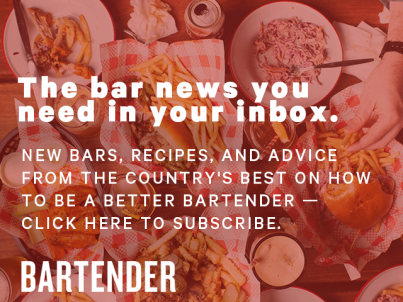 &nbsp
My partner and I had to relocate, and I was fine with that. Brisbane is a small town, and eventually you've got to move on and snuff out somewhere else.
I've been here at Old Mate's Place since the official opening day. It's good — it's a learning curve, there's a lot of stuff to figure out as we go, but it's exciting to be a part of that opening team. You all learn together.
They're the greatest human beings ever, [Old Mate's co-owners Dre Walters
& Daniel Noble]. They are the kindest bosses I've ever had — the sweetest, kindest people ever.
My whole thing is the creativity. I like to cook, I wanted to be a chef for a really long time. But I like people, I like being around people — I feel like I absorb their energy. Bartending for me is that halfway point between the back of house and front of house; you get to do all that cool creative cooking and making, but also that human interaction, which I think I need — if I was stuck in an 80 degree kitchen every day I think I'd lose my mind. 
I just enjoy comps. I enjoy the presentation, the nerves and that kind of thing.
The most exciting part for me is creating. Cocktail bartending, and looking at it really traditionally as well — filling a brief is so exciting for me. The best part of a comp — presenting is fine — but the best part is someone giving you a brief and saying, "Figure it out." Doing whatever you want all the time is great, but there's something really satisfying in hearing, "Here's a brief — now do it."