Dandelyan is the London hotel bar that does things a little differently to your traditional hotel bar — that was what the guys behind it, Ryan Chetiyawardana and Iain Griffiths set out to achieve. They're doing some high concept cocktails in a setting that is informal and welcoming, and they've picked up a slew of awards along the way — and most recently picking up the title of the number one bar in the world at the World's 50 Best Bars.
In August, Dandelyan's James Wheeler and Will Meredith came to Australia for a whirlwind tour across the country for Beam Suntory and their Blends of the World program, holding seminars in five states and collaborating on events with Maybe Mae in Adelaide, Tiny's in Perth, and Charlie Parker's in Sydney. It was a hectic schedule, according to Wheeler: "Up until we landed [in Sydney], every day there was something to do whether it was the shift or the seminar or taking a flight — it's been chaos."
Chaos aside, the results were delicious, as we found out when sampled the drinks at their event at Charlie Parker's.
Here, Wheeler and Meredith speak to Sam Bygrave about the collaborative experience, and give us an insight into how they put together the latest Dandelyan menu, one which has garnered attention around the world.
What have you been talking about in the seminars?
JW: It originated when we did a seminar at Tales of the Cocktail, not this year but last year. It was called Bar In Depth and it's a new concept of seminars that they've done, and we were one of the first bars to do it. You look into every aspect of the operation of the bar, and why you do it, where you've come from and where you're at now. Then we do a lot of the menu development chat, because it's something that interests people and it's something that we do differently. Obviously Beam Suntory and The Blends of the World wanted to take this on tour, carrying on from what Trash Tiki had done [for them].
ADVERTISEMENT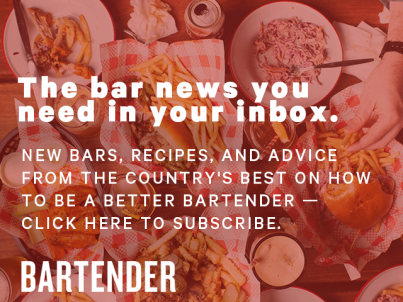 &nbsp
With these collaborations, you've been working with Tiny's, Maybe Mae, and Charlie Parker's — what kind of work has gone into it?
WM: Once the conversation was confirmed and we had all the bars lined up, we started a dialogue with each venue and [got] talking about the kind of styles of drinks that we were going to look for, and what we wanted to incorporate. For the seminars, the cocktails are all Dandelyan cocktails from previous menus, but when it came to the events what we were doing was looking at ingredients from previous Dandelyan cocktails and seeing how we could take a degree of inspiration from Australian lifestyle, culture, the bars, and flavours. It's where the operators of each of the bars are really good because they tied in their personal story and helped design an ingredient that would define a drink. Because we were working remotely it was hard to finalise a whole drink, so we thought the most efficient way to interact and design a menu was to try and design a single ingredient, and then when we were in the actual state itself [we would] workshop the final drink.
So you were still putting finishing touches on the drinks for the collaborations up until the event?
JW: Absolutely, I mean yesterday we sat down with the boys at Charlie Parker's, and tonight we roll the menu out. We've been conceptually talking about these menus for months and months having never met the guys, and having never tried the ingredients — we couldn't bring anything over with us, everything's been prepped here [in Australia]. So when we sat down for the first time, we try everything and we loosely know what we want to do with each ingredient and what style of drink we want to go towards, and it was a matter of us sitting together yesterday to tie up the ends of the drinks. It's interesting, and certainly something we've never done before, but really fun — the main purpose of this was to collaborate and not take over. 
You know, we could walk into a bar, make our own drinks, and walk out again, but really what does anybody gain from that? 
Could you talk us through one of the drinks you've got on the menu with Charlie Parker's?
WM: For one of our cocktails, the BC3 Negroni, it's one of the drinks we did for the seminar. Basically it was a mead that we spiced up and fortified into a vermouth style ingredient. We wanted to take that right back down to the bare bones. So the boys from Charlie Parker's basically fermented honey from scratch, then while it was fermenting they spiced it with Australian native botanicals, along with the same structure we used to fortify ours. So we had some dandelion, burdock, some fresh citrus, and a touch of saffron, and then they added in some sancho pepper and a type of lemon myrtle to it as well. So as it fermented we got this lovely spiced honey wine, then fortified it with fino sherry. The full drink ended up being a twist on the Bees Knees, with some Roku Gin and some lemon juice and just shaken up so it's fresh and bright.
So they are ingredients you've used at Dandelyan that you and the bars have updated for use out here?
JW: We were looking at ingredients that we were fond of from previous drinks and not trying to replicate them, but the backbone of it, and have that being the inspiration for what we'd do next. We'd talk through [with the bars]  what that ingredient was, and then we'd talk about ingredients, native Aussie ingredients that could be interesting to throw into it, and then workshopped it.
It was actually a WhatsApp conversation the whole time we've been doing it. There's five drinks, we'd take it in turns to talk about where our head was at with them, and then just bounce off each other. It was an evolving conversation which got us to five drinks without ever having tasted them, so they were borderline finished in your head.
Can you tell us a bit about the latest Dandelyan menu?
WM: It's titled The Modern Life of Plants. We're looking at an almost taboo subject, something that was really not sexy, and that was the modern industry of food systems. We see the relevance of it in today's world, there's an ever increasing demand for certain produce of certain qualities, and if we're one bar that is relatively high volume and we can get all this stuff on a daily basis, then there's got to be some systems out there that are championing the ability to do that on a worldwide scale.
So we looked at three elements that are in every single cocktail bar: mint; hops because everyone sells beer; and grapes because everyone serves wine. From there we looked at interesting stories that fit within this rough criteria, to champion various producers who are working either in a very innovative way or a sustainable way or a way that's a bit leftfield, and from there we built drinks around those stories.
How long did the menu development process take?
JW: One of the talking points in the seminar was that when we went from menu two to menu three, we had a real shift in the way we were developing menus and that was that everyone would be involved in it, the entire team from floor to bar to barbacks to managers — everybody. At the time it was just over 20 people and now we're 30. The idea is that everybody is involved and that obviously takes a bit longer, so we give ourselves six months-ish to go from start to finish, from idea to printing menus.
How did you organise that, getting so many people's input on one menu?
JW: There's definitely a degree of somebody having to take the reins and really nail down the schedule and the deadlines, when certain things have to be signed off.  Again something we spoke about in the seminar was what we call our master document, it's a Google Drive document which is essentially an Excel spreadsheet with what we call a traffic light system. Every aspect of every drink on the menu will go from red to green, depending on where it's at in terms of sign off. You've got this document that will gradually go greener and greener — it's a progress monitor if you like.
Does that include particular ingredients in the drink?
JW: It's everything — the name of the drink, it's the glass, the garnish, what type of ice it's on, the actual dialogue that's going to be in the menu, it's literally everything. We give one person the responsibility to take control of that, collect everyone's information, and put it onto paper.
Do the staff enjoy this process? What are the benefits of this approach?
JW: They absolutely love it. One of the key points is that it creates a team culture that I've never seen before, it's an excuse for everybody to sit in the same place for one hour a week and that is underestimated in how busy the bar industry is — to get everybody in at the same time, it's this ongoing team culture. You've got a unique way of developing a team. We've got barbacks and hosts and floor staff who may never have shaken a drink before, but they're conceptually putting drinks together in their heads. The whole storyboard concept of how we develop the menus means they can be involved in it even though technically they may not be an efficient bartender.
Dandelyan has won a lot of awards, there's a lot of attention on Dandelyan — what does it feel like when the bar world is looking at you all the time?
JW: There's a lot of pressure attached to it, but at the same time we always remain vocal about the fact that the awards aren't what we work for.
The team are very much grounded in that sense, and know that you could have an award on the back bar but at the end of the day it doesn't mean anything — we're all there striving to be the best that we can be, to provide the best possible drinks and service that we can.
At the end of the day, if you come home with an award after it it's just a pat on the back; it's certainly not why we do what we do.