OPENING your own bar — that's the dream for many a bartender. You slog away for nights and days and weekends and holidays, and if you've worked hard and you've got a little bit of luck, well, maybe the dream comes true.
But to open your bar and have the fortunate problem of so busy that you're pulling more hours than you've ever worked before? Well, that's even better.
That seems to be the situation that the owners of new Sydney bar, Old Mate's Place, has found themselves in.
The ownership trio of Gabrielle and Andres Walters and Daniel Noble hold some top-flight hospo pedigree: you may know Andres from his work at The Lobo Plantation and Kittyhawk, and from the barware supply company he owns with Gabrielle, BarGeek; Daniel Noble you'll know from many bartending competitions and his time at Ramblin' Rascal Tavern and most recently, Jangling Jack's.
Located on the top floor of 199 Clarence Street, Sydney, the bar is set over two levels — on entering the bar you're greeted with a generous back bar stocked with all the things you want to drink (whiskey and rum being two of the crew's favourite things and well represented on the shelves), and you'll ascend a staircase to reach what we expect will be the big drawcard come summer: the rooftop bar in the heart of the CBD.
ADVERTISEMENT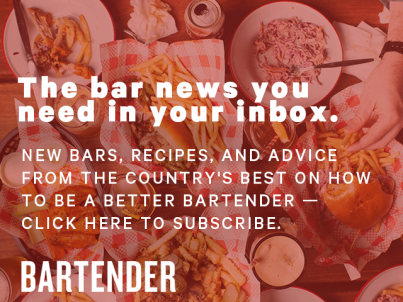 &nbsp
They have brought on board Adam Cork (whom you may recall from profiles in such magazines as this one, and whom previously managed Kittyhawk and has also done time at Ramblin' Rascal Tavern) as their bar manager, and you'll be greeted by Jess Hammond (ex-Big Poppa's) on the floor, so you know you're going to get some friendly hospitality to go with your drinks (and a fair whack of fun too, we'd wager).
But it's not been smooth sailing all along.
From the time they got the keys to the site (and we first published the news, which was in September 2017), it took almost a year to swing the doors open on their pride and joy. There were challenges along the way — as there tends to be when you're opening your first bar.
The team had been familiar with the site before, with the Walters' BarGeek operating a popup on the site.
But it was once they got to the building phase where things got a little tricky.
First of all, the council was unaware that a rooftop space — which they had just signed a lease for — even existed on the site, so they had to point that out to them.
(For what it's worth, Old Mate's owners had a remarkably positive experience with the council: "The council was actually surprisingly easy to deal with," says Gabrielle.)
Then there was the scope of the work to be done.
"It's a knock down rebuild," Andres tell us, which meant that it just had to take time.
"In general, it's just a really old building," says Gabrielle, "and there's a lot of structural work because we have a rooftop that didn't have any access — it's a lot more than just opening a single level venue."
The first floor of the bar was created to give the feel that it has been there a while, says Andres.
"We wanted it to be like an old place that had been left there for a hundred years, and the plants had overgrown it, and that sort of carries on to the rooftop — you know you're in the city but it's a little place that takes you away as well," he says.
And the open-air, rooftop bar that has got people excited — and Old Mate's Place has already found itself as a Sunday afternoon destination.
"A Sunday summer session on that rooftop? It's a massive drawcard," says Gabrielle.
But Old Mate's Place is about more than the fit out — if you're familiar with the owners of the place, you know to expect a casual, fun environment, but that doesn't mean that they're skimping on the service. It really should feel like you're spending a night at a mate's place — it's just that your mate makes great cocktails and is comfortable slinging some sassy chat your way. And that's what they're looking for in their staff.
"The biggest thing for us is," says Andres, "you can go to any bars and you can go to the second best bar or the 31st best bar in the world, but if you get shit service you get shit service. That's the biggest thing. You're only as strong as your weakest link, so in terms of staff that's a huge thing for us," he says.
The drinks list at Old Mate's is presented in an old leather book, and they've spent a lot of time on getting it to look just right.
"We've put a lot of time and effort into presenting the menu, the aesthetics of the menu and the way it presents," says Andres. "It was a pipe dream for all of us to be able to pull it off so hopefully it's received in the same way."
It's emblematic of their approach to the bar as a whole, Gabrielle says.
"I feel like we've tried to focus on the little things — and we've had a lot of time to focus on the little things while the big things weren't happening," she says.
There's a great wine selection within those pages, and the drink selection in general is chosen according to what they like to drink.
"We're not trying to reinvent the wheel," says Andres. "We're not trying to get a rotovap and do all this stuff; whilst I appreciate that, I think you can go down that road of complicating things too much.
"At the end of the day I know that that at the best bars that I've been to, you order a second drink of that drink you first had. So for me that's what I look at. The bars that have impressed me over the years, have always been the bars where you can order a cocktail, you really enjoy it and you want another one, but you think you might need to try a different one." It's a good problem to have.
And it's a problem you'll likely have when you visit Old Mate's Place. The cocktails are greatand so too is the wine, and the spirits selection. How do you choose?. Do you sit at the bar or head up to the rooftop? We'd advise staying a while and exercising all your options.