For our profile on American whiskey and eats this month, we naturally made our way to the door of Surly's in Sydney's Surry Hills. That's where you'll find a dive bar done right, with attentive service, loads of bourbon and rye, and all the heart-attack-inducing, vegan-unfriendly food options you could want.
And it's where you'll find Simon Hopkins most days. He's the bar and venue manager at Surly's, and if you ever get him started on American whiskey, be prepared for a rollercoaster of a conversation. He skips from one whiskey-centric topic to the next with the fervour and the passion of a bourbon evangelist — heck, you'll learn a thing or two in the process.
As told to Sam Bygrave
We've been here for three years, we're a little slice of the American South in Sydney. We do smoked meats Friday, Saturday and Sunday, with our smoker we imported ourselves from the States. We do traditional burgers, wings — it's not hard but a lot of people over-complicate it and over-think it.
The clue to a good cheese sauce for Mac & Cheese? Just good Kraft cheddar — not the fresh, just the stuff in the dry aisle in the pack. Like with buffalo wings, people try and coat them [with hot sauce] and that's not how it is. We're just trying to be an honest American bar, not too kitschy, not too cliche, just an honest representation of what the South is like.
ADVERTISEMENT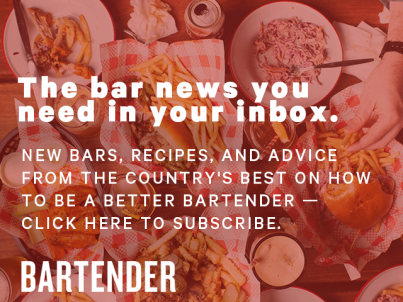 &nbsp
It's all table service downstairs, which not a lot of bars in Sydney do, and it means that the section waiters have time to explain the menu to customers because not everyone knows what a hoagie is etc. 
A hoagie is a long bun sandwich, think of it like a sub. That's what you get in the northern states, in New Orleans you get a po' boy — it's very regional as to what they call it. A hoagie is what you get in New York, Chicago, that kind of northern and New England belt; a Philly cheesesteak is on a nice long milk bun.
Nashville is the home of fried chicken — not Kentucky. Nashville is the home of hot chicken.  I went down to Nashville and spent a week there and ate all the barbecue and hot chicken — it's all research, right? I had to go and wait in line for an hour at Hattie B's Fried Chicken, because they've got a line from the moment they open to the moment they close. 
I'm half Greek, but my Greek grandfather loved country music. So the weirdest thing was my old grandfather George was a Johnny Cash fan, and Dolly and Hank Williams and he'd go from some Greek singer to putting on Johnny Cash. I grew up with that. 
In my bar career, I've been in the industry for 10 years, but only really focused on craft cocktails in the past three. It wasn't until I was working at the Clock Hotel, and I was assistant manager there, you had Glynn Firth and you had Dániel Molnár in the Whisky Room and I used to do a day shift. I'd save my manager meal until the end and get a steak, sit-in the Whisky Room. I used to just always go the Eagle Rare 10, it was my go to and all I really knew. Glynn gave me a Russell's Reserve 10 Year, he explained about the father and son [dynamic at Wild Turkey], and I tried it and that was it — I was hooked on bourbon after that.
I started reading more, finding podcasts. And the thing about American whiskey over say Scottish is that it's just the grain, the wood, and the water — you can't put it in a seasoned barrel and call it a bourbon. The flavours, and the extra work they have to do to get all these flavours out — you can't add colouring or flavouring — it's all the wood, the oak, and the ageing… it's the climate, it's the water — Kentucky just has the perfect conditions.