There's so much good stuff going on in the bar world of Asia right now. Australian Bartender was in Shanghai earlier this week and we were blown away by passion and hospitality of Shanghai's bartenders.
And that passion and hospitality was exactly what was on display on Monday 19 November when nearly 600 of China's best bartenders and bar operators and some of the best from Asia and beyond gathered in Shanghai for the Drink Magazine Bar Awards.
DMBA 2018 is in its third year and pays tribute to the bars, bartenders and brands doing great things across China and beyond.
Held in the grand ballroom of the Jing An Shangri-La, the crowd was treated to some spectacular drinks before the awards proper began, with bars by London's The Connaught, Coupette, and Happiness Forgets, Singapore's Native, New York's Dead Rabbit, Shanghai's The Odd Couple, and Melbourne's own bar without a bar (yet), Fancy Free, taking care of the pre-awards drinks.
Some of the notable winners on the night included Agung Prabowo, bartender-operator of The Old Man in Hong Kong, who won the title of Bartender of the Year (Asia) as well picking up the award for Bar of the Year (Asia). The Old Man draws its inspiration from the author of The Old Man & The Sea, Ernest Hemingway, and Prabowo is a much admired bartender thanks to his boundary-pushing drinksand the fact that he's one of the most hospitable bartenders you're likely to come across.
ADVERTISEMENT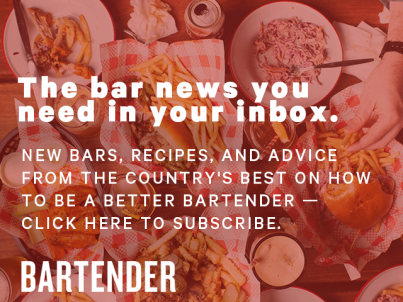 &nbsp
Jackie Lo was named Bartender of the Year (China), and Atelier in Shanghai — where you'll find former Eau de Vie bartender, Michael Chen making some stellar cocktails — won for best design, and for the first time a bar outside of Beijing and Shanghai won the title of Bar of the Year (China): Hope & Sesame from Guangzhou.
Another big winner on the night was Shanghai's Sober Company, spearheaded by owner Shingo Gokan, picking up the trophies for Service, Restaurant Bar, and Bar Team.
Take a look at the full list of winners below, and keep an eye on Australian Bartender for a more in-depth look at Shanghai and Asia in the next issue.
Bartender of the Year (Asia), presented by Peddlers Gin
Agung Prabowo
Bar of the Year (Asia), presented by Montenegro
The Old Man, Hong Kong
International Bartender of the Year (New for 2018), presented by Cityson
Erik Lorincz
DMBA 2018 Bartender of the Year (China), presented by Gotham East, Luxardo, Cocchi, Nouaison
Jackie Lo
Bar of the Year (China), presented by Perrier
Hope & Sesame, Guangzhou
Sustainability (New for 2018), presented by Nespresso
BACARDI No Straws Campaign
Innovation (New for 2018), presented by RATIO Coffee and Cocktail Bar
Cityson
Bartender Brand, presented by Thirsty Work Productions
Campari
Brand Ambassador, presented by Thirsty Work Productions
Ethan Liu, Proof & Company
Design, presented by Orrefors
Atelier by Taste Buds, Shanghai
Music Program, presented by K-Array
Shake, Shanghai
Wine Program, presented by Penfolds
Le Verre a Vin, Shanghai
Beer Program, presented by Boxing Cat Brewery
Jing-A Brewpub, Beijing
Service, presented by Small Batch Learning
Sober Company, Shanghai
Restaurant Bar of the Year, presented by Licor 43
Sober Company, Shanghai
High Volume Bar, presented by Jack Daniel's
Le Baron, Shanghai
Hotel Bar, presented by Summergate Fine Wine & Spirits
EQUIS, Four Seasons Hotel Beijing
Cocktail Program, presented by Havana Club
Hope & Sesame, Guangzhou
Bar Team, presented by Chivas Regal
Sober Company, Shanghai
Entrepreneurship (New for 2018), presented by Hennessy
Kin, Constellation
Founders Award, presented by Thirsty Work Productions
Eddy Yang