Whilst the Bartender of the Year sponsored by BACARDÍ & De Kuyper is over for 2018, it's never too early to get started on your study for the 2019 instalment of the competition.
Getting an early start on studying might just help you make your way into the Top 8 final round — and don't be surprised if you find these two bartenders in the final with you.
We're looking at two bartenders to watch in 2019: Kate McGraw, and Evan Stroeve from Bulletin Place.
ADVERTISEMENT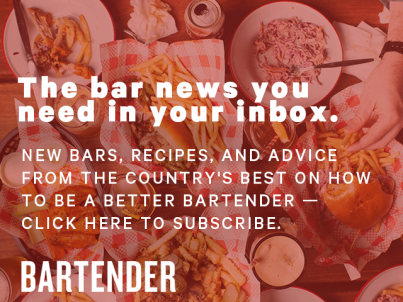 &nbsp
Kate McGraw
This was your first year through to the Top 8, what was it like up there in front of 650 of the industry's best at the Bar Awards?
The whole experience is wild. I don't think it dawned on me until halfway through my chat, but then you look up and see 650 people (half) watching you and it was such a proud moment for me. We had such a female heavy Top 8 year this year as well, so being alongside two great mates helped keep me calm!
What would be your three pieces of advice for those wanting to attempt the competition?
Don't rely on a last minute cram before the exam — the questions aren't easy! Bartending is constantly evolving and to be a good bartender anyway you should be constantly seeking out new knowledge. If you do get on stage just be yourself and let your personality shine through. Finally have fun! It's a wild experience amongst a great industry so soak up every second of it.
What's the next year got in store for you?
I'm taking the leap and opening a venue out in Bondi with the team from Panama House. Watch this space.
Evan Stroeve
Bulletin Place, Sydney
What would be your three pieces of advice for those wanting to attempt the competition?
Know Australian Bartender magazine like the back of your hand. But also know your fundamentals, everything from spirits to wine. Download one of those flashcard apps, they're great.
Have your drinks ready before the competition. The last thing you want to be doing is coming up with two BOTY-grade drinks the night before. Assume you're going to make it and give yourself time to tweak them.
Do as many blind tastings as you can at work. The only way to be good at this is to practice.
This was your first attempt at BOTY and you got all the way into the final eight — can you describe how you were feeling coming into the Top 8 round?
So nervous mate. It's a three hour rollercoaster of anxiety and nerves, with five minutes to unload that in front of 650 people — and then it's done. 
You've travelled around the world's bars a bit — how do you think our Aussie talent stacks up?
I think our quality of service is what defines us, and our produce. There's countries that I would argue are more 'ahead of the curve' than we are, technically, but for the most part, you can't beat Australian hospitality. The guest is always the priority, not creativity for creativity's sake, not a lab and not a flashy menu. And our produce is incredible, both native and introduced. There's nowhere in the world that has access to all the stuff that is on our doorstep.