The weather is heating up, and the calendar has ticked over into December. It's summer time, and your bars have begun to be jammed with end of year work parties, celebrations, and your roster has you working doubles every day.
So you might have missed a few things here at australianbartender.com.au last month — here's the biggest stories you should be across.
The Perfect Blend 2019 regional finalists are all here
We don't know if it's self-interest, or if it's a mark of just how damn supportive the Australian bar scene is of one another, but there was plenty of interest in finding out who from each state made the regional finals of The Perfect Blend Cocktail Competition 2019.
ADVERTISEMENT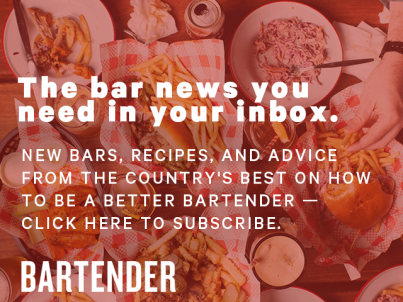 &nbsp
Click here to read the full story.
First look: go inside Employees Only Sydney (here's what to expect)
It's been a few years in the making, but Sydney now has its very own Employees Only.
Employees Only, is one of the seminal bars for the craft cocktail industry in the US and across the globe. Founded in 2004, the New York bar has played a central role in the US scene and in the cocktail revival more broadly.
One of the founding partners of the original, Dushan Zaric, is in Sydney to help get the bar up and running with fellow Employees Only New York transplant, Robert Krueger. We caught up with both of them recently to find out just what we should expect from this branch of the bar.
Here's what to expect when Maybe Sammy opens
The team behind Sydney's Maybe Frank, which this year took out the title of 2018 Restaurant Bar of the Year at the Bartender Magazine Australian Bar Awards, have got a new cocktail bar on the way: Maybe Sammy.
Slated to open early next year, Maybe Sammy will open on Harrington in the historic Rocks precinct, and it promises to be one of 2019's most exciting openings.
The List: this new (and good looking) Papa Gede's cocktail list is all about the memes
You lot love a good looking cocktail list, right?
Sydney small bar Papa Gede's Bar have impressed before with their drink menus (the last one saw them seeking native Australian ingredients). And we've had the pleasure of imbibing their take on the Zombie in the past, too (click here for the specs). Now, to celebrate their fifth birthday they've just released their latest list — and it's a best-practice example of a fun drinking cocktail list.
The team behind Tokyo Bird is opening a new Chinatown cocktail bar
Sydney's Chinatown precinct has been crying out for a high quality cocktail bar — and now, with the opening of Bancho, that's what they've got.
"We're branching out from the Japanese whisky focus of Tokyo Bird towards more Scotch and other world whiskies, including Australian and Taiwanese, as well as independent bottlings," says co-owner and group beverage manager Yoshi Onishi. "But we do also have Suntory's Hibiki 35 year old."
Here's how the 2018 Bartender of the Year was crowned
It was history-making win this year in our Bartender of the Year sponsored BACARDÍ & De Kuyper, with Jenna Hemsworth from Restaurant Hubert becoming the first woman in 18 years to win the crown.
Yes, Queen.