David Rofe is the venue manager at Sydney bar, The Swinging Cat, and this year made his first appearance on the big stage during the final round of the Bartender of the Year sponsored by BACARDÍ & De Kuyper.
It was the first time Rofe has cracked the final round, having finished in the Top 16 twice before. Rofe says that he's not going to have another attempt at the competition — he's quite happy having made the Top 8, thank you very much — and below, we get his thoughts on the comp, the camaraderie, and tips for presenting on the big stage.
David Rofe — The Swinging Cat, Sydney
`
You've made the Top 16 a couple of times now, what was it like to get up on the big stage for the Top 8?
After coming so close twice before, it was a relief to finally make the Top 8. Whilst I naturally had my nerves, it was an enjoyable experience and a highlight of my career so far.
ADVERTISEMENT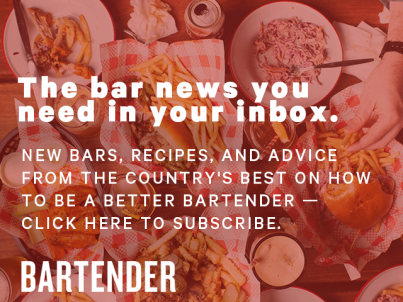 &nbsp
What was the sense of camaraderie like with your fellow competitors?
One of the best aspects of BOTY is the fact that you get to meet many of the best bartenders from around Australia. Whilst there are many familiar faces every year and it is great to catch up with them and find out what is happening in Melbourne, Brisbane and Perth etc, it is also great to introduce yourself to new contenders and make them feel welcome as it can be intimidating if it is your first time.
Have you got any advice for bartenders wanting to have a go at the comp next year?
Firstly, just do it! I spent so many years not entering competitions because I believed that I was simply too busy managing venues even though I wanted to. You simply have to find and allow yourself the time as it will benefit your career and personal growth.
Secondly, study well ahead of time by reading widely (especially Australian Bartender) and researching your product knowledge.
Thirdly, have your drinks prepared before the competition as it will take a lot of the stress away. Of course, this is what I should have done instead of cramming just before but remember the old adage: "Do as I say, not as I do"! Finally, have back-ups of anything that can break including glassware — this saved me on stage when two of my glasses broke!