Each year that we stage the Bartender of the Year sponsored BACARDÍ & De Kuyper we find a mix of competitors in the final Top 8 round: some of them, like winner Jenna Hemsworth, Priscilla Leong, and Paul Hammond, have been there before, with remainder being bartenders for whom this is their first year up on the big stage.
Two bartenders for whom this year was the first in the Top 8 — and who we think will be ones to look out for in the 2019 instalment of the competition — are these two here: the talented Nick Cozens from Eau de Vie Melbourne, and newcomer Jet Hauge from Sydney's Burrow Bar.
Below, they offer their insight and tips on preparing for the Bartender of the Year, the toughest all-round test of bartending ability there is.
Nick Cozens — Eau de Vie, Melbourne
ADVERTISEMENT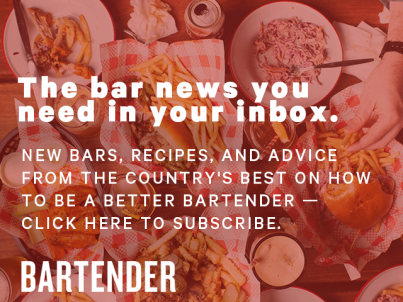 &nbsp
This was your first year through to the Top 8, and you were the last competitor on stage — can you describe what that felt like on the night?
It actually felt great going up last. I was fairly well prepared so I was relaxed and as ready as I could be. The room was buzzing and everyone was having a great night. I was just happy to be a part of it all and have fun on stage.
What was the sense of camaraderie like with your fellow competitors?
There was a point where someone broke one of their glasses on stage and there were instantly three competitors running around out the back trying to find a fresh glass to be used on stage. That was the general feel of the day. All of the Top 8 wanted everyone else to compete to the best of their ability.
Have you got any advice for bartenders wanting to have a go at the comp next year?
Don't doubt your ability of making it into the Top 8. Have drinks ready, practise blind tasting, talk to people that have made the Top 16 in the past few years to get an idea of what to expect. Being prepared to make the Top 8 will make your whole Bar Week experience a lot more fun and relaxing.
Jet Hauge — Burrow Bar, Sydney
What it was like getting up there on stage in front of 650 of the industry's best and brightest at the Bar Awards?
It's a thrill, It's always going to be a thrill. I found that the best way to avoid getting sucked into the nerves was to keep it quite loose, I had three bullet points that I wanted to hit for each drink and trusted my gut for the rest. Bartending is what I do everyday, to do that in front of the best in the industry all at once is amazing, but I try to be amazing for all my guests. Breathing fire helped keep their attention too I guess.
You're still relatively young in bartending years, what did you like about the comp?
I loved the camaraderie throughout the whole comp. From the studying in the weeks leading up to the exam, through to the top 8, everyone has been super supportive and cheering the others along. It's really lovely to see everyone brought together by a mutual love of bartending.
What — if anything — do you think you'd work on if you were to have another crack at it next year?
Ha, definitely the blind tasting, but I'm sure my palate will be sharper next year.
What advice do you have for someone who has entered the BOTY before — how can they, like you, make it to the Top 8 on their first go?
Overprepare. Way too much. You'll come out of the exam a little annoyed that, for example, Sam didn't ask that one question about a Kir that you definitely thought he was going to ask. But at the end of the day, any prep that you put into this competition will only make you a better bartender. And then beyond the written exam it's just stuff that you do every day. maybe on a larger scale, but you can handle that can't you? Just be the best bartender you can be, people will notice.