There's a new venue on the way from Martin Lange. The Brisbane-based bartender is behind the award winning bars Cobbler, in Brisbane's West End, and Saville Row in Fortitude Valley, where he has also recently opened Finney Isles.
His new Brisbane bar, Death & Taxes, is set to open in the last week of February 2019.
The new 100 capacity bar will open in the historic Burnett Lane in the Brisbane CBD, Lange says.
"It's the oldest laneway in Brisbane, it goes all the way down to 1824," he says. "We've got a site that's been there for a 120 years as well — it's heritage-listed."
Lange is pitching Death & Taxes as a bar focused on the cocktails, and to that end is bringing in Finney Isle's Samuel Tripet to oversee day to day operations, and to take on a share of ownership.
ADVERTISEMENT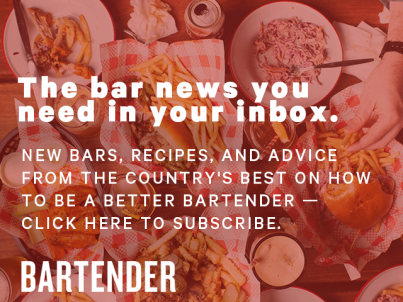 &nbsp
"Sam has become, in the last two or three years, very fucking capable," says Lange. "So I'm really excited for him to be running the bar. I can't really be too hands on — I wish I could teleport, but I can't."
Blake Ward, who used to co-own Sling Lounge with Lange, is the other business partner in the project.
Expect a cocktail list that will run to around 30 drinks in length, and a wine list of around 40-odd bottles. Just don't expect much to eat — there's "someone pretty cool" opening up a restaurant in the space next to them. "That's why we're staying away from food," says Lange.
Like Lange's other venues, Saville Row and Finney Isles, there's no discernible theme in the offing at Death & Taxes.
"It's just a good bar," says Lange. "We're putting booths and a long bar in, it's basically very much a Cobbler 2.0 in the city. There's not really many small little bars in the city — everything is like a big pub."
Death & Taxes also marks the first foray into Brisbane's CBD for the award-winning operator.
"We're trying to do something like what I've been doing for the last six years, but to bring it to the city," he says. "It's a bit intimidating, I'll be honest, but I think we've got the experience to do it now. Also, we have the back up, with three venues behind me now — there's a lot of resources I can tap into that will help.
"You don't want to take anything for granted, we're still going to do the best we can," Lange says.
Death & Taxes will open on Burnett Lane in Brisbane in late February.