2018 may have been another shitshow of a year when it comes to global events — and the tweets of certain orange-faced clown — but in the bar world at least, things have been looking pretty good.
The news about new bars came in at a steady rate in 2018, and despite some residual doom and gloom about the harbour city's lockout laws kicking about, Sydney has led the pack in new offerings, opening up the bars that this year you were keen to know more about.
And whilst we'll acknowledge that clicks don't necessarily equate to quality when it comes to bars, we think you lot know what makes a good bar: the people behind it. It's the people behind the bars in the list below that make each of these are very happy place to drink at.
Six of the top 10 below hail from Sydney, whilst two of the bars on this list are yet to open — and we're pretty sure that when they do, they'll be some of the most talked about bars in 2019.
1. Old Mate's Place, Sydney
You lot could not get enough of Old Mate's Place this year. The owners behind the bar, Andres and Gabrielle Walters, and Daniel Noble, have had a great start to things, quickly becoming a go-to destination not just for bartendery types, but for punters who love good drinks, good service, and a great time.
ADVERTISEMENT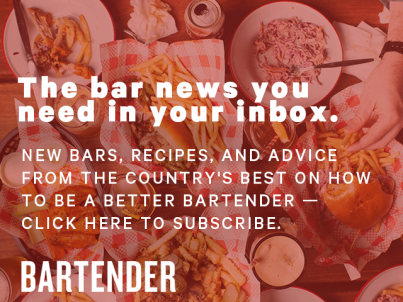 &nbsp
2. The Doss House, Sydney
This stunner in Sydney's The Rocks has been getting a load of interest from day dot — expect some fantastic whiskies set in one of Sydney's most beautiful old spaces.
3. Fancy Free, Melbourne
The guys behind Fancy Free — Chris Hysted-Adams, Ryan Noreiks, Rob Libecans, and Matt Stirling — have got a space to open their bar, which has been travelling around doing popups. There's been a huge interest in what they'll be doing — they'll also be touring the country for The Blend — and you'll get the chance to sample it early in the New Year.
4. Bistecca, Sydney
An aperitivo bar in the middle of the Sydney CBD? Yes, please. The latest bar from the team behind Grandma's Bar and The Wild Rover, Bistecca is part bar and part restaurant, and it has to be the city's most specialised steakhouse: here, they do one cut of meat, bring it to your table to size it up, and then ply you with great wine. What more do you want?
5. Employees Only Sydney
It's one of the world's most famous bars. The original, in New York, was a huge driver in the craft bartending renaissance, and they've since opened outposts in Singapore, Hong Kong, Los Angeles and now, in Sydney.
6. Walter's Steakhouse & Bar, Brisbane
For owners Denis Sheahan, Andrew Baturo and Paul Piticco, their newly opened Walter's Bar & Steakhouse represents something of a longstanding dream come true.
Here, expect classically constructed cocktails from the steady hand of veteran bartender (and regular fixture of the Bartender of the Year Top 8), Brendon Osmers. The venue comes from the team behind The Gresham, so you know you're going to want to have a drink here.
7. Maybe Sammy, Sydney
Here's the second bar on the list that is yet to open: Maybe Sammy. From the team behind Maybe Frank, Maybe Sammy will eschew the pizza of Maybe Frank, but bring the top notch cocktail talent for their take on a classic European hotel bar experience without the hotel — and all with their signature cheek and sense of fun.
We've just had word that they'll be opening in the first week of January 2019 — we'll see you there.
8. Mjølner Melbourne
The Melbourne outpost of Mjølner garnered a lot of attention this year (and a nomination for New Bar of the Year at the Bar Awards), and that's no real surprise given the pedigree behind the restaurant and bar: it comes from the Speakeasy Group, the outfit behind Eau de Vie, Boilermaker House, and the recently opened Nick & Nora's.
9. Bancho, Sydney
Despite having just recently opened, the prospect of this new bar from the folks behind our favourite Sydney izakaya, Tokyo Bird, was lighting up the social media feeds. It's the first classic cocktail bar for Sydney's Chinatown precinct, and it's a good one.
10. Death & Taxes, Brisbane
Brisbane bar operator Martin Lange has had a brilliant 2018: his bar, Saville Row, took home a trophy at the Bar Awards; he opened Brisbane's hottest new cocktail bar, Finney Isles, in recent months; and he even got married. And just last week, we brought you the news that he's got a new bar — this time in Brisbane's CBD — on the way in 2019.