It's a curious thing, New Year's Eve. Much of the country will spend the evening rushing rivers of champagne and booze down their gullets only to begin the brand spanking new year with an earth shattering hangover.
Well, if nothing else it's a celebration of the fact that we'll never learn and that champagne is both great and good.
Whilst many bars will shut down for the evening, citing the expense of paying staff once the clock ticks over into public holiday New Year's Day, the large majority of you will be ringing up drinks as the punters ring in the New Year.
So what are the tips to a successful New Year's Eve? Given the sky-high expectations guests have on the night, how on earth do you meet them?
If there's one iconic Australian bar to ring in the New Year, we'd argue it would be Opera Bar. After all, it's right there — at the freaking
Opera House — with the best seat to the world's best New Year's Eve celebration (yeah, we're biased). We spoke to venue manager Steve Davis to get some advice on how to make sure the big night out ain't a letdown.
ADVERTISEMENT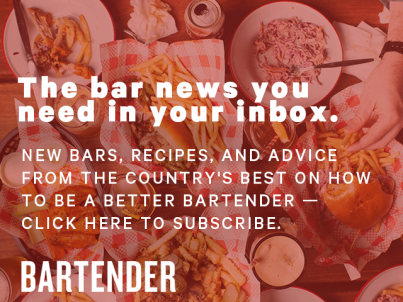 &nbsp
Don't overbook it
"The temptation is always going to be to go as near to your capacity as you can," says Davis. "But what you need to look at is the guest experience and work out what that sweet spot is for not waiting at queues at the bar, for not feeling like you're in a mosh pit."
So what do they do at Opera Bar? "We undersell, by about 20 percent of our capacity, and that is kind of why you can charge a price that people might perceive as high, but once they're here it matches up," he says. 
"It's a classic hospitality thing: under-promise and over-deliver. You say it will be a great party, and then you make it the best party they ever had."
Make service simpler
There's no quicker way to piss off your patrons than to have them waiting for a champagne as the clock ticks over into 2019.
"We add some extra service points in, that do specific things: a champagne bar, a frozen cocktail bar, a cocktail jug bar," says Davis. So instead of having just two service points, they've now got five or six, and that helps get drinks into hands quicker.
Stay on top of RSA
No-one wants to be looking for a venue to get into when it's 20 minutes to midnight and a whole new year, so your guests are likely to be with you a while on the night — and you've got to keep them on the right side of that responsible booze line.
"They've got a huge vested interest in staying, they've paid a lot to be here for an eight hour party.," says Davis. "You need to be preventative rather than reactive. Along with the roving canapés at all time, we also have roving water, and people are usually pretty gracious in accepting it."
Do something different
Davis makes the point that if you're not doing anything differently from a normal night of trade — and you're charging New Year's Eve prices — your guests will feel ripped off.
"Make sure that you're offer is pointed enough, that you're not just opening as normal, you're doing something a little bit different, you have to have a point of difference. Otherwise it's just a normal night and you're jacking up the price for no reason," he says.
Keep perspective
Davis suggest putting yourself in the guests' shoes and taking stock of the evening from their point of view.
"Never lose sight of the fact that it's going to be a great night for some people," he says. "When you get really close to an event like this, over the weeks of planning, you can start to hate it because it's all that you think about. Never ever lose sight of the fact that they [the guests] don't hate it — they're going to love it."