Making the short journey down the staircase, into the famed Baxter Inn on a Friday afternoon, I grip a pair of perfectly chilled, diluted Old Fashioneds as the assembly of suits scramble to order a drink from the bar. The quick service and quality of drink has been aided by the addition of a cocktail tap, allowing staff to batch large amounts of the drink prior to service. Good quality cocktails on tap are relatively new to the scene. But the quality of drink hasn't always been good, so where did it come from and how can your bar benefit from tapping cocktails?
The industry had been hearing about draft cocktails since 2009 with as much good as bad being associated with it. The good; having bars speed up service and improve consistency of drink, whilst the bad; comments generally around the lack of theatre and in some cases taste. Around this time, the draught style of cocktails went relatively quiet with venues receiving far from positive comments from both industry and consumers alike. The general chat from all was that customers had lost the 'love' from bartenders.
The release of Dave Arnold's Liquid Intelligence Book in 2014 brought the knowledge of how to build a carbonation rig to the masses and in turn saw a number of bars adopting the setup with great success. Although not quite a 'Cocktail on Tap', the same methodology applies to the batch and serve procedure. This Must Be Place and PS40 nailed this technology for the Sydney Bar scene, gaining media recognition and a string of awards for both venues.
This Must be the Place co-owner Luke Ashton backed up the fact that the venues service has been a key focus point for the team, as a number of drinks are prepped in PET bottles, carbonated through a CO2 tank then placed on ice behind the bar ready for service. The team as a result is able to keep wait times to a minimum as they pour the ready made liquid over ice, garnish and serve. Crucial to this style of service is to ensure the liquid is properly carbonated and kept ice cold.  
As with anything new and exciting, a lot of brands were quick to jump on the new trend without having fully mastered the technology. Some bars who adopted tap cocktails because of their speed and efficiency didn't give enough attention to the quality of the drink they were putting out. Guests who had a bad tap cocktail experience in one venue didn't want them in other venues, and would usually do so with a quick painful eye roll and comment on how average drink service on tap is. 
ADVERTISEMENT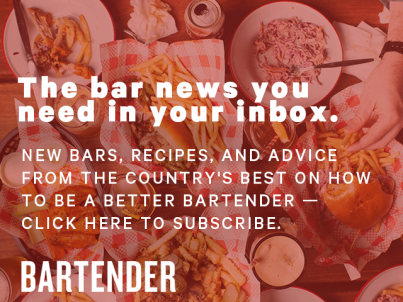 &nbsp
Rohan Massie from Rudeboy in Hobart has gone all in on tap cocktails, at one stage offering eight variations of drinks served draught style. Currently with a reduced offering of just two rotating taps, he states that the key to success with this style is to ensure "you learn to stabilise, filter or preserve [your ingredients] to ensure consistency and quality."
Further abroad, New York's Dante — which landed at number nine on the World's 50 best Bars list — has prioritised this style of service in recent years. The importance of the technology for their bar can't be understated, averaging over 150 Negronis and up to 100 Aperol Spritz sold each day. The team batch 10L kegs with 10% dilution for the Negronis then pour over fresh block ice and give a quick stir to bring down to temperature and add the final dilution. Staff have noted the positive response from the Aperol Spritz draught option as the liquid receives a saturation of CO2 prior to dispense resulting in a bright, effervescent, delicious cocktail.
Gone are the days where drinkers are questioning the effectiveness of having this service available (to the delight of bartenders and owners alike), as the way in which it has the ability to speed-up service and offer a consistent product each pour is increasingly valued.
Kurtis' five tips for tapping success
Learn to stabilise, filter and preserve ingredients prior to batching. This will ensure the drink quality doesn't diminish through service.
CO2 will carbonate your beverage; N2o will get the liquid moving through your lines without the addition of heavy carbonation i.e. use CO2 for highball style of beverages, N2o for Espresso Martini style of drinks.
Agitate the liquid often to keep the mix consistent. If you don't agitate, you run the risk of serving one ingredient of your mixed cocktail without the balance of the others.
Ensure the system doesn't replace staff training around classic cocktails and other drinks served on tap as you'll find some guests still want to see the bartender make their drink.
Pre-dilute the drink in your keg to approx. 18-22% depending on what is being served or pre-dilute a smaller amount, serve into your mixing glass or shaker and finish the dilution with added showmanship.