Martin Lange has been a busy guy. The owner of Brisbane whisky bar Cobbler opened Savile Row in Fortitude Valley in 2017, a late night den of whisky and cocktails — and some pretty great times, too (and such a favourite of the bar community that it picked up the trophy for Best Bartenders Bar at the 2018 Bar Awards). He also recently married and took off for honeymoon around the world.
Yet somewhere in the midst of all that he also managed to get the doors open on the third bar in his burgeoning empire, Finney Isles.
(And then late last year, he announced he'd be opening his fourth venue — Death & Taxes — this year).
"I did the design, and Sam Trippet did the cocktails," Lange says.
"It was a team effort [the cocktails] — it's the first menu for one of my venues in which I've had no involvement whatsoever."
ADVERTISEMENT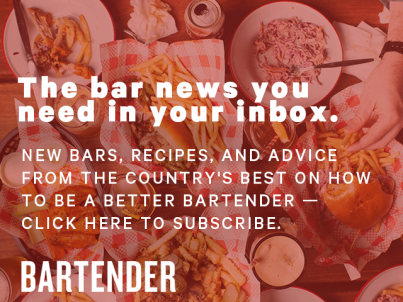 &nbsp
That's because coming into the home stretch of opening the bar, Lange was overseas.
The bar hasn't suffered for this absence, however, and has drawn on a considerable talent pool in its opening weeks: the aforementioned Trippet formerly ran Cobbler for Lange, as did Dominic Xavier who joins him behind the stick at Finney Isles.
Let's get into that name, now: the place isn't an Irish bar though you could be forgiven thinking it was, thanks to that name. Instead, Finney Isles is a name with some proper Brisbane heritage.
"So Finney Isles was the original shop that was on the corner, created in 1864 I believe," says Lange. "It used to be owned by a dude with the last name Finney and someone named Isles."
Those two translated some early success in Fortitude Valley into one of Brisbane's first department stores on Queen street.
Lange wasn't looking to add another bar to his name quite so quickly, he says, but when this space came up he knew he had to take it — despite it being just across the road from Savile Row.
"This one came about because we were approached by the landlord," says Lange. "The last place didn't do too well and the landlord just wanted someone to take on the lease. It's been only a year since we opened Savile Row, so we weren't super keen to go, but we had a look at the place and it had a good energy and a really good vibe and a lot of potential to do something with it."
And what they've done, says Lange, is to open something that complements — rather than competes against — his bar across the road.
"We didn't really want to take away from Savile Row," he says. "So Savile Row has a big focus on whisky and cocktails; at Finney Isles we're taking a different approach, a bit more gin and a bit more wine, something for pre-dinner and after dinner drinks.
"We're also closing a little bit earlier than Savile, so both venues can complement each other rather than cannibalising each other.
"The idea is you come in for a cocktail or a glass of wine before you go to dinner, then after dinner come in for a nightcap. And if you really want to kick on, you can go on to Savile Row."
But before you do kick on, you're going to want to taste your way through the cocktail list. The format of the menu is a little different to most — on each page sits one drink, with a facing page showcasing a particular artwork — and the drinks deliver on flavour.
"Sam did a great job, he's really on point with the cocktails on the list," Lange says.
"The concept was just [to do] banging drinks that are not trying to reinvent the wheel. We're just trying to make drinks that people will be like: 'Yeah, I want another one. And another one.'"
But with this being Lange's third bar in town, and the fact that Brisbane doesn't have the population — and therefore, the number of bartenders — of the bigger cities of Sydney and Melbourne, finding and keeping good staff can be a problem.
"It's really hard to be honest," says Lange. "We've been looking at bringing people from overseas, or seeing if someone from Sydney would like to come and escape the expensive life down there."
But for the most part, Lange is pretty happy at how things are progressing, he says.
"We've been really lucky with the team."