The boom in Australian craft distilleries continues apace. There's some quintillion or so gin brands out there (that may be a slight exaggeration, but you get our drift), there's a load of great Aussie whisky, but one category that has been slower to get some love is rum.
No longer, though. Sydney's Brix Distillers is the latest to open up their shiny gilded temples to distillation and they're getting down with the molasses stuff.
Started by a trio of mates — James Christopher, Damien Barrow and Siddarth Soin — they're currently bottling a two versions of their rum: the Brix White and their Brix Gold.
We asked Christopher to tell us more about how they got their start.
Can you tell us how the Brix Distillers came to be?
Damien, Sid and I have a bar in Cammeray on the North Shore and we wanted our next venture to be more creative and engaging for customers. We realised that rum has a really under-valued image in Australia and we wanted to change how Australians perceive it. The three of us love drinking rum and have visited a bunch of craft distilleries all over Australia and internationally, so we looked at putting a small still in the bar at Cammeray, but quickly realised that we would need more space. After doing a bunch of research and finally deciding to commit, we landed on Brix as a name and started to develop the concept for our Surry Hills site.
ADVERTISEMENT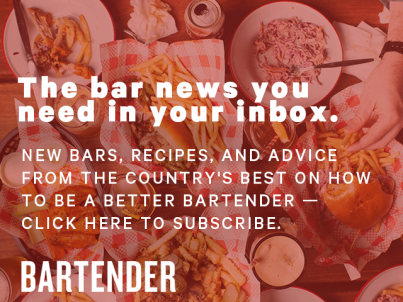 &nbsp
Did you have experience distilling before? Do you distil it yourself or contract the work out?
As the business owners, we had come up with the concept of Brix, but we knew we would need a Head Distiller to fill the missing link in the chain. We had very minimal experience in making rum ourselves, just lots of experience drinking it. When we met Shane Casey and started to chat to him about his passion for rum, we knew we had found the link. Shane has had extensive experience at Archie Rose and was heavily involved in making their fantastic gins and soon to be released whisky. But he told us that he has always wanted to make rum and the fourth piece of the puzzle was added.
Every part of the process with our Brix White is carried our in-house in Surry Hills. We receive fresh refinery grade molasses in bulk from QLD, ferment, distil and bottle (or barrel) right there.
Our Brix Gold has a bit of a different story. It is a blend of 5 year and 8 year rums from Barbados, blended to our flavour profile by a Master Blender in Holland, then bottled in Surry Hills. We wanted to show how rum develops in a barrel after time and educate people on the process, so by having our own aged product blended for us, we can show the full cycle of how fresh vibrant white spirit changes and matures over the ageing period.
What's the idea behind putting the distillery in the heart of Sydney?
Sydney has a fantastic history with rum. But it lost its way years ago and we are trying to revitalise its image in the city. To have a craft distillery in the middle of the city is a fantastic way to show as many people as possible how rum is made and showcase the process to locals and visitors alike. It all helps in our vision to make a rum that is iconic for Sydney, so even though the rent is exorbitant, the plan is that we will have a fantastic product to showcase to the world on behalf of the city.
What tips would you give to bartenders who want to be distillers?
Head into any small craft distillery and ask as many questions as possible. Most distilleries love to talk about the process they undertake, the ingredients and their products so buddy up to the guys and girls in the distillery and you may find yourself doing a bit of a walk through. Otherwise try your hand at fermentation first – beer, wine, kombucha and even bread! There is also more formal approaches like the Distillation Diploma Course that Shane recommends with the Institute of Brewing and Distilling.
Could you tell us where your ingredients come from?
We wanted to make a rum that reflects our little corner of the world, so our molasses is sourced from Bundaberg refinery in Queensland and our water is sourced straight from the Sydney water pipelines (after being carbon filtered and de-ionized of course). We also use freshly crushed sugar cane in a few of our cocktails that is delivered to us every week from Northern NSW and QLD. Our 100% copper still was made in Ballarat too!
Can you describe a bit of the R&D process? How did you know when you had hit on the right formula?
On a small scale basis, we trialled different yeasts for fermentation such as wine, mead, ale and champagne yeasts. We did blind comparisons and tastings, different molasses trials, rum blending sessions and definitely loads of tastings.
We also wanted as much feedback as we could get, so we did panel discussions and tastings with our family and friends to assess levels of intensity, balance and sweetness.
We did a bunch of bar industry trials for cocktails and mixers, to see where it sits with the bartenders of Sydney and get their opinions on any matching flavour profiles.
On a larger scale, there is much more technical skill involved. This is where we lean heavily on Shane's expertise and instincts. You need to be more reactive to what's coming off the still, in tune with the aromas, make your cuts at the right time and have a clear idea of whether the spirit is being tailored for the bottle or maturation in a barrel. But mainly you need to have the confidence that your product is the best it can be before it gets released.
You can catch great indie distilleries like the ones in this story at the Indie Spirits Tasting — the next show is in Melbourne on Sunday 31 March. Get your tickets here and check out more stories on indie distillers here.