If you're a bartender looking to make a name for yourself, there's never been more bartender competitions to enter. Here's some that will win you cash money and see you travel around the globe.
BACARDÍ Legacy Global Cocktail Competition
BACARDÍ Legacy was established to challenge the best contemporary bartenders in the world to create their own cocktail Legacy – one that will stand the test of time and ensure that both bartender and beverage are remembered like the illustrious classic cocktails of the past.
The global cocktail competition from Bacardi is a regular fixture now not just on the Australian scene, but globally. The current Australian final wraps up in February — check out our March issue for an update on the winning bartender and recipe — and start preparing your own Legacy for when the competition opens in July 2019.
And while you do, don't forget to follow the Australian winner on their trip to Amsterdam to take on the world's best — watching the livestreams is a great way of preparing yourself for the ins and outs of BACARDÍ Legacy.
The winner of the Australian final goes on to compete against the best the world has to offer and the standard is always high: previous Australian winners have been James Irvine (2017), Dave Kerr (2016), Andrew Bennet (2015), Fred Siggins (2014), and Alissa Gabriel (2013).
ADVERTISEMENT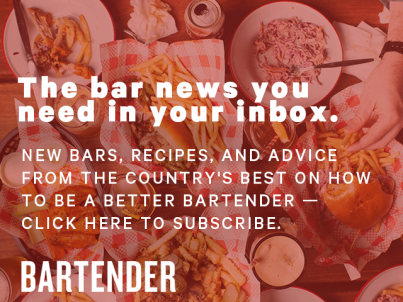 &nbsp
• Entries open in July and close in October, with the Australian final due to be held in February 2020. For more information visit the Facebook page, facebook.com/BacardiLegacyAustralia.
Bartender Magazine's Bartender of the Year sponsored by BACARDÍ & De Kuyper
The toughest test of bartending ability is back again in 2019.
Bartenders can to register to compete in the Bartender of the Year sponsored by BACARDÍ & De Kuyper; up for grabs is a trip to New Orleans to check out Tales of the Cocktail, and the chance to join the most exclusive bartending club in the country as the Bartender of the Year number one.
Previous winners of the competition read like a who's who of bartending royalty: last year's winner, Jenna Hemsworth, joined Daniel Gregory, Michael Chiem, Lee Potter Cavanagh, Nathan Beasley, Sean Chow, Greg Sanderson, Tim Philips, Jason Williams, Chris Hysted-Adams, Sebastian Reaburn, Charlie Ainsbury, Oliver Stuart, Ben Davidson, George Nemec, and Marco Faraone in the Bartenders of the Year club.
This year will also see the Bartender of the Year receiving a wild card entry into the final round of the Australian leg of the BACARDÍ Legacy Global Cocktail Competition.
• Is 2019 your year? Stay tuned to australianbartender.com.au/bartenderoftheyear in March when entries open.
The Perfect Blend by Beam Suntory
The Prefect Blend is the cocktail competition from Beam-Suntory that challenges you to craft a signature drink from their outstanding range of whiskeys, and offers two categories for entries: one for professionals, that is, those with experience in this kind of competition, and one for apprentices, who are still learning their craft.
In each category, however, the standard is always high so you'll want to bring your best game to the table.
The current competition wraps up in a few months, with entries for the next instalment opening in September this year.
Winners in each category for the current competition win a trip across the globe to the home of Bourbon, Kentucky visiting the distilleries Maker's Mark and Jim beam —receiving the VIP treatment along the way — and heading to New York to hit up Bar Convent Brooklyn.
• Visit the-blend.com.au for details.
Angostura Global Cocktail Challenge
This is one competition that Australia has a successful history of competing in, with not one, not two, but three global winners under our belt.
Entries to the competition will open around June this year, and the top 10 Australian bartenders will win flights and accomodation to Sydney Bar Week in September to compete in the Australian final, entry into the Most Influential List party during Bar Week, and a seat at the Bartender Magazine Australian Bar Awards.
The Australian winner of this year's competition will take home the top prize of $10,000 — you read that right — and a trip to Trinidad to compete in the global final, held in 2020.
• And if you win the global final, well, you'll pick up another $10,000, making this the most lucrative competition out there.
Glenfiddich Experimental Highball Competition
In 2019, Glenfiddich will run a national competition to reinvent the classic whisky highball.
Off the back of last year's Glenfiddich Experimental Highball Series, a partnership with local flavour wizards PS Soda, the Glenfiddich Highball went in unexpected directions: think pandan, lemon and barley matched with Glenfiddich IPA Experiment or strawberry gum-leaf matched with Glenfiddich Project XX.
In 2019 the Glenfiddich team are turning their attention to the heart of their range, Glenfiddich 12. Bartenders are invited to help create the perfect soda to match with the world's most awarded whisky.
The winner of this experimental competition will work closely with PS Soda and Glenfiddich to make their soda a commercial reality where it will be available for sale nationally, as well as forming part of Glenfiddich's 2020 summer drinks program.
And though details are yet to be confirmed, it looks as though the winner will also fly to Scotland with Luke Sanderson (Glenfiddich) and Ross Blainey (The Balvenie) on a once in a lifetime journey around Scotland.
• Entries into the Glenfiddich Experimental Highball Competition are expected to open around May 2019.
Patrón Perfectionists
This year, Patrón Tequila will again embark on their pursuit of perfection in the search for Australia's Patrón Perfectionist for 2019. The standard of entry for this comp gets higher every year, so you'll want to be on your best form when entries open in May this year (they close in July).
The shortlist for Patrón Perfectionists will be announced in September and the semi-finals held, before the national final takes place in October.
The 2019 Patrón Perfectionists competition is its fourth year in Australia, and is a global competition whereby Patrón Tequila searches the globe, tasting cocktails created by thousands of bartenders displaying their cocktail knowledge and craft using the world's finest ultra premium Patrón tequilas.
• Check in at www.patronperfectionists.com to stay up to date.
Millstone Rye July
It's not often that the smaller independent brands out there can put on a cocktailing comp, but then again, not every month of the year rhymes with rye.
For Millstone Rye July, though, it's all happening. Bartenders will be challenged to create a modern classic cocktail, in which Millstone Rye is the king and using no more than four ingredients (maybe leave the unicorn tears tincture out of this one, hey).
• The prize on offer? First place will win cash and $500 worth of Millstone whiskey — for more details contact Savant Spirits.
On Like Monkey Kong
Monkey Shoulder does things a little differently, and their bartender competition is now different. This isn't your regular cocktail comp — there's no cocktail making involved at all, just an old fashioned arcade game prizefighting smackdown.
The state finals will run from April through to September, with the state finalists travelling to the national finals to compete in front of an audience for the title, the prestige, and the grand prize.
Hit up your William Grant & Sons representative for more info.
Ruinart Sommeliers Challenge
So, true — this isn't a strictly bartender-focused competition. But with many bartenders flexing their skills across hospitality arenas these days, the Ruinart Sommeliers Challenge is one to keep an eye on. Like, just look at the prize: the winner receives return business class tickets to France, to attend a four-day educational trip to Reims in Champagne, hosted by Ruinart Chef de Caves Frédéric Panaïotis, in July 2019, where you'll immerse yourself in the world of Champagne and enjoy rare tastings and experiences along with different producers, varieties and wines.
The 2019 Ruinart Sommeliers Challenge will take place in Sydney on Monday the 18th of March. The Challenge will host the top 25 applicants, with applications opening this month.
• Contact your Moet-Hennessy representative for more details.
Gin Mare Gin Med-Inspiration Cocktail Competition
2019 will see Australia getting involved for the first time in Gin Mare's Global Gin Med-Inspiration cocktail competition.
This comp is all about creating drinks in line with Gin Mare's strong focus on gastronomy and unbreakable bond with the Mediterranean and its lifestyle.
The Australian winner will win a trip to Ibiza to compete in the global finals, and will also include a trip to Barcelona to check out the local bar scene, and a visit to the Gin Mare distillery for the full experience.
It's one hell of an experience for bartenders — a must-do competition.
• The global finals will take place in the 1st week of September this year, with the national Australian finals likely to be held mid-2019; keep an eye out for more information soon from your Think Spirits representative.