"My mate called me today so that we could hang out. Usually we would go straight for beers but instead we went for a session at F45… and then beers…". This recent paraphrased FB post by a Sydney bar operator was one of the catalysts for this story about how the bar industry is dealing with the massive push towards 'wellness'.
The bar industry can be gruelling on the body. Often you work the hours of an emergency department nurse, you drink more than you should and you sleep away the daylight hours. Samuel Tripet of Brisbane's Finney Isles (and one of our featured sober bartenders) nails the issue: "No other industry celebrates drinking, and being drunk the way hospitality does. Not even the distilling industry. At the end of the day though, this shouldn't mean that we can't have fun at work. It just suggests that maybe you don't need to have six shots to be good at your job."
It's no surprise there has been a push to find a better balance between the booze industry and the impact it has on your body. In truth, both this push towards wellness and its appearance in these pages is probably well overdue, especially for anyone that wants to stay in the industry for the long haul.
It's a big topic so we'll break it down into a few key areas. First up, we will look at how drinks companies are pushing the wellness message through low or no alcohol products and also trade initiatives that are sponsoring exercise-based activities rather than boozy lunches. Next there is the owner/operator angle and how they are addressing the rigours of shift work in a boozy environment. Then there is the role of the individual – we have many bartenders who drink rarely or who abstain from drinking completely and are still staying in the industry.
How drinks companies are addressing wellness
All you have to do is take a look at the timetable for Sydney Bar Week and you'll see that all the amazing sponsors will dig deep to put on the best parties and events to promote their brands. Traditional events (by that we mean events that focus primarily on drinking and learning about the sponsor brand) like the House of William Grant party and the Herradura Tequila lunch are an essential part of what makes Bar Week great.
ADVERTISEMENT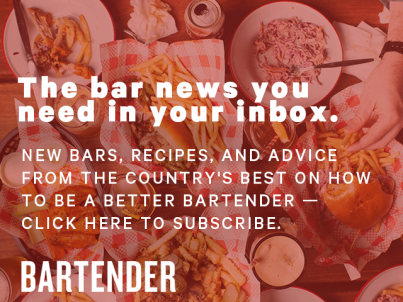 &nbsp
But in recent times there has been a shift to other kinds of events. Bacardi Martini has been hosting their Bacardi Softball event in Centennial Park for the past three years during Bar Week. This is reflective of a push towards teambuilding, health and fun, revolving around sport. There is booze, of course, but it's not the central focus.
And to really give this trend a push, this year the Bar Week schedule will expand to include a morning health and wellness activity. "We have seen how important the balance is for the Bar Week attendees to ensure they are looking after their health in what is a gruelling week of events," says Bar Week founder David Spanton. "We're hoping to have morning yoga and bootcamps but we will have more details closer to September."
Well-known industry face, Raj Nagra, also from Bacardi Martini and now based in the US, is behind the Bartender Boxing Organisation which features prominently at Tales of the Cocktail, as well as hosting events around the US throughout the year. The not-for-profit Bartender Boxing Organization promotes health and wellness for Bartenders through the sweet science of Boxing and raises funds and awareness for local and national charities.
In the same vein, Absolut vodka has had massive success in the UK and US by putting their money behind self-defense workshops for bartenders and bar industry employees. The benefits are multi-faceted for the brand with the staff feeling cared about and taking a way a skill that builds resilience and self-esteem. Another great example, this time in Europe, is the The Martini Racing Ciclismo, a cycling event in Italy sponsored by Martini vermouth which provides a platform for bartenders to train and get fit together. The programme of cycling activations includes gym memberships, bespoke spinning classes, organised rides and nutritional advice, all exclusively available to bartenders.
Back in July last year, William Grant & Sons blew up the internet when they announced that their traditional Tales of the Cocktail launch party, which caters to 1000 thirsty guests, would be an alcohol-free event. Yep, that's right, they hired bartender Julia Momose to create 20 drinks inspired by the brands signature flavours. A Hendrick's gin cocktail featured a base made from curry syrup while the spirit-free version of Glenfiddich, contained toasted malted barley, barley tea, black peppercorns, allspice, and star anise, combined with brewed H?jicha tea and topped with apricot La Croix. William Grant director of brand advocacy Charlotte Voisey was quoted by Forbes.com as saying: "This year, it just felt right to focus on responsible consumption."
And they are bang on trend. The rise and rise of the world's first non-alcoholic spirit, Seedlip, has been an interesting case study which highlights the consumer search for alternatives to strong spirits. Seedlip launched in 2015 and is now found in over 20 international cities and more than 250 top bars and restaurants. The two varieties, Garden 108 and Spice 94, could be mistaken for craft gin with Indian tonic water being the preferred mix. If you're interested in stocking this brand, Seedlip is distributed in Australia by Think Spirits. We expect to see a bunch more products enter this low and no-alcohol market in the next few years. Watch this space.
Angostura has been advocating low alcohol alternatives for years. "This move towards healthier and better-for-you options is something we've been closely aligned with for the last decade," says Tanya Mah, Angostura Brand Manager "Angostura bitters was built on the back of the iconic Angostura Lemon, Lime and Bitters – Australia's most loved, non-alcoholic thirst quencher."
Dan Gregory, Angostura Brand Ambassador says he has noticed a huge increase in requests for low ABV and non-alcoholic drinks in the venues he works with. "People want something that's just as satisfying as an alcoholic drink. In the past, mocktails have had a bad rap, but's changing now. People will often ask for our 'mocktail list'. They don't want to feel left out if they're not drinking and they love the theatre of a non-alcoholic cocktail," he says. "I experiment a lot with creating cleaner cocktails that aren't so loaded with sugar, whether that's reduced ABV or alcohol free. Ingredients like beetroot juice or kombucha work well and then I add ginger and Angostura bitters to give the drink an extra bit of spice."
How bar owners and operators are addressing wellness
When it comes to staff welfare, bar owners are at the coal face. We asked multi-award winning Sydney bar operator Jared Merlino (Kittyhawk, Big Poppa's, Lobo Plantation, Café Bartolo) to weigh in on this topic which he is really passionate about.
We all know the bar industry can be taxing but what are the key things that staff struggle with. "I think it's the pressure of being around a party atmosphere most of the time and being drawn into that quite easily," says Merlino. "When you work hard, long hours its quite easy to want to unwind and drink after you've finished, but for most of us that means drinking into the early hours and missing needed sleep. It's an easy trap to fall into and we've all done it at some stage or another."
Merlino has built a program into his business called 'Be Better' where they focus on the mental and physical well-being of all employees inside the company. "For the mental side we focus on people having access to independent and professional mental health services through one of our brand partners Bacardi and their inter-company service, Bacardi Assist," he says. "This gives all employees of ours across the four businesses ready access to 24-hour support via a hotline and if they feel they need more they get up to six free one-on-one sessions per year. A pretty great service to be able to provide in a typically pressure driven industry."
The other side of the program focuses on the physical fitness of all employees. "We offer gym memberships for all employees, where we pay 60% and they cover 40%," he says, adding, "we've partnered with Virgin Active and they have plenty of great group classes and activities that the team can organise to do together. We also to large group activities like beach cricket and boxing."
Merlino thinks there has been a massive shift in the industry toward more sustainable practices for staff. "Amongst the operators I know and the management teams I oversee, there is a much larger focus on doing team building activities that do not revolve around booze and partying. I know that as a company a main focus for us is ensuring that all staff have a balanced roster so that they can focus on things other than work during their time off."
Thor Bergquist, owner of PS40 and PS Soda in Sydney agrees, saying: "One thing I want to focus on with our team is planning trips and staff parties that don't necessarily involve drinking, because it's our career it's all around us so it's nice to take a break from it once in a while."
Some of the sentiment among operators and staff is that this push towards balance has been a long time coming. Merlino cites the tragic deaths of many industry peers over the last decade that have been linked to excessive partying and/or the pressures of a tough industry. "There is much more openness in the industry now," he says. "We will now talk about our feelings and what's affecting us, where traditionally you were seen weak if you couldn't do a 60-hour week without complaining and go home pissed six nights in a row."
That mentality is simply not sustainable. "It's so important for us as an industry to try and change the perception of hospitality as a short-term job, and start trying to build more careers for those that are interested."
The Sober Bartender
We put a call out on Facebook to find people in the industry who had quit drinking and who would be happy to discuss it for this issue. We had such a big response we will likely extend this part into future issues as it touches on so many important issues – most notably mental health – for both bartenders and our society as a whole.
When Jack McGarry, of Dead Rabbit New York fame, posted his sobriety journey on Facebook, he started a conversation about excessive drinking, alcoholism and working in the bar industry and paved the way for others to talk openly about giving up booze. Thor Bergquist cites McGarry along with Josh Harris and Guisseppe Gonzalez for paving the way for more bar industry professionals to talk about quitting booze.
Bergquist, who we heard from earlier, is a veteran of the industry, with 16 years under his belt. He quit drinking two years ago but has six months completely alcohol free. He quit drinking when he realised that he was using it as a crutch to deal with stress in his life.
"I never really learnt how to deal with my emotions outside of [drinking] and it started to become a pretty big problem in my life," he says. "It got really bad when opening PS40, of course I was the most stressed out ever and had no tools to handle this. I've come to realise that it never solved anything, those underlying issues in my life would lay dormant but by being constantly uninhibited [by alcohol] I was never aware of them."
Samuel Tripet, Bar Manager from Brisbane's Cobbler and Finney Isles has also quit drinking. At the time of press he was seven months sober and this marks the first time he has talked publicly about the issue. He's been in the industry for eight years and made the difficult decision to quit drinking for both physical and mental reasons. "I've always been a pretty heavy drinker. Some years of my life, in hindsight, I'll admit I had a full-blown problem. A 'whisky before breakfast to stop the shakes' type problem," he says.
Like Merlino and Bergquist, Tripet sees the blurring of lines between work and partying as one of the major issues for bartenders in dealing with how much they drink. "It was that "Rockstar Mentality" that comes with the territory of working all night and creating a party environment. Every so often I'd try and remember the last day I spent sober and it was really fucking hard. For some reason I thought that made me pretty cool."
After a few heavy weeks of drinking and trade parties and events in early 2018, Tripet quit Cobbler and headed back home to the Northern Rivers to work with his dad. "After a couple of weeks sober I quickly became addicted to the feeling of my own personal improvement," he says. "I never told myself that I was "quitting" drinking – just taking a break. But I can honestly say now that I don't see a huge appeal in drinking anymore."
Tripet realised that he didn't have to leave the bar industry in order to stay sober and he returned to his bar management role. "That passed quickly when I realized that it wasn't the job that made me sick, it was the lifestyle. This job can be like any, you learn your shit, you challenge yourself, set your goals and accomplish them and then you clock off and head home to your wife/ husband/ dog/ fish."
Newcastle based bartender, Arthur Wynne, is now four years alcohol free. He quit drinking heavily while he was based in Vancouver and attributes both boxing and his wife for helping to stay sober. He realised back in 2012 how unfit and overweight he was when he wanted to take part in a charity boxing tournament called Restaurant Rumble: Aprons for Gloves. 
Wynne says the feedback he got for quitting drinking in Vancouver was vastly different to Newcastle where he has been living for the last year. "Here in Newcastle, people are weirded out by seeing a non-drinking bartender," he says. "I've gone out to a few highly awarded venues to order a mocktail and the bartenders scoff. I explain to them I choose not to drink and ask what the bar offers for designated drivers and non-drinkers and get a blank stare." Wynne thinks we have a long way to go in this respect and hopes that more regional bars will start offering a broader range of non-alcoholic mixed drinks. 
Both Tripet and Bergquist have been surprised by the positive response they have received from the industry.
"I think everyone in hospitality has had an experience with drinking too much at some point in their lives and most people I've come across probably recognised that I was out of control and so they encouraged what I was doing."
But even so, being open about being sober caused Bergquist some embarrassment. "The first two weeks I had given up I wasn't the most honest about it as I didn't know how my peers would react but after getting support from people like the crew at The Baxter Inn — who would come in and ask how long it's been and say "that's awesome!" — I started to feel more comfortable telling people the truth."
So where to from here? Wynne sees burnout as a big issue still for people that party too much. "Since coming back [to Australia] I've worked with quite a few people now who can't even perform normal tasks at work after partying and the whole service suffers. It would be great to see the big brands take note and go through and promote a lifestyle change and reward hospitality workers in looking after ourselves."
Tripet agrees and thinks that it's an important topic that needs to be talked and that the support is there for people who want to change. Whether brands can make this happen, he thinks the jury is still out but "I'll take a free camping trip and a 10 pack of infrared saunas though if anyone's offering," he says.
If this story has raised issues for you and you need someone to speak to, please contact Lifeline on 13 11 14. Service available 24 hours a day.