If you've been in the Australian bar industry for five minutes, you know of Swillhouse: it's the Sydney-based hospitality group that opened Shady Pines Saloon, The Baxter Inn, Frankie's Pizza and Restaurant Hubert, efforts that saw its then co-owners Jason Scott and Anton Forte named three times as number one on our Most Influential List.
Scott has since exited Swillhouse and moved to New York to open a restaurant and bar. The restaurant, Gran Tivoli, is on the way, but the underground bar, Peppi's Cellar, opened up a few weeks back.
Scott has opened the venue with business partner Lewis Jaffrey, who is no stranger to Scott's ways, having run The Baxter Inn and Frankie's Pizza for him in the past. Jaffrey has also moved to the US, moving on from Sydney bar Big Poppa's (in which he was a co-owner).
Peppi's Cellar is a 160-pax space that occupies the basement below Gran Tivoli. Gran Tivoli sees Scott team up with chef Robert Marchetti for an Italian restaurant, which will seat around 100 people.
Below, Scott tells us a little bit about what to expect at Peppi's Cellar.
ADVERTISEMENT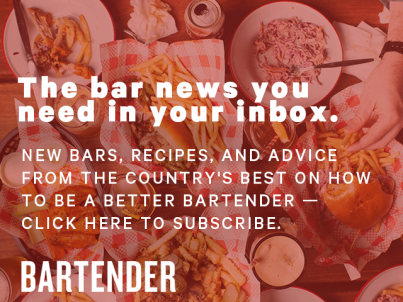 &nbsp
Tell us a bit about where Peppi's Cellar is and what the idea is behind the place?
Peppi's Cellar is located on the border of Soho and Little Italy, and under our soon to open Italian Restaurant, Gran Tivoli.
It's a basement wine cellar, converted to a cocktail bar with a live music program.
What can people expect from the drinks at Peppi's Cellar?
David Fisher (ex-Baxter Inn) has put together a short list, a swirl of misplaced classics and new creations. We are definitely doing fresh juices as standard so the Whiskey Apple will be making an appearance. Luckily Granny Smiths are plentiful here.
Wines are a concise 100 bin mix of mainly Italian and French numbers, both classic and contemporary expressions. Beers are simply the 10 best beers Lewis, Dave and I drank during the build.
Why New York?
We have all loved New York and this was our chance to roll the dice.
What's the style of service at Peppi's Cellar?
Classic Australian friendly charm and cheek with a solid backbone of professionalism. We think our service styles in Australia are world class and we intend to set that tone for the whole venue.
How has the bar been received by the public so far?
Everyone so far has loved it, from expat Aussies who heard on the grapevine, to Soho locals who finally noticed us turn the lights on.
The details:
Peppi's Cellar trades Sunday to Wednesday from 5pm to 1am, and on Thursday to Saturday until 2pm. You can find them in Nolita at 406 Broome Street, New York, 10013.