You may know him as the guy who hassled you to get your World Class entry in on time. You may have seen behind the stick at bars like The Lobo Plantation and Maker. Or, yeah, you may have seen him on a certain competitive cooking show back in 2014.
Jamie Fleming has spent the last few years as Diageo's ambassador up in Queensland, and is now making the move into his own digs: come the end of March he will open a new bar in the Brisbane CBD, Alba Bar & Deli.
Opening on Burnett Lane (in which Martin Lange is also opening a bar this year, his called Death & Taxes), Fleming tells us that it's all about his three favourite things: "Sherry, jamon and hip hop," he says.
In the Q&A below, Fleming shares some details of Alba Bar & Deli and gives us an idea of what to expect.
Who is behind the new venue?
This one is all on me mate. I have had a few ideas rolling around for a very long time and when I was shown through this space, it felt right. I wouldn't say I have been actively looking for somewhere but when something pops up, you have to be prepared to take the risk if you can. I was fortunate enough to be prepared for it this time round.
ADVERTISEMENT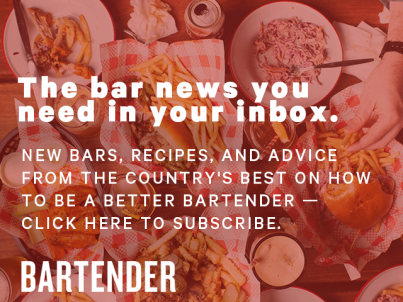 &nbsp
What is the big idea driving the venue?
I have a bit of a history floating between the front and back of hospitality and opening a venue which has a strong identity about both has always been something I wanted to do. Essentially the key driving idea from me is three of my favourite things. Sherry, jamon and hip hop. You can call it a pintxos bar or a deli if you want but I am trying to open something that stays true and authentic to me and as long as I do that, I'll be happy.
Where will the venue be located?
We are opening up in the CBD in Brisbane on Burnett Lane. The laneway is growing steadily and I'm hoping that with the addition of Alba as well as having Death & Taxes next door, we are only going to help bring more people to what is a rad little pocket of the city.
What are your trading hours/days?
We will be open 12 – 12 Monday to Friday and then 4-12 on Saturday with food coming from the kitchen the whole time.
What can we expect on the drinks side of things?
The drinks are going to have some Spanish influences given the style of venue but everything on offer is going to be flavour led and built to match not just the style of food, but also the fact we are in Queensland. It's bloody hot! So think lighter styles, sherry and vermouth will be used prominently and then I will be utilising the kitchen as much as possible to come up with some interesting flavours. The list will be changing pretty regularly as new things come in and different things we are working on come to fruition.
Will you focus on any particular spirit?
None in particular. The lower ABV end of the spectrum will be used a fair bit but I'm not locking myself down to anything. As long as they are delicious, they can have a spot on my menu.
Will cocktails be a big focus and if so, what will they be like?
They will be a big focus. I have been fortunate enough to work with some absolute weapons over the years and have tried to listen as much as possible. Particularly over the last few years with my ambassador role, cocktails and being experimental and fun have become big parts of the way my head works. Saying that, flavour comes before technique so it's going to be a fun time writing these lists.
What will the service style be like?
Anyone that knows me knows im a pretty casual guy and that's how I want people to experience this space. Super casual, a little cheeky but with attention to detail. My favourite bartenders and teams are always the ones that make you feel like you're best mates just chilling out but everything from cocktails to super fine details of the space itself are taken care of. That's what I want for Alba.
What will you be doing differently to other venues?
I don't think its necessarily doing things different to others to stand out, its just knowing who you are and doing what you do as well as you can. This venue is really an amalgamation of so many years of experience learning from people I respect hugely so if I can actually be more like them, I'd be pretty stoked. Really, the only thing we are doing different to most in Brisbane, is having proper food all night. It's really hard to get anything decent later in the evening here so I would love for people to get on board with that option. Even just for a nightcap and some jamon. A wise lady once told me dessert jamon is the best jamon… I tend to agree.